Three young girls were killed while another girl was seriously injured after getting struck by a hit-and-run driver in Lucerne Valley on Tuesday night, June 8th.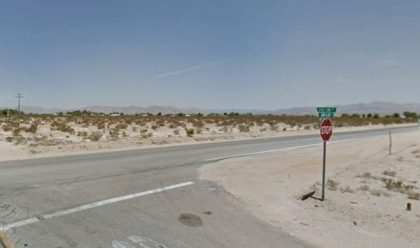 The deadly accident transpired at approximately 10:25 p.m. on Camp Rock Road north of Rabbit Springs Road in Lucerne Valley. The four girls were reportedly having a sleepover when they decided to go out for a walk. The four girls then went out for a walk, with two of them were being pushed on wheelchairs on Camp Rock Road when a white Chevrolet Silverado struck them.
The driver and the passenger of the white Silverado did not stop to render aid and fled the scene on foot. Three of the girls sustained fatal injuries from the accident, and they were pronounced dead at the scene. The three girls were identified as Willow S., 11; Daytona B., 12; and Sandra M., 13.
One of the girls was seriously injured after the crash. She was identified as 14-year-old Natalie N. Her leg was amputated in the accident, all her other limbs are shattered, and her liver is bleeding; her kidneys are struggling, according to the victim's mother.
The California Highway Patrol is currently pursuing the hit-and-run driver. Witnesses that can give more information about the suspect's identity and whereabouts are urged to contact Officer L. McAllister, ID 22073, at the Victorville CHP Area office at 760-241-1186.

Fatal Hit-and-Run Accident Statistics
Leaving the scene of the accident without waiting for the authorities to arrive is a serious crime in itself. Unfortunately, numerous hit-and-run accidents happen every year.
In 2016, approximately 2,049 hit-and-run fatalities were reported in the U.S. Annually, around 682,000 hit-and-run accidents occurred in the country. Pedestrians are common victims of hit-and-run accidents.
It is apparent in this case that the liability falls on the hit-and-run driver for leaving the victim wounded and fleeing the scene. The suspect will most likely face criminal charges once caught. Common reasons why hit-and-run drivers flee the scene are intoxication, driving without a license, and fear of getting arrested if they remain.
Children and the elderly are at the highest risk of suffering an injury or fatality while walking anywhere in California. Children under age 15 made up 39 percent of all pedestrian accidents, with nearly 10 percent of these cases resulting in fatalities.
Wrongful Death Claim for Victims of Fatal Hit-and-Run Accidents in San Bernardino County
If you or your loved one was injured – or worse – killed in a hit-and-run accident, you're likely to be overwhelmed in the aftermath, especially in this case where three young, innocent girls were killed due to a driver's negligence. While you attend to the vital task of moving forward toward a full physical and emotional recovery, allow your hit-and-run accident lawyer to help guide your claim toward its best possible resolution.
You may be concerned about a hit-and-run lawyer's costs, but don't let this dissuade you from seeking legal counsel. Attorneys from Arash Law will vigorously fight for their client's rights and best interests while ensuring that the liable party will be held accountable for their negligence.
The dedicated hit-and-run attorneys at Arash Law are committed to helping you recover from the damages you've suffered. Our dedicated legal team has decades of experience fighting for the rights of accident victims just like you. We're available to help 24 hours a day and seven days a week, so please don't hesitate to call our office at (888) 488-1391 today to discuss your accident with a lawyer for hit and run cases.