Two people were hurt after a major head-on traffic collision in Rincon on Monday night, December 28.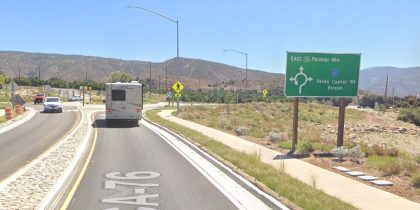 The accident took place on Highway 76 at Valley Center Road in Rincon at approximately 6:05 p.m. A van and a sedan were reportedly involved in the collision.
How the accident occurred, and the reason why it happened has not been established. One person had to be extricated by first responders from the wreckage.
A total of two people sustained severe injuries as a result of the accident. Both of them were taken to a nearby hospital for treatment.
Additional information about the crash is unavailable at the moment.
Head-On Collision Investigation is Underway
Local authorities are currently attempting to determine the factors that affected the accident through the official investigation.
According to the National Highway Traffic Safety Administration statistics, there were 3,304 fatal car accidents in California in 2017. Although head-on collisions only represent 2 percent of accidents, they account for 10 percent of fatalities on U.S. roadways.
Head-on collisions typically happen on a traffic light, stop sign, or blind intersections and on freeways. Distracted driving, speeding, or an illegal lane change are common factors of these types of accidents.
When facing cases like this, victims are advised to seek a skilled attorney to assist them in their claims. Attorneys have the resources that can help them prove the negligence of the liable party. They can utilize their resources to re-interview important witnesses, review relevant surveillance footage from the scene, and obtain phone and texting records of the responsible party.
Personal Injury Attorney for Victims of Head-On Collisions in San Diego County
Dealing with injuries after a significant head-on collision can be quite challenging as it can potentially disrupt all aspects of life, such as family, work, and finances.
While waiting for the results of the official investigation to be released, the victims are entitled to pursue a personal injury claim with their attorney's help. Filing a personal injury claim is vital. It allows them to seek compensation for medical expenses, lost earnings, and non-economic damages (such as emotional trauma, pain, and suffering) to the accident victims.

Arash law is here to help victims of similar cases pursue the justice that they deserve. We have experienced attorneys and resources that can help you in winning your case. For more information and inquiries, you may visit our offices located in Los Angeles, Sacramento, San Francisco, Riverside, Orange County, and San Diego, or you may also give us a call at our hotline (888) 488-1391 for a FREE Consultation.