A disabled woman was killed after getting struck by a hit-and-run driver in San Jose on Thursday night, April 1st.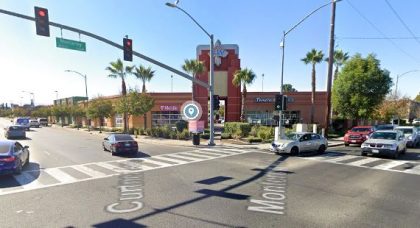 The fatal accident transpired at approximately 11:30 p.m. on Monterey Highway and Curtner Avenue.
The disabled woman was attempting to cross on a marked crosswalk when she was suddenly hit by an unspecified southbound vehicle. The driver did not stop to render aid and fled the scene.
Unfortunately, the woman was unable to survive her injuries and was pronounced dead at the scene. Additional information about the accident is unavailable at the moment.
Local authorities are actively pursuing the suspect. Witnesses that can provide more information about the suspect's whereabouts and identity are urged to contact Detective Templeman #3556 of the San Jose Police Department's Traffic Investigations Unit 408-277-4654.

Hit-and-Run Pedestrian Accident Statistics
According to the Governors Highway Safety Association, pedestrian fatalities in the U.S. have increased by 27 percent from 2007-2016, while other traffic-related deaths decreased by 14 percent.
Some common reasons pedestrian accidents occur are negligent driving, speeding, and drivers failing to yield to pedestrians. It is vital to seek the help of an experienced attorney when facing cases like this.
Walking away from a pedestrian accident is also more common. Leaving the scene after an accident is a crime in itself. Unfortunately, hit-and-run accidents still occur on U.S roadways every day.
Unfortunately, hit-and-run cases are not unique. In 2016, approximately 2,049 hit-and-run fatalities were reported in the U.S. Annually, around 682,000 hit-and-run accidents occurred in the country. Pedestrians are common victims of hit-and-run accidents.
Wrongful Death Attorney for Victims of Pedestrian Accidents in Santa Clara County
Dealing with a hit-and-run accident can be frustrating for the victim's family. The stress may feel overwhelming as the victim's family continues to pursue justice for their deceased loved one. While you attend to the vital task of moving forward toward a full physical and emotional recovery, allow your hit and run accident lawyer to help guide your claim toward its best possible resolution.
If you are a victim of a hit-and-run accident, you may be left vulnerable to manipulation while they are grieving for their loss, which is why it is vital to have an attorney by their side when getting a wrongful death claim. With the wrongful death claim, the victims can seek financial compensation for damages like loss of income, funeral expenses, pain and suffering, and emotional distress.
Our attorneys from Arash Law can serve as a compassionate, helpful legal guide during this difficult time for the grieving family. They will vigorously fight for their client's rights and best interests while ensuring that the liable party will be held accountable for their negligence. Attorneys can also negotiate with insurance companies on behalf of their clients to ensure that they are compensated fairly. Call our office at (888) 488-1391 today to discuss your accident with a lawyer for hit-and-run cases.