Our Santa Clarita Injury Law Firm

Doesn't Just Win,


We Win Big!
You May Be Entitled to Compensation

Unlock the Power of Justice with

Santa Clarita's Most Trusted Injury Law Firm!
California's Santa Clarita Valley is located in the northwestern part of Los Angeles County. The 2020 census shows it is the third-largest city in Los Angeles County, the 17th-largest in California, and the 99th-largest in the United States. Throughout the 21st century, the city has experienced significant growth in its developed area. The SCV Economic Development Corporation estimates the Santa Clarita Valley has approximately 300,000 residents and is growing significantly faster than other regions in California.
Over the past few years, the city has experienced significant changes due to tourism and housing development. Different park systems have been developed, as have some nearby amusement parks, including the famous Six Flags Magic Mountain. A city exploration can be a thrilling experience full of fun and excitement, but it can be ruined by an unfortunate accident.
Whether you're riding a bike, strolling through a park, or visiting one of the city's attractions, it's important to stay aware of your surroundings and take precautions to remain safe. An accident can turn your exciting adventure into a nightmare in an instant. In order to enjoy the city safely, it's a good idea to be prepared for any eventuality.
In the unfortunate event of an incident, our injury law firm is dedicated to helping those injured in Santa Clarita. We are a highly specialized law firm dedicated to handling cases related to vehicle accidents and various forms of personal injury. Our track record of success in assisting victims of dog bites, motorcycle accidents, and car crashes is unparalleled.
Our primary objective is to secure the largest settlement in your legal case. To receive immediate assistance, we invite you to call us today at (888) 488-1391 and speak directly with one of our experienced attorneys.
SM v. Doe Defendant (settled on 10/14/2020) – settlement in a case involving a client who sustained a spinal cord injury and mild traumatic brain injury when he fell off a roof. The team at Arash Law secured an additional $610,000 as part of the third party settlement.
– 
TINA ESHGHIEH
IF YES, You may be able to recover financial compensation. TELL US MORE: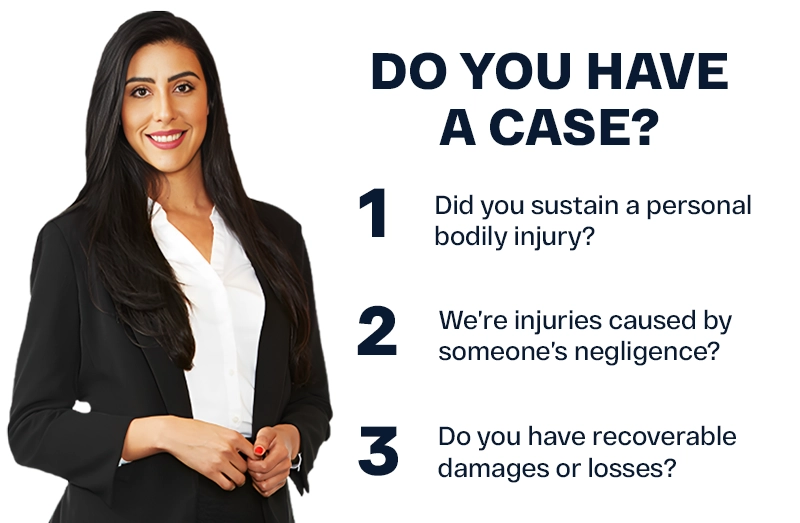 IF YES

, You may be able to recover financial compensation.

TELL US MORE:
Santa Clarita's Busiest Intersections to Watch Out For
Santa Clarita's highways are filled with hundreds of thousands of vehicles daily. The top five busiest intersections in the city are:
Newhall Ranch Road and Bouquet Canyon Road
Soledad Canyon Road and Bouquet Canyon Road
Soledad Canyon Road and Whites Canyon Road
Newhall Ranch Road and McBean Parkway
Soledad Canyon Road and Sierra Highway
Because of the high traffic volume, these five intersections are prone to traffic accidents.
Personal Injury Cases in Santa Clarita: How Our Law Firm Can Help
Getting through the aftermath of an accident in Santa Clarita can be complicated and daunting if you have been seriously injured. When faced with pain and suffering, making the right decision can be challenging. In order to move forward confidently, peacefully, and with a brighter future, it is important to know where to start.
You might be eligible for compensation if someone else's carelessness or negligence caused you harm. Regardless of how severe the injury was, there are a number of scenarios that can lead to legal liability. To determine whether a claim can be made and what type of compensation may be due, it is essential to understand the circumstances of the injury.
Our attorneys at Arash Law, under the direction of Arash Khorsandi, Esq., have a successful track record in these cases:
Auto Accidents
Motorcycle Accidents
Truck Accidents
Pedestrian Accidents
Bus Accidents
Train Wrecks
Bicycle Accidents
Rideshare Accidents
Plane Accidents
Traumatic Brain Injuries
Spinal Injuries
Dog Bites
Premises Liability
Slip-and-Fall Accidents
Wrongful Death
Other Personal Injuries
Are you in need of assistance with a recent personal injury? Our Santa Clarita injury law firm is here to help. We have recovered millions of dollars for our clients and can provide you with the same quality service. Don't wait. Call (888) 488-1391 now to discuss your case with one of our reliable attorneys, or fill out the "Do I Have a Case?" form on our website for a free consultation. Don't hesitate – contact us today and get the help you need.
Don't Miss Out! Learn The Time Limits To File Your Personal Injury Claim
According to California Code of Civil Procedure Section 335.1, injury victims have two years from the date of injury to file a personal injury claim. Exceptions to this rule may extend or shorten the time you have to file, so it's best to contact a Santa Clarita law firm right away to discuss your case. Our consultations are free of charge, so you have nothing to lose by contacting us. Make an appointment with us today!
What Damages Can I Recover in a Personal Injury Claim?
In California, a personal injury claim allows an injured person to recover damages for losses due to another person's negligence, recklessness, or intentional wrongful conduct. Generally, damages are awarded to compensate an injured person for losses such as medical bills, lost wages, pain and suffering, and other out-of-pocket expenses caused by the injury.
Medical Bills: If another party's negligence or unintentional wrongful conduct causes an injury, the injured person may recover the cost of medical treatment, including hospital bills, physician fees, and the cost of prescription drugs or other medical services.
Lost Wages: If an injury prevents a person from working for some time, they may be able to recover lost wages. This includes wages lost before and after the injury and the earning capacity resulting from the injury.
Pain and Suffering: Pain and suffering are non-economic damages awarded to compensate an injured person for physical pain, mental anguish, and emotional distress resulting from an injury.
Other Damages: Other types of damages in a personal injury claim include the costs of physical therapy, rehabilitation, and other medical services; the cost of repairing or replacing damaged property; and compensation for loss of enjoyment of life.
In California, the injured person may also recover punitive damages to punish the wrongdoer and deter others from engaging in similar conduct. Punitive damages are usually only available in intentional wrongful conduct or gross negligence cases.
Suppose you have been injured in an accident or due to another party's negligence or intentionally wrongful conduct. In that case, it is essential to consult with an experienced personal injury attorney to discuss your legal rights. This will enable you to determine what damages you may recover.
Get Back on Your Feet With Our Expert Injury Law Firm in Santa Clarita
As a thriving community, Santa Clarita has an increased risk of accidents due to the large number of residents. People's poor choices often result in serious consequences for those around them, including accidents, injuries, and even death. An injury law firm will be able to assist you in this situation.
We understand the hardships and difficulties that injured people face at our Santa Clarita personal injury law firm. For our clients, we are committed to obtaining the highest possible compensation. It is our firm's mission to obtain justice for you, no matter how long it takes. Our commitment to our clients and their well-being is unwavering, and we are here to fight for them every step of the way.
Fighting For Justice For Our Clients: An Injury Law Firm With a Difference
At our injury law firm in Santa Clarita, we understand the struggles people face when they are going through difficult times. Our team ensures defense lawyers and insurance companies know and consider their stories. Our commitment to our clients shows in our successful track record. It is a privilege for us to be able to provide support during such difficult times.
What Makes Us Santa Clarita's Best Injury Law Firm?
We'll Get You the Maximum Compensation
We'll Get Your Medical Bills Paid
We'll Recover Your Lost Lost Wages
We'll Get Your Vehicle Repaired or Replaced
We'll Come to Your Location – Anytime, Anywhere.
We'll Get You Access to the Top Medical Specialists
We'll Provide Complimentary Transportation
Our firm strives to provide a superior client experience from start to finish. By getting to know you and your unique situation, we can craft a strategy tailored to your individual needs. This client-centered approach has allowed us to obtain multimillion-dollar verdicts and settlements on behalf of our clients. We are committed to providing the finest service possible and helping you achieve your desired outcome.
No Win, No Fee at Santa Clarita's Best Injury Law Firm
We do not treat our clients like numbers at our Santa Clarita injury law firm. Please feel free to contact us with any questions you may have. We will return your calls and emails promptly, answer any questions you may have, and keep you updated throughout the process. Our attorneys will thoroughly investigate your accident to formulate a strong case before settlement negotiations begin. Contact us online or call (888) 488-1391 for a free case evaluation.
Record-Breaking Verdicts in the Following Areas of Practice
Get The Latest News from

The Best California Accident Law Firm Today