A 32-year-old Sebastopol man was among the three people killed in a multi-vehicle traffic collision that occurred in Santa Rosa on Monday morning, January 4th.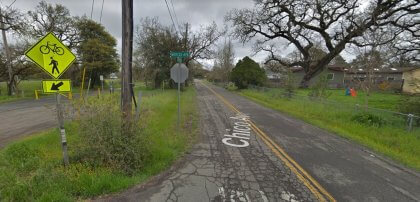 The deadly collision took place on Highway 12 just west of Merced Avenue, at approximately 8:23 a.m. A total of four vehicles were involved in the accident.
The Sebastopol man was initially driving his Toyota Matrix eastbound on SR-12 when he suddenly lost control of his vehicle and veered into the opposite traffic lane. He then struck a Ford Transit van on the left side.
The Ford then later hit an Acura RDX that was traveling behind Sebastopol man's Toyota. The Toyota then continued heading eastbound in the westbound lanes, where it later collided with a westbound Chevrolet box truck, causing the box truck to roll over onto its roof.
Several people were injured as a result of the collision. The box truck driver suffered from significant injuries but nothing life-threatening, while the Ford driver sustained moderate injuries in the accident. Both of them were taken to an area hospital for treatment. The female Acura driver sustained only minor injuries and did not require immediate hospitalization.
Unfortunately, the Toyota driver was pronounced dead at the scene.
Fatal Multi-Vehicle Collision Investigation is Underway
Local authorities are currently investigating the case. They will attempt to determine what caused the accident to occur and the liability.
Witnesses that can provide more information about the accident are urged to call the Santa Rosa CHP Office at 707-588-1400.
When three or more cars collide on the roadway, it is considered a multi-vehicle collision. This type of car accident is commonly caused by a "chain reaction," when one car bumps into another, which causes the other to hit the next vehicle.
Multi-vehicle collisions are commonly caused by drunk driving, speeding, and distracted driving. It can be quite challenging to pinpoint liability during a multi-vehicle collision investigation, which is why it is essential to hire an experienced Sonoma County wrongful death attorney to conduct an independent investigation.
Attorneys can re-interview important witnesses, review relevant surveillance footage from the scene, and obtain the responsible party's phone and texting records.
Wrongful Death Attorney for Victims of Multi-Vehicle Crashes in Sonoma County
Dealing with the sudden death of a loved one can be overwhelming for the victim's family. It may leave them vulnerable to manipulation by the opposing party and insurance companies.
While waiting for the official investigation results, the victim's family is entitled to pursue a wrongful death claim with their attorney's assistance. Through the wrongful death claim, the victim's family can seek compensation for the damages such as funeral expenses, loss of companionship and income, emotional distress, and pain and suffering that the car accident has caused them.

If you are going through a case similar to this, we at Arash Law are here to assist you. Our firm has decades of experience and has secured million-dollar settlements and verdicts for our clients. Our law firms are conveniently spread throughout California. Call (888) 488-1391 for a FREE Consultation with a wrongful death attorney from our firm.