A motorcyclist was struck by a hit-and-run driver on Highway 33 in Modest on Monday morning, May 24.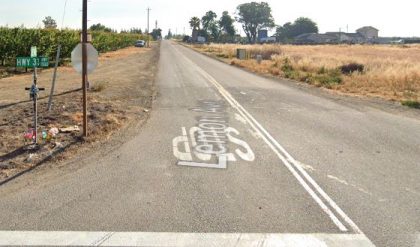 The accident transpired at approximately 5:00 a.m. on Highway 33 near Lemon Avenue in Modesto.
A maroon 2004-2005 Ford F-150 reportedly struck the motorcyclist while passing other vehicles.
The Ford F-150 driver did not stop to render aid and fled the scene. The driver was last seen going east on Fruit Avenue.
The motorcyclist was seriously injured in the accident. He was taken to an area hospital for treatment. The identity of the victim has not been disclosed.
Authorities suspect that the vehicle may have sustained significant left front and left side damage. It may also be missing its left headlight, left fender molding, and left side view mirror.
The California Highway Patrol is currently actively pursuing the hit-and-run driver. Witnesses that can give more information about the accident are urged to contact Officers Norseen or Mitchell at the Modest CHP hotline number 209-545-7440 or Crime Stoppers at 866-602-7463.

Hit-and-Run Motorcycle Accident Statistics
All drivers are always expected to be responsible when it comes to following roadway protocols. When an accident occurs, both parties are expected to remain at the scene until authorities arrive. Unfortunately, hit-and-run accidents are still a common occurrence despite being considered a crime in itself. Eleven percent of all crashes involve a hit-and-run driver.
Motorcyclists are more likely to face fatal accidents than other motorists on the road. According to the National Highway Traffic Safety Administration, around 5,286 motorcyclists were killed in the U.S. in 2017. Motorcyclist fatalities also happen 28 times more than vehicle fatalities in motor vehicle crashes.
According to road safety experts, the safety and security of motorcyclists all over the country are becoming a growing problem. Over the past ten years, the number of motorcycle accident cases has nearly doubled in the U.S. In California, motorcycle-related fatalities rose at a whopping 175% over the past ten years. After all, California currently has over 800,000 registered motorcycles.
Some of the common causes of motorcycle accidents are distracted driving, speeding, drunk driving, reckless driving, bad weather, wrong-way driving, and failure to observe traffic laws.
Stanislaus County Personal Injury Attorney for Victims of Motorcycle Accidents
Sustaining significant injuries after a motorcycle accident can be stressful and overwhelming. It can affect all aspects of life, such as work, family, and finances. While waiting for the official investigation results, the victim is encouraged to pursue a personal injury claim with the help of their attorney. Victims can seek compensation for the damages (such as loss of income and emotional distress) that the accident has caused them through the personal injury claim.
The aggressive motorcycle accident lawyers at Arash Law have decades of experience handling these types of wrecks throughout California. We've helped thousands of people recover after accidents similar to yours. Our mission is to protect crash victims' rights and assist them in negotiations with large insurance companies that don't have their best interests at heart. You have nothing to lose in contacting us.
Call (888) 488-1391 for a FREE Consultation with a personal injury attorney in California.