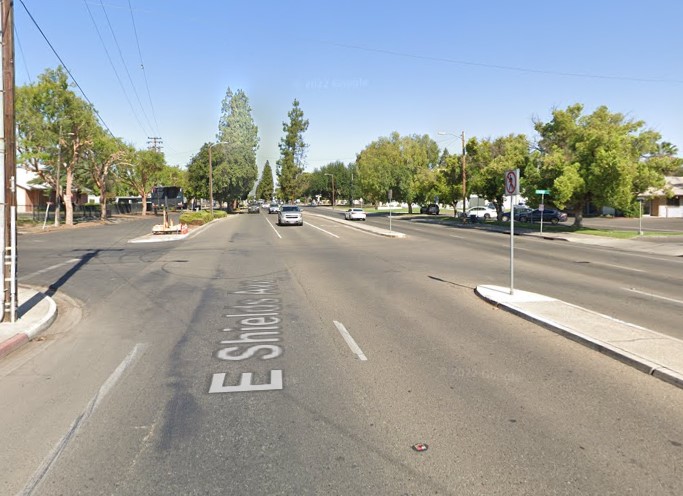 Authorities said a male pedestrian was killed after being struck by a police car in Fresno on Thursday evening, January 05, 2023.
According to the Fresno Police Department, the fatal crash occurred around 7:00 p.m. near the intersection of Shields Avenue and Bond Street.
The victim, identified as a man in his late 30s, was reportedly walking south on Shields Avenue's center median when he stepped into the road.
Officials said the pedestrian was struck by a patrol vehicle of a Fresno police officer, who they said was an experienced veteran cop with a good reputation and had been in service for not more than ten years.
The victim was apparently wearing dark clothing. It also rains at the time of the crash, and all these might have been contributing factors.
The deceased pedestrian's identity has not yet been released by authorities as the investigation continues.

Fatal Pedestrian Accident Statistics
Car accident fatalities fell by 14% between 2007 and 2016, according to data from the Governors Highway Safety Association. In contrast, between the two time periods, the percentage of pedestrian fatalities increased by 27%.
According to the data presented above, the likelihood of a pedestrian being seriously hurt or killed in an automobile accident in the United States is expected to rise to an all-time high in the near future.
In 2012, car accidents in California claimed the lives of 809 people and left 14,000 others injured. When it comes to serious pedestrian accidents and fatalities, California ranks first in the United States.
More than 6,000 people were killed in car accidents in the United States in 2016, according to government statistics. As 2016 came to a conclusion, the sobering reality that 88 people were dying every minute hit home with increasing force. One year later, about 137,000 people in the United States were seriously hurt and hospitalized.
Pedestrian Accident Lawyers in Fresno County
In California, pedestrians who suffer injuries from car accidents enjoy the same legal protections as motorists who bring a personal injury or wrongful death claims.
What would you do if you or a loved one were severely hurt due to someone else's neglect? If you or a loved one has suffered injuries or wrongful death due to the carelessness of another person, our highly recognized legal team is here to help you file a claim with your insurance company.
Our trusted pedestrian accident lawyers in Fresno County have extensive experience and accolades advocating for accident victims. Our clients have been awarded compensation totaling $400 million.
Call (888) 488-1391 now or click the "Do I Have a Case?" on our website to set up a free consultation with one of our attorneys.