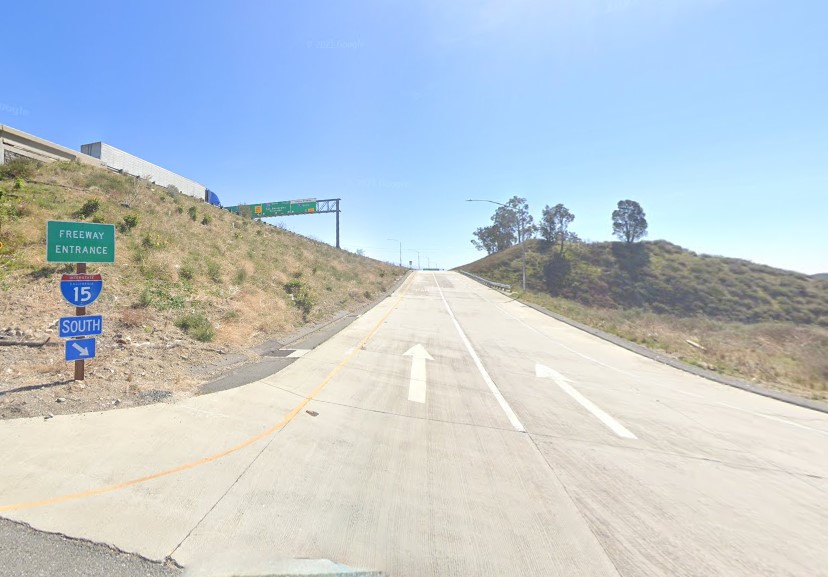 One person was hospitalized and two others were injured following a collision between a sedan and a box truck near Cajon Junction in San Bernardino County on Thursday afternoon, January 19, 2023.
According to the California Highway Patrol, the two-vehicle collision occurred around 3:02 p.m. along Interstate 15 in the southbound lanes more than a mile before the Kenwood Avenue exit.
Responders from the CHP and San Bernardino County Fire Department arrived at the scene to find a white 4-door sedan heavily damaged on its front and a big white box truck on its side spilling fuel onto multiple traffic lanes. The sedan was reportedly speeding and driving recklessly, crashing into the truck's rear end.
At least one ambulance was requested to transport one person to Loma Linda University Medical Center after sustaining severe wounds. Two more suffered minor to moderate injuries but did not require hospitalization. The number of people involved is unclear.
The backlog in traffic extended over ten miles and the cleanup required at least four hours since diesel fuel demands hazmat cleanup and is difficult to remove.
The CHP Inland Office is investigating further the circumstances that led to the collision. There wasn't much further information at this point.

Truck Accident Statistics
Because trucks are bigger and sturdier than other vehicles and pedestrians, truck drivers face a much lower chance of serious injury or death in the event of an accident. Involvement in this is the leading cause of death for both motorists and pedestrians, as reported by the National Safety Council. A head-on accident between two trucks can have terrible bodily and mental consequences.
In the United States, truck-related accidents account for about 4,000 deaths annually. Only 2% of accidents involve these huge vehicles, but they account for 11% of fatalities.
Federal and state laws in California both cap the speed limit for heavy commercial trucks at 55 miles per hour. Reducing fatalities from semi-truck-involved car accidents requires enforcing lower speed limits for these trucks.
According to the California Office of Traffic Safety, there were an estimated 28,000 accidents involving trucks throughout the state in 2017. At least 369 individuals lost their lives and almost 9,000 were hurt that dreadful year.
Truck Accident Lawyers in San Bernardino County
All California residents who have been injured or lost a loved one in a traffic accident, including those involving trucks, have the right to file a personal injury or wrongful death claim in a California court. Should you ever find yourself in need of legal counsel, our well-recognized law office stands ready to assist you.
Get in touch with us if you want to talk to one of our top attorneys about your case and find out how we can help you get the most money from the insurance company.
Our trusted truck accident lawyers in San Bernardino County have extensive experience and accolades advocating for accident victims. Our clients have been awarded compensation totaling $400 million.
Call (888) 488-1391 now or click the "Do I Have a Case?" on our website to set up a free consultation with one of our attorneys.