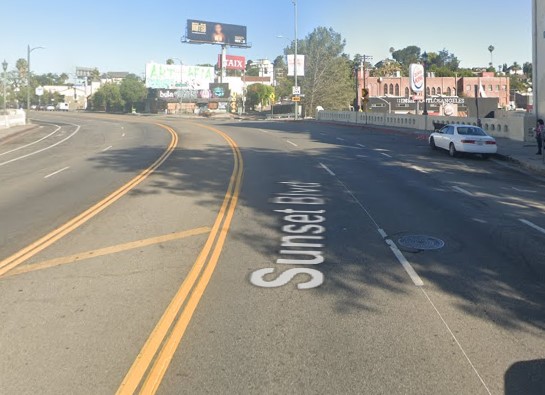 A man was killed and another was hospitalized in critical condition after the motorcycle they were riding collided with a light pole in Los Angeles on Saturday evening, January 21, 2023.
According to the Los Angeles Police Department, the fatal single motorcycle crash occurred at around 10:40 p.m. along Sunset Boulevard near Reservoir Street in the Echo Park neighborhood.
The motorcycle was reportedly heading west on Sunset, moving at high speed, when the crash happened on a curved stretch of the boulevard surrounded by several restaurants, bars, and businesses.
The Asian driver was pronounced dead at the spot by the responders, while the Black passenger was taken to a hospital with critical injuries. His current condition remains unknown.
No other information regarding the event was immediately available as the investigation continued.

Fatal Motorcycle Accident Statistics
According to the National Safety Council, motorcyclists were to blame for 14% of all road fatalities, 18% of all occupant deaths, and 4% of all occupant injuries in 2020. While only 3% of these vehicles were accountable for 0.6% of all vehicle miles, they did account for a significant portion of that number. Perhaps some of the awful losses of life could have been avoided if helmets had been worn by the victims.
Two thousand and thirty-three more lives were lost per hundred million km driven in 2020 than in 2019. During this time, there was a roughly 20% increase in both overall mortality and death rate. For every 100,000 tourists, there have been 5,579 fatalities (a rate of 31.64).
As of this writing, there are more than 785,424 motorcycles on California's roads. Motorcyclists account for a disproportionate share of traffic deaths in the state. Experts estimate that just about 6 percent of these deaths can be attributed to careless driving.
There is empirical evidence to suggest that resuming motorcycle riding is more difficult than resuming automobile driving after an accident. Owning a motorcycle puts you at risk, but it also allows you to go about town quickly.
Motorcycle Accident Lawyers in Los Angeles
Motorcycle riders who are injured in California and believe they may have a case should consult an attorney without delay. For any concerns or potential claims, one of our attorneys will get back to you.
If you or someone you care about has been hurt or killed in a motorcycle crash, you should file a claim for financial damages. Nobody can tell for sure who is at fault in a collision unless all parties are questioned. Legally, aggrieved parties can sue for damages in the form of a personal injury or wrongful death lawsuit.
Our trusted and award-winning motorcycle accident attorneys in Los Angeles have extensive experience advocating for accident victims. Our clients have been awarded compensation totaling $400 million.
Contact (888) 488-1391 or click the "Do I Have a Case?" on our website to schedule a free consultation with one of our lawyers.