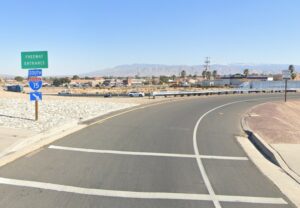 Two people were hospitalized with injuries after a semi-truck flipped over on Interstate 15 in Victorville on Friday evening, February 24, 2023.
According to the California Highway Patrol, the single-vehicle crash occurred around 9:50 p.m. on the southbound side of I-15 Freeway, south of Bear Valley Road.
Responders from the Victorville City Fire arrived at the scene and extricated two people from the wreckage of a tractor-trailer that overturned and ended up in the drainage ditch running alongside the highway.
The rescued occupants sustained minor injuries after being trapped and were taken away from the scene in an ambulance. There were no other recorded injuries.
A crew from the company arrived to unload the apples that the truck was transporting. The investigation is being handled by the CHP Victorville Station.

Big Rig Accident Statistics
Those riding in a big rig are safer in the case of an accident than those in a car or other smaller vehicles. This explains why vehicular traffic fatalities disproportionately affect those riding in smaller cars. In the case of a single truck accident, the aftermath can all the more be deadly.
According to the National Highway Traffic Safety Administration, heavy truck accidents claimed the lives of 4,965 people in the United States in 2020. There were 5% fewer cases in 2020 compared to 2019's total of 5,032. These huge trucks were the cause of 71% of highway fatalities.
In 2020, big trucks accounted for 8.9% of all vehicles involved in fatal accidents across the United States. At least 90 people were killed in California vehicle accidents involving trucks in 2015. At least 50 individuals have been killed in truck accidents in just two states in the United States that year; Texas and Florida.
What to Do After a Big Rig Accident
A truck accident should be reported to the police as soon as possible when it occurs. Do not make any assumptions or speculate while speaking with authorities or an insurance company; instead, stick to the facts. It's sad that many accident victims feel the need to apologize, even when they were not at fault. The insurer can reject the claim if the policyholder acts in such a way.
When requested, the appropriate authorities should provide a copy of the report. Please fill out the contact form on this page if you'd prefer to have us make the request on your behalf. We will start looking into your case once we receive the report. If you have any kind of insurance claim, no matter how big or small, you can have it examined by one of our skilled attorneys at no extra charge.
Big Rig Accident Lawyers in San Bernardino County
Truck accident victims in California can file a lawsuit against those responsible in order to get compensation for their medical bills, lost wages, and mental anguish. Please don't hesitate to contact us if you have any questions or concerns about your insurance claim, or if you'd like to talk with one of our experienced attorneys about how we may help you get a fair settlement.
Our trusted San Bernardino County big rig accident lawyers at Arash Law, led by Arash Khorsandi, Esq., have extensive experience and accolades advocating for accident victims, with awarded compensation totaling $400 million. Call (888) 488-1391 now or click the "Do I Have a Case?" on our website to set up a free consultation with one of our attorneys.