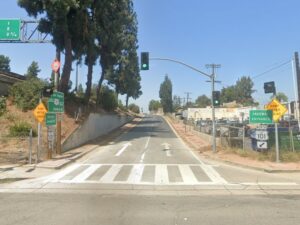 One person was fatally struck following a two-vehicle crash near Sherman Oaks, Los Angeles, early Saturday morning, February 25, 2023.
According to authorities, the fatal collision occurred around 1:13 a.m. on the westbound 101 Freeway and Coldwater Canyon Avenue on ramp.
Reports indicated that two cars were involved and discovered one of the vehicles facing sideways.
Paramedics were called to the scene and pronounced one person dead.
The on-ramp was shut down while the officials investigated.

Fatal Two-Vehicle Crash Statistics
A report released by the Fatality Analysis Reporting System stated that 38,824 people were killed in motor vehicle crashes in 2020, resulting in 35,766 fatalities. Statistically, there are 11.7 deaths per 100,000 people and 1.34 deaths per 100 million miles driven.
Based on projections, the number of road deaths in California was expected to increase from 3847 in 2020 to 4,258 in 2021.
Several human errors are responsible for car accidents, including speeding, intoxicated driving, and texting. Various factors, such as poor road design, weather, and car problems, can cause accidents.
Significant financial losses are associated with automobile accidents for individuals, their families, and nations. In addition to raising medical costs, these costs reduce productivity and cause absences from work or school. Despite recommended guidelines for road users, fatal road accidents continue to be a significant cause of death.
What Should I Do Following an Accident
After collecting information, assuming it is safe to do so, it is advisable to file a police report. In this way, the police can keep a record of what occurred during an accident in a central database, keep those records within the police department, and ensure they are kept securely.
In most cases, the police will attend the scene of an accident, but in cases where they do not, you can contact your local police by phone or in person and file an accident report. Therefore, if the police are not present at the collision scene, they can gather the information on their own, and a police report will be prepared afterward.
Car Accident Lawyers in Los Angeles with a Winning Track Record
A traumatized accident victim may require a lengthy recovery period due to the complexity of their injuries. In some cases, they may never be able to work again and may be unable to pay many medical bills.
There can be a great deal of confusion after filing an insurance claim. With our firm, you can expect your case to be handled efficiently.
Compensation from the negligent party or insurer can reduce your financial burden. If you wish to succeed in your legal case, you should hire an experienced attorney to help you navigate the lengthy and complicated legal process.
Regardless of the circumstances, our Los Angeles car accident lawyers at Arash Law, led by Arash Khorsandi, Esq., always prioritize our client's needs. You can count on us to expedite the healing process so you can resume normal activities as soon as possible.
Call us at (888) 488-1391 or use our website's "Do I Have a Case?" form to schedule a free case review with our reputable legal team.