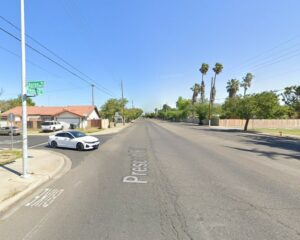 A 10-year-old girl was sent to the hospital after a car crashed into her house in Modesto on Saturday afternoon, February 25, 2023.
According to the Modesto Police Department, the crash occurred shortly after 1:15 p.m. at Prescott Road and Sharon Way.
The unidentified female driver reportedly tried to back into her garage. She ran into something, causing her to accelerate forward and drive into a garage across the street. The car hit the child before stopping inside the house.
The unidentified child sustained minor injuries due to the crash. She was transported to Memorial Medical Center before being flown to a children's hospital for precaution. There were no other recorded injuries.
The motorist stayed on the scene and assisted the responding law enforcement.

Reckless Accident Statistics
There are hundreds of fatalities and thousands of injuries caused by reckless drivers each year in the United States. According to the National Highway Traffic Safety Agency, reckless driving constitutes "willful disregard" for the lives of other road users.
It's hard to put a number on the annual human misery that may be attributed to reckless driving. The AAA showed that between the years of 2003 and 2007, reckless driving contributed to 56% of all collisions.
According to data from the Fatal Accident Reporting System of the National Highway Traffic Safety Administration, speed plays a role in a wide range of fatal car accidents across the United States each year.
What to Do After a Car Accident
Whenever possible, after a car accident, contact the police. In communicating with law enforcement or an insurance company, you must remain factually accurate and avoid making assumptions.
It's unfortunate that many people who aren't at fault for accidents nevertheless feel like they should offer an apology. If the victim does this, the insurer can deny the claim.
Officials should hand out a copy of the report upon request. If you'd rather have us submit the request on your behalf, you can do so by completing the form on this page. After we have the report, we will begin our investigation into your matter. No matter the size of your insurance claim, you can have one of our experienced lawyers review it for free.
Reckless Accident Victim Lawyers in Modesto
In the event of a fatality or significant injury, the family of the victim may be able to initiate a lawsuit against the negligent motorist. Contact a lawyer in California who specializes in instances involving auto accidents caused by the negligence of other drivers if this ever happens to you.
Our award-winning Modesto reckless accident lawyers at Arash Law, led by Arash Khorsandi, Esq., have years of experience in advocating for accident victims, with granted compensation totaling $400 million so far. Contact (888) 488-1391 or click the "Do I Have a Case?" on our website to schedule a free consultation with one of our lawyers.