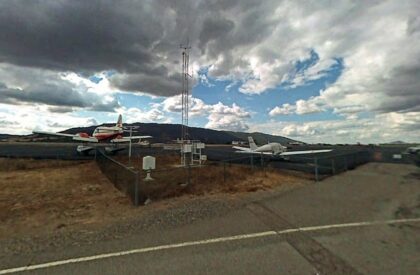 Two people were injured following a single-engine plane crash in Calaveras County on Friday morning, March 03, 2023.
According to the Calaveras County Sheriff's Office, the crash occurred at about 11:45 a.m. north of the Calaveras County Airport between Union Mine Road and Carol Kennedy Drive.
The sheriff's office reported that one individual needed to be flown to the hospital, and the other needed to be transported by ground.
It's unknown what caused the crash. A probe is being conducted by the Federal Aviation Administration.
No further details on the victims' identifications and current condition were released.

Plane Crash Statistics
Although fatalities in commercial aviation accidents dropped by half in 2020, 299 people still lost their lives in catastrophic incidents. Mechanical failures, pilot blunders, corporate irresponsibility, disobedience of FAA laws, and so on are just some of the human causes that might lead to a plane disaster.
There were 1,347 accidents involving civilian aircraft in the United States in 2018. There have been 1,302 reported mishaps in 2019. A total of 395 fewer individuals perished in plane crashes that year when compared to the previous year.
While there are undeniable advantages to flying over driving, accidents occasionally occur and put passengers in danger. Extreme weather, animal sightings, and unusual landing conditions are just some of the things that might go wrong during a flight.
What to Do After a Plane Accident
Don't hesitate to contact the police if you or a loved one are ever involved in a plane accident. Whenever you have to deal with the law or an insurance company, you need to be straightforward and avoid making assumptions. Victims may express regret even if they had no part in the incident. As a result of this action, the insurance provider may choose to deny the claim.
By contacting the proper authorities, the victim can acquire a copy of the report. There is also an online form available on this site for your convenience. As soon as we obtain the report, we will begin working on your request. The greatest lawyers in the country will analyze your insurance claim at no extra cost to you.
Plane Crash Victim Lawyers in Calaveras County
Anybody who is hurt or loses a loved one in a plane crash should be fully compensated financially. It's possible that your insurance will pay for a disaster of which you were totally ignorant. To have any chance of winning in court, you should hire an attorney. If you need assistance gathering the evidence necessary to file a claim for compensation following a plane crash, a lawyer who specializes in aviation law can assist you.
Our trusted and award-winning Calaveras County plane crash victim attorneys at Arash Law, led by Arash Khorsandi, Esq., have extensive experience advocating for accident victims. Our clients have been awarded compensation totaling $400 million.
Contact (888) 488-1391 or click the "Do I Have a Case?" on our website to schedule a free consultation with one of our lawyers.