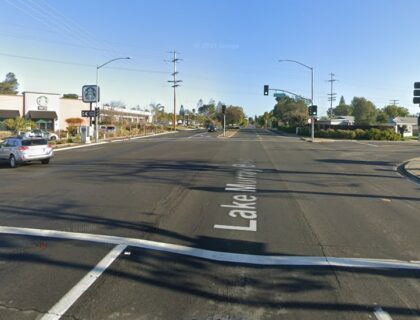 Two people were critically injured after a two-vehicle collision in La Mesa on Friday night, March 3, 2023.
Authorities confirmed that the crash transpired around 4:35 p.m. on Lake Murray Boulevard and Dallas Street.
According to reports, first responders received calls about the crash involving a 1966 olive-colored Mustang driving on the wrong side of the road.
When authorities arrived, they discovered the Mustang was severely mangled in the eastbound lanes.
The Subaru Impreza, driven by a 30-year-old driver, also sat destroyed in the center divide, partially blocking Lake Murray Boulevard's southwest lanes.
Due to the impact, the 49-year-old Musta driver suffered severe head trauma, an open fracture to the left cheek, and internal bleeding.
A 19-year-old girl was also injured in the Ford Mustang, suffering facial and orbital fractures. Both victims were transported to the hospital.
Meanwhile, the Subaru driver was uninjured.
Officers closed down a large area of Lake Murray Boulevard near Jack in the Box and Ross Dress for Less while first responders rescued crash victims.
Drugs or alcohol may have played a role in the crash, and investigations are ongoing.

Two-Vehicle Collision Statistics
The Fatality Analysis Reporting System estimates that 35,766 people were killed in car accidents in the United States in 2020. Approximately 11.7 deaths occurred per 100,000 people, or one fatality per 100 million kilometers driven.
The California Office of Traffic Safety reports that 19,938 car accidents resulted in injuries or deaths in 2019. There was a 1.6% decrease from the previous year.
The number of Californians killed in auto accidents in 2014 was higher than in 2013. About 4,850,777 car accidents occurred in 2017, killing 3,898 people and injuring 276,823. According to state statistics, nine people died on the state streets for every 100,000 residents in 2018.
Most car accidents are caused by human error, such as speeding, drunk driving, texting, and driving. In addition to weather conditions, road layouts, and vehicle difficulties, accidents can be caused by several factors.
Driving safely requires following and leading distances, obeying traffic laws, and being considerate of other road users. Even with these precautions, it is still possible to cause a tragic car accident.
What Should You Do After an Accident
Upon collecting the information, you should file a report with the police assuming it is safe. This allows the police to maintain a central database of information about the accident, they keep these records within the police department, and it ensures that that information is held securely.
In any case, the police will usually respond to an accident scene, but if they do not, you can call or visit your local police department to report the accident. Even if the police are not present at the collision scene, they will collect the information, and a police report will be issued later.
Award-Winning Car Accident Lawyers in La Mesa
Injury victims who have been traumatized may need more resources and time to recover. They will likely have to incur medical expenses and be out of work for an extended period.
Filing an insurance claim can be confusing. Our firm guarantees that your lawsuit will be handled most effectively if you work with us.
A claim for compensation from the responsible party or insurance company may help you reduce your financial burden. It is highly recommended that you speak to an experienced attorney who can guide you through the lengthy legal process and assist you in winning your case.
Our award-winning San Diego car accident lawyers at Arash Law, headed by Arash Khorsandi, Esq., are dedicated to fighting for our client's rights in court. You can rely on us to expedite your recovery so that you can resume your regular schedule as soon as possible.
To learn more about your legal options, call us today at (888) 488-1391 or through the "Do I Have A Case?" form on our website.