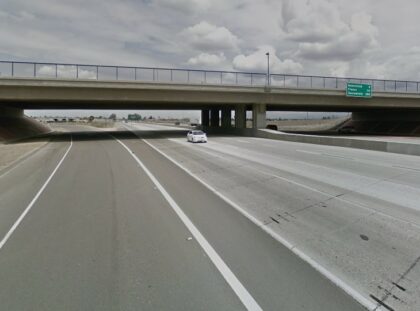 Two people were killed following a two-vehicle collision in Bakersfield early Saturday morning, March 4, 2023.
The deadly crash reportedly occurred around 3:00 a.m. in the Hosking Avenue area of Highway 99.
Authorities were called to the scene and discovered that two cars, a Honda passenger car, and a Dodge pickup truck, had collided in the freeway's southbound lanes.
Responders found the Honda engulfed in flames with two passengers inside, an adult male and a 15-year-old girl.
Both victims were pronounced dead at the scene, with the driver surviving with severe injuries after escaping the burning car.
According to investigations, the Honda failed to stop at a dead end, causing it to enter the freeway while traveling eastbound before being hit by the Dodge pickup on its way south.
Highway 99 was closed to southbound traffic for several hours due to the collision.
It is expected that the Kern County Coroner's Office will reveal the identities of the deceased at a later date.
Anyone with information about this case is urged to contact the BPD at 661-327-7111.

Fatal Two-Vehicle Collision Statistics
According to Fatality Analysis Reporting System data, 35,766 people lost their lives in automobile accidents in the United States in 2020. One death occurred for every 100 million kilometers driven, or 11.7 deaths per 100,000 people.
In 2019, 19,938 car accidents caused injuries or fatalities, according to the California Office of Traffic Safety. The number of cases declined by 1.6% from the previous year.
It was reported that more car accidents killed Californians in 2014 than in 2013. A total of 4,850,777 car accidents occurred in 2017, resulting in the deaths of 3,898 individuals and injuries of 276,823. According to data, nine people were fatally injured on the streets of the state in 2018 for every 100,000 residents.
Human error is responsible for most car accidents, including speeding, drunk driving, texting, and driving. It is necessary to note that weather conditions, road layout, and vehicle difficulty all contribute to accidents.
During driving, you must consider several things, including maintaining a safe following distance, following traffic rules, and keeping yourself and other road users safe. However, fatal car accidents still occur despite these precautions.
What Should You Do Following an Accident
The local police department where the accident occurred can provide a police report. Your local police department will be able to provide you with all the necessary information to obtain a copy of your report. We can provide you with a copy of your report if the police department cannot do so. You can complete our online form.
After receiving your request for a copy of your report, we will begin the claims process without asking for any money upfront. We will work with you until we have obtained all the necessary documentation and information regarding your claim.
Car Accident Attorneys in Bakersfield
Car accidents typically leave victims with multiple injuries. It is common for victims to suffer severe brain injuries, spinal injuries, fractures, and abrasions. Recovering from a serious injury may require years of treatment and substantial healthcare costs.
Accidents often adversely affect a person's mental, emotional, and physical well-being. Due to these circumstances, you must seek legal counsel as soon as possible to avoid future difficulties.
Our Bakersfield car accident lawyers at Arash Law, headed by Arash Khorsandi, Esq., can assist you with your legal case if you have been injured in a car accident. They are experts in this field and deal with similar cases regularly.
Our legal team aims to ensure our clients win their claims and receive the maximum compensation they deserve.
Dial (888) 488-1391 today for a free consultation, or fill out our "Do I Have a Case?" link on our website.