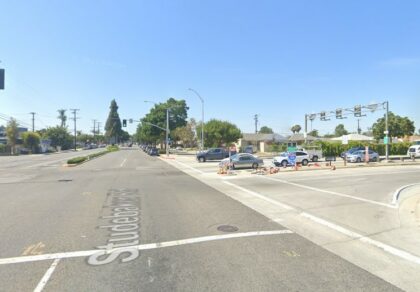 Two people were hospitalized after their vehicle crashed into a building in Norwalk on Sunday night, March 04, 2023.
According to the Los Angeles Fire Department, the solo-car crash occurred at about 9:00 p.m. at Studebaker Road at the 105 Freeway.
The circumstances leading to the crash are still being investigated, but the car caused damage to the building that houses medical offices. It also broke and bent a guard rail.
Two individuals were sent to the hospital after sustaining unspecified injuries. No updates on their current states were released.
The investigation into the crash is ongoing, including whether speeding or intoxication played a role.

Car Accident Statistics
According to a survey by the National Safety Council in 2020, more individuals died in crashes when drivers were either not wearing seatbelts, were going too fast, or were under the influence of alcohol.
Death rates in the United States rose by 8.3 percent in 2020 after having fallen for three years in a row. The annual death toll from car crashes rose to 42,338 in 2020 from 39,107 the previous year.
In 2020, over 4.8 million people visited the ER due to injuries sustained in a car crash. The astonishing sum of $473.2 billion was attributed to medical bills from people hurt in car crashes. This may include time away from work without pay, money spent on treatment or medication, paperwork, damages to a vehicle, and more.
What to Do After a Car Accident
If you or a loved one are involved in a car accident, dial 911 immediately. It's in everyone's best interest if you're as clear as possible and don't make any assumptions while communicating with law enforcement or insurance provider. Apologies are sometimes made by unwitting victims. Such actions may be used as evidence by the insurer to deny a claim.
Contact the relevant law enforcement agency if you wish to obtain a copy of the report. In addition, you may fill out the online form provided on this site. We'll go to work on your request as soon as we can get our hands on the report. We will have one of the best lawyers in the country look over your insurance claim at no extra charge.
Car Accident Lawyers in Los Angeles County
Please feel free to contact us for a free consultation if you or a loved one has been injured or died in a car accident and you think you may have a case for personal injury or wrongful death. If you have questions about filing an insurance claim or would prefer to speak with an attorney beforehand, please contact us.
Our trusted Los Angeles County car accident lawyers at Arash Law, led by Arash Khorsandi Esq., have the recognition and vast experience to advocate for accident victims, with awarded compensation totaling $400 million as of yet. Contact (888) 488-1391 or click the "Do I Have a Case?" on our website to schedule a free consultation with one of our lawyers.