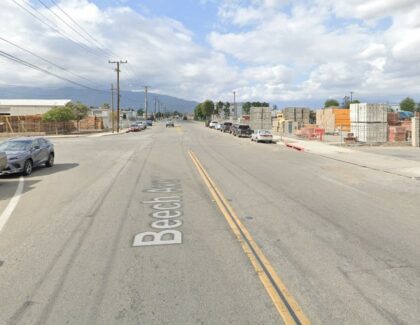 A two-vehicle collision killed a boy and injured two others in Fontana on Saturday night, March 4, 2023.
According to authorities, the crash occurred around 7:30 p.m. on Whittram Avenue, near the intersection with Beech Avenue.
Reports stated that a 49-year-old Fontana man was driving an eastbound 2001 Chevrolet and collided with a 2021 Honda Civic traveling northbound on Beech as it entered from Whittram.
The Honda was driven by a 51-year-old Fontana woman with two passengers, an 11-year-old Fontana boy, and a 23-year-old West Covina man.
An 11-year-old passenger in the Honda Civic was killed in the crash and was pronounced dead at the scene by on-scene medical personnel.
Meanwhile, the Honda driver and another passenger suffered minor injuries and were taken to Arrowhead Regional Medical Center for treatment.
The cause of this accident is being investigated. Anyone with information is encouraged to call the CHP Rancho Cucamonga Area office at (909) 980-3944.

Fatal Two-Vehicle Collision Statistics
The Fatality Analysis Reporting System reports that 35,766 people died in 38,824 fatal car accidents in the United States in 2020. There were 11.7 deaths per 100,000 people, or 1.34 fatalities per 100 million miles traveled.
In California, over 10,000 people die in unintentional traffic accidents each year. This figure illustrates the gravity of the situation.
Compared to 2013, the number of fatal car accidents in California has increased by 23.5%. In 2017, 4,850,866 auto accidents resulted in 3,898 deaths and 276,823 injuries.
Safe driving requires following and leading distances, obeying traffic laws, and taking precautions for your safety and others. However, fatal automobile accidents still happen regularly despite these precautions.
How Do You Obtain a Police Report Following an Accident?
If you want to obtain a police report for this accident, you can contact the local police department where the accident occurred. The police department will be able to provide you with the necessary information about getting a copy of your report. If you cannot obtain a copy of your report directly from the police department, you may request one through us. We have an online form you can use to do this.
Upon receiving your request for a copy of your report, we will begin the claims process on your behalf without requiring any upfront payment. Our team will work with you to obtain all the necessary documentation and information regarding your claim.
Trusted Car Accident Lawyers in Fontana
Those who suffer from catastrophic accidents may need additional effort and time to recover fully. During this period, they may have difficulty finding work and drown in medical debt for some time.
The process of filing an insurance claim can be challenging. You can be confident that your lawsuit will be successfully resolved when you work with our firm.
You can lessen your financial burden by suing the responsible party or their insurance company. You can win your case by hiring a knowledgeable attorney to guide you through the complicated legal process.
Our Fontana auto accident lawyers at Arash Law, led by Arash Khorsandi, Esq., are committed to meeting the needs of our clients. You can rely on us to expedite the procedure so that you can resume your routine as soon as possible.
Call us at (888) 488-1391 or fill out our online "Do I Have a Case?" form to learn more about your legal options.