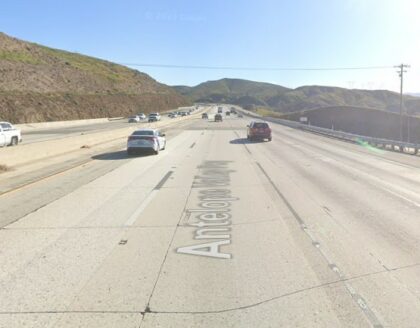 A 44-year-old man, identified as Juan A., was killed after a pedestrian crash in Santa Clarita early Sunday morning, March 5, 2023.
According to reports, the fatal collision transpired around 1:15 a.m. on Highway 14 near Agua Dulce Canyon.
Authorities stated that the 44-year-old was running across Highway 14's southbound lanes after a traffic collision involving his 2020 Toyota Camry.
The victim was struck by a Mazda MX5 while running across the northbound No. 3 and 3 lanes.
It remains unknown why the victim was running across the highway.
A SIG alert was issued for lanes 2, 3, and 4 at 2:13 a.m. and lasted until 4:43 a.m.
There were no arrests made concerning the incident.
This is the second pedestrian killed by a vehicle in the area in three days.

Fatal Pedestrian Accident Statistics
Compared to 2019, pedestrian fatalities due to speed rose 8.6% in 2020. Pedestrian safety is significantly impacted by speed. Pedestrians die at an increased rate with increasing vehicle speed, reaching 90% at 58 mph from 10% at 23 mph.
A Governors Highway Safety Association report stated that pedestrian deaths increased to 7,485 in 2021, the highest number in 40 years.
The majority of pedestrian accidents result in death. Almost always, pedestrians suffer serious injuries when two vehicles collide.
The number of pedestrian injuries and deaths on American highways has increased dramatically over the past few decades. Historically, pedestrians have been the most vulnerable group in car accidents.
Pedestrians should use sidewalks, tread through parking lots, and drive carefully. This reduces the possibility of them being hurt during these encounters.
What Do I Need To Do Following an Accident
We recognize that this is a trying time for you. In this case, we can assist you in obtaining a police report. A team member will be in touch with the appropriate individual and assist you in getting the report. Your compensation claim can then be initiated following the completion of the claim process.
Our team will handle everything, including filing your claim, so you don't have to pay anything upfront. We will also assist in ensuring that all of your medical expenses are covered by the responsible party's insurance company.
We can answer any questions about how to proceed following a similar accident.
Trusted Pedestrian Accident Lawyers in Santa Clarita
You may file a lawsuit against those who caused your injuries if you are injured in a pedestrian accident.
Retaining legal counsel can improve your chances of getting a reasonable settlement. The legal team will promptly ensure that your insurance company receives all the necessary information.
You can count on our Santa Clarita pedestrian accident lawyers at Arash Law, headed by Arash Khorsandi, Esq., who have extensive experience defending pedestrian accident victims and will protect your rights. Due to our efforts, we have obtained $400 million in compensation for clients statewide.
Were you hurt in a pedestrian accident? Dial (888) 488-1391 today or visit our website and click on the "Do I Have a Case?" link to schedule a free consultation.