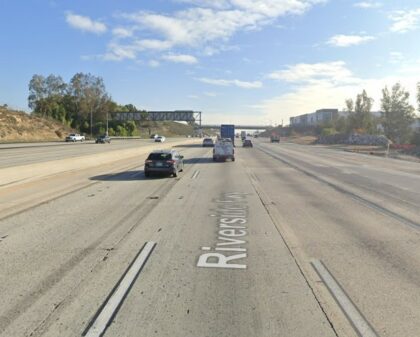 Two women were killed following a two-vehicle wrong-way collision in Corona early Sunday morning, March 05, 2023.
According to the California Highway Patrol, the fatal crash occurred just before 4:00 a.m. on the eastbound Riverside (91) Freeway, east of Interstate 15.
A 2019 Honda Accord driven by a 24-year-old woman from Riverside entered the freeway's eastbound lanes while traveling westbound at high speed. She maneuvered her vehicle into the HOV lane toward Corona. Other motorists who called 911 reported she was going about 90 mph.
The wrong-way woman traveled through the HOV lane for about five minutes before crashing head-on with a Toyota Corolla driven by 22-year-old Riverside resident Jennifer C. No other vehicles were involved, but the entire eastbound side came to a stop for nearly three hours.
Responders from the Corona Fire Department arrived and discovered the Toyota driver fatally injured. The Honda driver was also declared dead on the spot, while her 23-year-old female passenger was sent to a regional trauma center with minor injuries.
CHP stated that the Honda driver's autopsy was still pending. It currently remains unknown if drugs or alcohol played a role in the fatal crash.

Fatal Two-Vehicle Accident Statistics
Car accidents are a leading cause of accidental mortality and hospitalization in the United States. Every year, traffic-related incidents kill over two million people and injure over ten million more around the world.
According to the National Safety Council, traffic deaths increased by 8.3 percent in 2020 after a three-year reduction. In 2019, 39,107 people were killed in car accidents across the United States. As of the year 2020, there were 42,338 of them.
In 2010, 3,847 people were killed in car crashes in the Golden State of California. A total of 2,260 people lost their lives in single-vehicle incidents (representing 59% of all traffic fatalities) and 1,587 people lost their lives in accidents involving two or more vehicles (41%).
What to Do After a Car Accident
If you or a loved one are in an automobile accident, dial 911 immediately. When speaking with the police or an insurance company, it's important to be as specific as possible and avoid making any assumptions. Apologies may come from victims even if they played no role in the incident. Such behavior can be used by the insurance company.
If you'd want a copy of the investigation's findings, you'll need to get in touch with the department that headed the investigation. You can also use this page to contact us via the provided form. Your request can be initiated as soon as we receive the report. Your insurance claim will be reviewed at no charge by one of our attorneys.
Car Accident Lawyers in Riverside County
Personal injury and wrongful death consultations are free of charge and available to anybody who has been harmed or lost a loved one in a car accident and thinks they may have a case. If you have any questions about filing a claim or would like to speak with an attorney beforehand, please don't hesitate to get in touch with us.
Our trusted Riverside County car accident lawyers at Arash Law, led by Arash Khorsandi Esq., have the recognition and vast experience to advocate for accident victims, with awarded compensation totaling $400 million as of yet. Contact (888) 488-1391 or click the "Do I Have a Case?" on our website to schedule a free consultation with one of our lawyers.