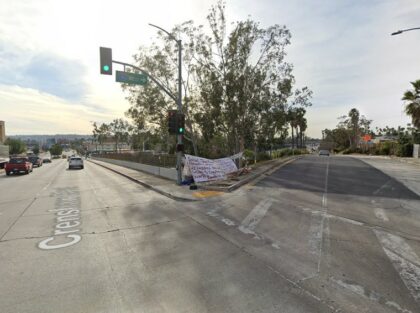 One person was killed following a fiery multi-vehicle collision, resulting in possible injuries in South Los Angeles early Wednesday morning, March 08, 2023.
According to the California Highway Patrol, the fatal fiery crash occurred at about 2:03 a.m. on the westbound Santa Monica (10) Freeway near Crenshaw Boulevard.
The responders from the LAPD, LAFD, and CHP arrived at the scene to find four vehicles involved, including one on fire, and a knocked-down utility pole. Witnesses said the vehicles were traveling at a high rate of speed before the crash.
One man was found lying in the middle lane. The person was declared dead on the spot. It remained unclear how many people were involved and the extent of possible injuries sustained.
All westbound lanes of the freeway were shut down as the investigation continued. The traffic was redirected to Crenshaw Boulevard.

Fatal Multi-Vehicle Accident Statistics
Automobile accidents are the leading cause of a disproportionately high number of accidental deaths and injuries in the United States. Every year, almost two million lives are lost due to accidents around the world, and ten million more are injured.
The National Safety Council reported an 8.3 percent increase in traffic fatalities in 2020, following three years of reduction. In 2019, there were 39,107 people killed in car crashes across the United States. By the year 2020, there were 42,338.
In 2020, 3,847 people have lost their lives in car crashes in California. The majority, 2,260 (59%), were killed in single-car incidents, while 41%, or 1,587 people, were killed in collisions involving two or more vehicles.
What to Do After a Car Accident
In the event of a car accident, either you or a loved one should immediately contact emergency services by dialing 911. Whether communicating with law enforcement or insurance companies, it is in everyone's best interest to be as thorough as possible. It's safer not to make any assumptions. In other cases, victims may feel guilty even though they played no role in bringing about the tragedy. It's possible that the insurance company will consider this behavior as grounds for denying the claim.
Get a copy of the investigation report by contacting the appropriate department. For your convenience, a contact form you can fill out can be found on this page. We'll go to work on your request as soon as we obtain the report. Get the most out of your insurance policy with a free review by our renowned attorney.
Car Accident Lawyers in Los Angeles County
Having a free initial consultation with a local personal injury or wrongful death attorney is your legal entitlement after being hurt in a car accident. If you need help filing a claim or would like to see an attorney first, please get in touch with us.
Our trusted Los Angeles County car accident lawyers at Arash Law, led by Arash Khorsandi Esq., have the recognition and vast experience to advocate for accident victims, with awarded compensation totaling $400 million as of yet. Contact (888) 488-1391 or click the "Do I Have a Case?" on our website to schedule a free consultation with one of our lawyers.