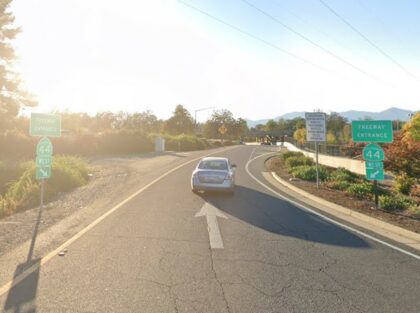 Two people were injured following a single rollover crash in Redding on Wednesday evening, March 08, 2023.
According to the California Highway Patrol, the crash occurred shortly before 7:00 p.m. on Highway 44 at the Dana Drive offramp—Exit 3A.
An SUV was reportedly traveling west on the highway when the driver took the offramp by mistake. The car then rolled over on its side after losing control as they attempted to return to the highway, blocking the offramp.
There were two occupants in the SUV. Both of them sustained minor injuries. No further details on their identities and current conditions were released.
The offramp was temporarily shut down to westbound traffic as crews cleared the site until 8:00 p.m. The investigation into the crash continued.

Single-Car Accident Statistics
The National Safety Council reported that in the year 2020, speeding, drunk driving, and the failure to use safety devices such as seatbelts were the leading causes of unintentional death and serious injury on the road.
After three years of reduction, the death rate in the United States increased by 8.3 percent in 2020. In 2020, there were an estimated 42,338 people killed in car accidents, an increase over the previous year's figure of 39,107.
In 2020, about 4.8 million patients treated for injuries sustained in car accidents visited emergency departments. The total amount spent on healthcare for people hurt in vehicle crashes is an astounding $473.2 billion.
There could be a monetary loss due to things like lost pay, transportation costs, medical bills, administrative fees, vehicle repairs, and more.
What to Do After a Car Accident
In the event of a car accident involving you or a loved one, please contact emergency services at once by calling 911. Be honest and avoid forming assumptions while communicating with the authorities or your insurance provider. Some of the victims may express regret, even if they had done nothing to cause the disaster. This sort of conduct could be used as evidence against you by the insurance company in the event of a claim.
Get in touch with the proper authorities, and they'll gladly provide you with a copy of the final report from their investigation. You may also fill out an online form on this page. Once we have the report in hand, we can get started on your request. You can speak with our highly renowned attorney for free about how to maximize your insurance coverage.
Car Accident Lawyers in Shasta County
You should not hesitate to call us for a free consultation if you or a loved one has been wounded in a car accident and you believe you may have a case for personal injury or wrongful death. If you have any questions about filing an insurance claim or if you would like to consult with an attorney before doing so, please do not hesitate to contact us.
Our trusted Shasta County car accident lawyers at Arash Law, led by Arash Khorsandi Esq., have the recognition and vast experience to advocate for accident victims, with awarded compensation totaling $400 million as of yet. Contact (888) 488-1391 or click the "Do I Have a Case?" on our website to schedule a free consultation with one of our lawyers.