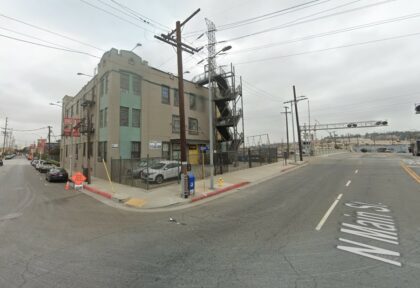 A building fire left a 51-year-old injured in Los Angeles on Wednesday night, March 22, 2023.
Reports indicated that the accident transpired around 8:30 p.m. at a structure in the 1700 block of N. Main Street.
According to authorities, smoke and flames could be seen coming from the roof of the building, which may be a movie studio.
Crews were seen working on the roof, attempting to expel the smoke and flames. Two additional task forces had been requested for assistance.
Firefighters got about halfway into the structure without finding the fire, adding that they were trying to assess the situation under zero visibility conditions.
Responders then rushed a 51-year-old man to a nearby hospital who was in critical condition. His current state and identity have yet to be released.
Vehicles encircling the structure slowed access to the back of the building. Crews could enter through that side, spot the flames, and extinguish the bulk of the fire, primarily on a mezzanine.
More than 100 firefighters worked to extinguish the fire by 9:05 p.m., and its cause has not yet been determined.

What Should I Do After an Accident?
We understand you are having a difficult time right now. We can help you if you require a police report regarding this incident. You can count on our team to assist you in contacting the appropriate parties and requesting information. Then, you can initiate the claims process to get compensation for your injuries.
No payment is required upfront, and we will handle everything for you, including filing your claim. In addition, we will make sure the responsible party's insurance company pays all your medical expenses.
If you have any questions after this type of accident, please do not hesitate to contact us.
Premises Liability Attorneys for Victims in Los Angeles
Building owners and landlords ensure tenants' safety during a fire. A smoke detector, an exit, and other safety features are required to comply with regional and state fire regulations.
Without these precautions, building owners and landlords endanger their tenants unnecessarily. A reputable lawyer can assist you if inadequate fire safety measures in a building result in your injuries.
If you have been injured on another person's property, contact our Los Angeles premises liability attorneys at Arash Law, headed by Arash Khorsandi, Esq., immediately. As we go through the process, we will explain how we can help, what damages you may be entitled to, and what steps you need to take next.
Get a free case evaluation with our legal team by calling us at(888) 488-1391 or filling out our online "Do I Have a Case?" form.