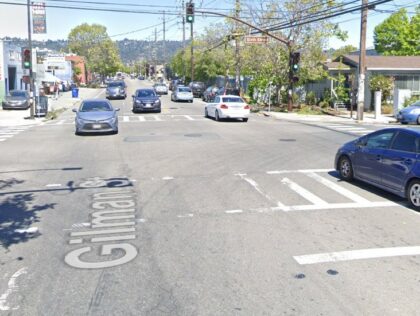 Two people were hospitalized after a reckless multi-vehicle collision in Northwest Berkeley Monday afternoon, May 22, 2023.
According to the Berkeley Police Department, they received reports regarding the collision shortly before 2:25 p.m. at the Sixth and Gilman Streets intersection.
Preliminary investigation revealed that a vehicle traveling southbound on Sixth Street sped through a red light and collided with a vehicle moving eastbound on the Gilman Street intersection. The eastbound driver then swerved and hit a northbound car.
Three people sustained injuries in the accident. However, the extent of their injuries was unclear. Two of them, who are occupants of the same vehicle, were transported to Highland Hospital for treatment. The other individual didn't require hospital transport.
All three of the drivers stayed at the scene.
The vehicles were towed to clear the scene. Investigations into the crash are still ongoing.

Competent Reckless Driving Accident Lawyers in Berkeley
The injured party or their family may be able to file a claim or lawsuit against the negligent driver after being hurt or killed in a reckless accident. If you or a loved one were hurt in a car accident in California that wasn't your fault, you should consult a personal injury lawyer.
In a free consultation, one of our trustworthy attorneys will review your case, review the following steps, and discuss all the factors that could affect the final settlement amount.
Our renowned Berkeley reckless driving accident lawyers at Arash Law, led by Arash Khorsandi, Esq., have years of experience representing accident victims. Our firm has recovered over $400 million in compensation for our clients in California.
To set up a free consultation with one of our attorneys, please call (888) 488-1391 or complete the "Do I Have a Case?" form.
What Should You Do After A Car Accident?
Being involved in a reckless driving accident can cause physical injuries, emotional distress, and financial hardship. That said, take the following actions to protect your rights and improve the outcome of your claim against the negligent driver:
Check your body for injuries. Evaluate the condition of the other people involved.
If possible, move disabled vehicles to the side of the road. To prevent more collisions, keep your emergency lights on. Wait for the police in a safe place.
Report the collision. Authorities will gather information, note it down, and create a formal report.
Get essential details from the driver(s) involved, such as their insurance information and phone numbers. Take pictures of the cars, the license plates, and other important information.
Do not admit fault, not even to the police. When speaking with a police officer, stick to the facts.
Seek immediate medical attention. As soon as possible, go to the hospital or your primary care provider to lessen the severity of the injuries.
There are deadlines for California insurers to report accidents. Make the report according to the agent's instructions.
Give the claims adjuster only the necessary information. Avoid recording statements or accepting settlement offers from insurance companies before seeking legal advice.
Gather and organize all accident-related paperwork. The police report, details about the other driver, medical bills, injury treatment plans, and any other relevant paperwork should be in your file.
During our free consultations, you can discuss your car accident with us without risk or commitment. Please call (888) 488-1391 to contact us.
Reckless Accident Statistics
Two million people die, and ten million are injured yearly in car accidents. Reckless driving kills and injures a lot of people in the US annually.
Reckless driving is defined as "willful disregard" for the safety of other road users by the NHTSA or National Highway Traffic Safety Administration. In addition, the NHTSA reported 11,258 fatalities in 2020 related to speeding.
The AAA reports that between 2003 and 2007, 56% of all traffic accidents were caused by reckless driving.
In the US, speeding is the leading cause of fatal auto accidents. Additionally, drunk driving is a significant factor in traffic accidents on American roads.