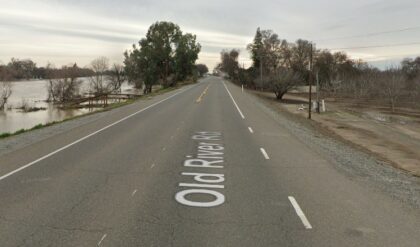 One person in their mid-20s was killed, and three others were injured after a two-vehicle head-on collision near Woodland Wednesday morning, May 24, 2023.
According to the California Highway Patrol, the crash occurred around 6 a.m. on Old River Road and County Road 124, south of Interstate 5.
A southbound white pickup truck reportedly collided with a white sedan heading north. The sedan's driver was pronounced dead at the scene. Also, three people from the pickup truck were transported to the hospital with minor injuries.
Old River Road was closed in both directions and is expected to reopen around 9:45 a.m.
Officers believe speed and a road curve may have played a role in the crash.

Reliable Reckless Driving Accident Attorneys in Yolo County
The victim or their family may be able to file a claim or lawsuit against the negligent driver after being injured in a reckless accident. If you or a loved one has been injured in a car accident in California that was not your fault, you should consult with a personal injury attorney.
During our free consultation, one of our trustworthy attorneys will examine your case, review the following steps, and discuss the factors that may influence the final settlement amount.
Our renowned Yolo County reckless driving accident lawyers at Arash Law, led by Arash Khorsandi, Esq., have years of experience representing accident victims. In California, our firm obtained a total compensation of $400 million for our clients.
To schedule a free consultation with one of our attorneys, please call (888) 488-1391 or fill out the "Do I Have a Case?" form.
What Should You Do After a Car Accident?
Car accidents can happen anywhere and anytime, so people should always be cautious and prepared. If you or a family member was involved in a reckless driving accident, take the following steps to deal with its aftermath effectively:
Stay on the scene and examine your body for injuries. Evaluate the condition of those involved as well.
If possible, move disabled vehicles to the side of the road. To avoid further collisions, keep your emergency lights turned on. Wait for law enforcement in a secure location.
Inform the authorities about the accident. Authorities will collect, document, and enter data into an official record.
Obtain insurance and contact information with the involved driver(s). Photograph the vehicles, license plates, and any other relevant details.
Do not admit fault to anyone, including the police. When speaking with police officers, concentrate on the specifics of the accident.
Seek medical attention as soon as possible. Visit your local hospital or primary care physician as soon as possible to reduce your injuries' severity and rule out any internal injuries.
Accident reporting deadlines apply to California insurers. When making the report, follow the instructions provided by the agent.
Only give the claims adjuster the information necessary. Avoid recording statements or accepting settlement offers from insurance companies before consulting with an attorney.
Gather and organize all accident-related documentation. Victims should obtain a copy of the police report, information about the other driver, medical bills, injury treatment plans, and other pertinent documents.
Our free consultations allow you to discuss the accident without risk or obligation. Please call us at (888) 488-1391 if you have any questions.
Fatal Reckless Accident Statistics
Reckless driving accidents are among the leading causes of death and injury in the United States. Ten million people are injured yearly, and two million are killed in car accidents.
The National Highway Traffic Safety Administration defines reckless driving as "willful disregard" for the safety of other road users. Furthermore, the NHTSA reported 11,258 fatalities due to speeding in 2020.
Between 2003 and 2007, reckless driving was responsible for 56% of all traffic accidents, according to the AAA.
In the United States, speeding is the leading cause of fatal car accidents. Drunk driving also plays a significant role in traffic accidents on American roads.