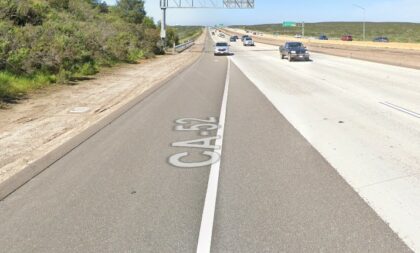 One person was killed after being struck by spilled cement bags from an overturned truck in Clairemont, San Diego, on Friday afternoon, May 26, 2023.
According to the California Highway Patrol, the fatal crash occurred just before 1:00 p.m. near state Route 52 on the southbound side of the freeway.
The pickup truck reportedly overturned while on a transition ramp, causing bags of cement and other items from the pickup to land on a gray SUV on the freeway below.
As a result of the impact of the falling objects, one occupant of the SUV died. A video of the accident shows the materials scattered around the area.
Caltrans reported that the accident forced the closure of the southbound I-805 connector to eastbound SR-52. Traffic was diverted to westbound SR-52.
Reputable Car Accident Lawyers in Clairemont, San Diego
Those injured in a car accident in California may file a claim against the party at fault. Immediate action and legal counsel are essential when dealing with insurance claims and related issues.
Please do not hesitate to contact our reputable law firm if you or someone you know needs assistance filing a personal injury or wrongful death claim due to an auto accident.
Our reliable San Diego car accident lawyers at Arash Law, led by Arash Khorsandi Esq., will represent you and protect your rights in court proceedings. Over $500 million in compensation has been recovered for our clients by our firm.
Call (888) 488-1391 for a free consultation or complete our "Do I Have a Case?" form.

What to Do After a Car Accident
Being involved or losing a loved one in a car accident can be frightening and challenging. In addition to physical harm, there may be financial and emotional consequences. Knowing what to do after a car accident can help protect legal rights and recover damages. Following a car accident, do the following:
Report the accident to the authorities. The police department's officers will compile an official report.
Avoid admitting fault. Remember to stick to the facts when talking to the authorities regarding the events leading to the accident.
Obtain the other driver's name, address, insurance information, and other necessary information.
Take photos of the accident scene, victims, damaged vehicles, road, and weather.
Request essential information, such as names and phone numbers, from eyewitnesses.
Notify your insurance company right away. Follow the instructions provided by the agent when submitting the report. Avoid recording statements and accepting settlements before seeking legal counsel.
Organize accident-related documents in a file. You should include a copy of the police report, the other driver's information, medical bills, injury treatment plans, and other pertinent documents.
Consult an attorney. Contact one of our reputable car accident lawyers for assistance with your claim if you have been injured or your property has been damaged.
Fatal Car Accident Statistics
A car accident occurs every 60 seconds in the United States. Automobile accidents are the leading cause of fatalities and serious injuries in the US, particularly among children aged 2 to 34. Every year, it claims the lives of approximately 1.3 million people.
Vehicles are responsible for over 10,000 fatalities in California, which has a high rate of unintentional traffic deaths. In 2020, fatal vehicle collisions caused 35,766 injuries and 38,824 deaths, according to the Fatality Analysis Reporting System (FARS).
Since 2013, the state has had 23.5% more fatal car accidents. There were 485,866 traffic accidents in 2017, with 3,898 fatalities and 276,823 injuries. In 2018, nine people were killed in traffic for every 100,000 residents in the state.
Even when driving cautiously, drivers can still kill or injure another person. That said, maintaining safe driving habits and exercising caution is critical.