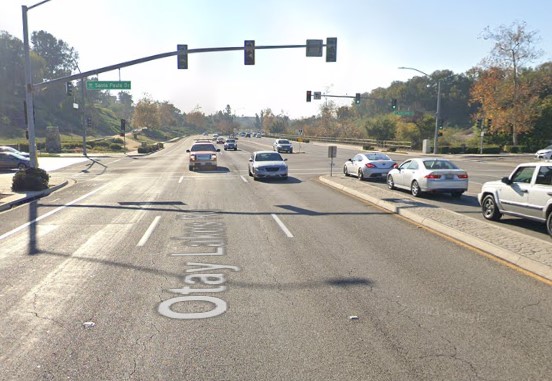 According to the Chula Vista Police Department, four people were injured after a two-vehicle collision in Chula Vista Saturday night, October 22, 2022.
The crash occurred at 10:16 p.m. on Otay Lakes Rd onto southbound Hunte Parkway.
A male driver and three female passengers were seen by witnesses heading west on Otay Lakes Rd before turning left onto Hunte Parkway and heading south.
When the male truck driver and his female passenger were headed east on Otay Lakes Rd., they had the "Green" light.
The rain had soaked the roads by this point. The impact pushed one of them back when the two cars met at the intersection.
The male front-seat passenger was trapped in the vehicle and had to be freed by the fire department.
Two men in the car were seriously hurt, and another was injured but not seriously.
The truck's female passenger suffered minor to moderate wounds. Four people were taken to area hospitals for treatment.
The cause of the crash has yet to be determined.

Two-Vehicle Crash Statistics
The number of car accidents in the United States has increased recently. Every year, more than a million people die in vehicle collisions. There are about 3,287 people killed in traffic accidents every day. Between 20 and 50 million people are injured annually, and half a million are left permanently disabled, all because of automobile accidents.
Countless people walk or ride their bikes to work every day. Motorists are legally responsible for maintaining undivided attention on the road at all times. One cannot anticipate the occurrence of a car crash. It's risky to venture out onto the streets of California.
The annual death toll from car accidents in California exceeds 10,000. California had 3,898 fatalities and 276,823 injuries from car accidents in 2017. There has been a 23.5 percent increase in traffic deaths since 2013.
Nine deaths per every one hundred thousand people in California due to car accidents in 2018. Unintentional fatal car accidents are sadly common in this state.
Make sure you're always alert, your car is in good working order, and practice safe driving techniques regularly.
San Diego County Car Accident Lawyers
The need for a lawyer is usually unnecessary in cases of minor auto accidents. However, at Arash Law, you can schedule a free consultation at any time without any obligation to hire them.
Sometimes insurance companies will hire private investigators to "catch" accident victims in the act of doing something they know they are forbidden to do.
Having someone you don't know shadow you and your loved ones as you do your daily activities is terrifying. It is illegal if there is no legal basis for an invasion of your privacy.
The skilled lawyers at Arash Law in San Diego County never turn away a client in need. Your cooperation in providing detailed information will help our lawyers better represent your interests in court.
Insurance companies can violate the law and your rights in many ways. Any car accident in California should be reported immediately to a lawyer specializing in personal injury cases. Dial (888) 488-1391 to speak with a knowledgeable Arash Law, personal injury attorney for free.