A 93-year-old woman was killed while two others were injured after a multi-vehicle collision in the south side of Yuba City on Wednesday morning, November 10, 2021.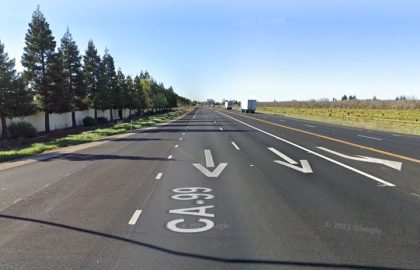 According to the initial reports from the California Highway Patrol, the crash happened on Highway 99 near Stewart Road at around 9:28 a.m.
The 93-year-old woman was heading southbound in her 2018 Toyota on Highway 99 when she entered the left turn lane near Stewart Road while a northbound Mazda was in the second lane.
Meanwhile, a 2005 Lexus was traveling in the first lane behind the Mazda. Unfortunately, the 93-year-old woman failed to yield to oncoming traffic and directly turned in front of the Lexus and Mazda.
The Mazda crashed into the Toyota. Due to the severity of the impact, the Toyota spun out of control and hit the Lexus.
The 93-year-old woman was rushed to an area hospital with serious injuries. Unfortunately, she later succumbed to her injuries and was pronounced dead.
Meanwhile, both the Mazda and Toyota drivers sustained unspecified injuries in the crash. They were also taken to a hospital for treatment.
Information about the crash is limited at the moment. The accident is currently under further investigation.

Fatal Multi-Vehicle Collision Statistics
A total of 36,560 people were killed in 2018, according to the Fatality Analysis Reporting System (FARS) of the United States Department of Transportation.
When a multi-vehicle accident does occur, the number of people injured and the amount of property damaged can be staggering.
As a result, there can be bitter legal battles over who is to blame for such a large-scale accident. You may be unable to recover compensation for your injuries if there is a dispute.
When an accident involves three or more vehicles, it is called a multi-vehicle collision. Crashing in a "chain-reaction" fashion is usually the cause. There are many parties involved in this type of accident, which can make it difficult to handle.
Drunk driving, speeding, and distracted driving are the most common culprits in these kinds of collisions.
Collision Attorneys for Victims in Sutter County
The victims' families can be devastated by the death of a loved one in a multi-car accident. They may be overwhelmed and confused about what to do next. Having an experienced lawyer on your side is essential in these kinds of cases.
There are two ways to pursue a wrongful death claim: negotiating with an insurance company or going to court. A wrongful death claim can only be brought by a family member if there is proof that the negligent party was responsible for the death of their loved one.
If you or your loved one has been involved in a fatal car crash, your lawyer will work tirelessly to prove who was at fault and how much compensation you are entitled to for your injuries and losses.
If there is not enough insurance coverage to cover all of your damages, an attorney can help you protect your rights. Multiple victims often try to claim on the same insurance policy in a multi-car accident, so this situation is common.
You can rely on Arash Law's fatal collision lawyers from Sutter County to handle the legal aspects of your claim. Call Arash Law at (888) 488-1391 or contact us online to schedule a free, no-obligation case evaluation for a fatal car accident.