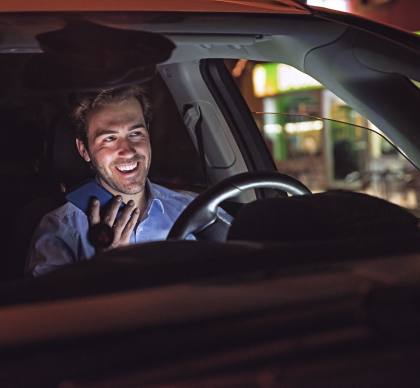 Distracted driving may sound like empty words, but for millions of families and loved ones across the country each year, the words "distracted driving" become synonymous with losing someone they cared for deeply. That is David Teater's story. David Teater lost his son because of a distracted driver. Since then, he has dedicated his life to improving traffic safety conditions for every driver by using large companies to influence the behavior of their employees and the community at large.
David is a father, and one January day in 2004, he was driving with his boy when a distracted driver took his youngest son's life. While talking on the phone, a driver in Grand Rapids, Michigan, sped through a red light, passed four cars and a school bus, and rammed into the Teaters' car at 48 miles per hour.
In the aftermath of this tragedy, David Teater, a former CEO, made it his mission to increase driver and passenger safety by reducing the rate of distracted driving across the country. He implored businesses to implement safety practices to reduce the rate of injuries and fatal crashes in company vehicles to spread safety practices to every driver across the country. Continue reading to learn more.
Our award-winning California law firm has decades of experience helping people and families who have been in traffic accidents or have lost loved ones get the help they need to pursue justice. We are passionate about the pursuit of justice for our clients. If you have been hurt in an accident, call our firm to speak with one of our talented injury lawyers. We are here to help.
What Is Distracted Driving?
Simply put, distracted driving happens when a driver takes their attention off the task of driving. Distracted driving takes one of three forms, and each may cause an accident. The forms of distracted driving include:
The driver takes their mind off the task of driving

The driver takes their hands off the wheel

The driver takes their eyes off the road
Texting and driving may fall into each of these categories. To type, send, and respond to text messages, a driver must take their hands off the wheel, eyes off the road, and mind off driving. These actions also take place when taking phone calls while driving, even with a hands-free option. Other examples of distracted driving include:
Eating

Talking to passengers

Changing your music station

Adjusting the temperature of the air conditioner or heater

Using social media
Distracted driving causes accidents. Each year thousands of people die after a car accident caused by a distracted driver. According to the National Highway Traffic Safety Administration, 3,142 people died in 2019 after a car crash with a distracted driver. The National Highway Traffic Safety Administration claims that any non-driving activity that a driver does while driving can cause potentially deadly accidents.
Still, everyone can help reduce the occurrence of distracted driving by talking about it. Particularly, co-workers can help reduce the number of car accidents in the workplace by having conversations about the dangers of distracted driving.
If you have been harmed in a traffic accident caused by a distracted driver, call our legal team or visit us online to schedule a free consultation. Arash Law founded by Arash Khorsandi, Esq. has decades of experience recovering over $400 million for clients who have been involved in tragic accidents. We are passionate about helping injury victims and their families get the compensation that they need to restart their lives.
David Teater's Plea to Business to End Distracted Driving
Understanding that distracted driving has the potential to end tragically, David Teater used his experience as a CEO to persuade business leaders to change their company practices. After the loss of his son and as he began to pick up the pieces of his life, Teater had an idea.
Teater hypothesized that if leaders of large companies, companies with more than 1,000 employees, banned cell phone use by employees while driving could have a massive impact on their personal lives. Teater believed that if employees and CEOs saw the benefits of removing distractions while driving, they would share those benefits with their friends and families, and distracted driving would stop or at least be considerably reduced.
Teater saw that the use of seatbelts increased after the national campaign about seatbelt use and the information about the safety benefits became widely available to the public. It became apparent that using a seatbelt to keep drivers and passengers safe was common sense. Teater understood that people would make decisions based on common sense and stop driving while distracted if the information was given to people.
Concerns About Policy Changes From Business Leaders
Although the benefits were apparent to David Teater, the leaders of large companies had their concerns. Company leaders voiced their agreement that reducing the use of cell phones while employees are driving would positively impact road safety. Still, leaders had concerns about the end of cell phone use on the company's productivity levels and resistance from upper management.
Company CEOs stated that they were concerned about decreased productivity if their drivers' job duties required using a cell phone. Some companies pointed out that if their employees spent much of their workday using their cell phones to talk to customers as they are driving and between appointments, banning cell phone use company-wide could interfere with profits. Taking that concern in mind, the National Safety Council watched for decreased productivity.
The National Safety Council surveyed the Fortune 500 companies implementing a cell phone ban. One metric they looked for was decreased productivity among the companies that put a cell phone ban. Among those companies, the survey found that only 7 percent reported decreased productivity. Among companies surveyed, 19 percent reported an increase in productivity.
Companies like Exxon Mobil and Shell Oil were among the first of the Fortune 500 companies that were surveyed to implement a cell phone ban policy. The Toledo, Ohio company, Owens Corning, started its own cell phone ban policy in 2012. During the implementation, Owens Corning CEO Matt Schroder and the other CEOs stopped using their cell phones while driving for 90 days. Schroder and the company found that no cell phone use, handheld or hands-free, had a widespread positive effect. The habit of stopping cell phone use while working carried over to the employees' personal lives.
Some Companies Reported Resistance From Upper Management
Some of the companies targeted cited resistance from upper management as a concern about implementing a company-wide cell phone use ban. Along with the concern with resistance from upper management, some Fortune 500 companies did not want to change their policies beyond what is required by federal law.
The large companies targeted by Teater's initiative have traditionally based their policies and changes to policies on the requirements set by federal law. At the time that Teater asked companies to change their cell phone use policy, there were no federal laws and no state laws that banned hands-free use of cell phones for drivers. Therein lay the resistance from upper management. Even with the resistance from upper management, large companies still gave a cell phone ban a try. The large company holdouts tried the cell phone ban and saw a positive net result.
Teater's goal seemed to be working. There was an increase in the spread of information. People were becoming safer because distracted driving was decreasing one employee.
If you have been hurt in an accident, call our reliable law firm. Our attorneys have decades of experience helping clients get the compensation they deserve after being hurt in an accident. We understand that distracted drivers cause many accidents. When you are hurt because of their actions, they deserve to pay. If you have been in an accident caused by a distracted driver, call us today.
As much as road safety could improve because of the attention to decreasing distracted driving, some companies still did not see that banning cell phone use was a no-brainer from a business standpoint.
The Obvious Answer
To David Teater, reducing the number of employees driving while using their cell phones on the job was clear. The resistance to implementing cell phone bans seemed crazy. David Teater has spent many years traveling across the United States, giving presentations to spread the message. Teater gives around 30 to 40 presentations each year.
Teater speaks to individual companies and makes presentations to employers who attend safety, insurance, or risk reduction conferences. The subject of Teater's talk is to show that cell phone bans are a "no-brainer" for companies. During his presentation,
Teater speaks about the dangers of cell phone use and how it impairs cognitive function. Employees who attend Teater's speeches ultimately spread the message that stopping distracted driving is beneficial to other people in their lives, including co-workers and people in their personal lives.
Teater's talks include explaining brain function. During his speeches, Teater points out that a hum brain cannot do more than one thing at once. He continues by stating that cognitively demanding tasks, like driving and talking on the phone, require independent focus. Teater claims that it takes more cognitive ability to be engaged in a phone conversation while we drive than to talk to someone while they are in the same room. Teater explains that we as humans simply cannot use our cell phones and drive simultaneously because our brains cannot give the focus that is required to complete either task well or safely.
Teater's speeches explain that distracted driving is not worth the risk. Other information that Teater reveals in his speeches each year includes:
Reading a text message while driving makes a driver 3.4 times more likely than drivers who are not texting to get into a car accident.

Drivers who talk on their phones while driving makes a car accident four times more likely for them to get into a car crash.

After hearing this information, Teater reported that companies take heed to the research. After hearing the research, Teater found that companies are more likely to implement a ban on cell phone use and other forms of distracted driving.
The decrease in distracted driving is hopeful. It looks like Teater's goal to use company-wide bans on cell phone use to reduce the amount of distracted driving car crashes across the country through word of mouth about the benefits was working. Despite the success of Teater's work, there are still car accidents that occur because of distracted driving. An accident caused by distracted drivers may have devastating consequences. These accidents happen quickly and can cause property damage, serious injuries, and even death.
We have decades of experience assisting injured clients in getting the compensation that they need. Our reputable California law firm has talented accident attorneys that have the knowledge, expertise, and skill to maximize an injury settlement amount. Call or visit us online to schedule a free consultation today.
Common Sense Wins the Day
Teater found that businesses were convinced by how it just seemed to make common sense to implement a cell phone use ban to reduce the number of traffic accidents caused by distracted drivers. Teater also found that three things convinced businesses that the cell phone ban was a good idea. The three points that convinced business leaders to try a cell phone ban are:
Driving while distracted is dangerous and gets more dangerous as time goes on.

If companies are not proactive about reducing the number of traffic accidents that their employees cause due to distracted driving, the company will be liable for the accidents.

There is no discernible negative impact on the company. Implementing a cell phone ban policy does not increase the company's bottom line but having a company-wide no cell phone use policy reduces the likelihood of accidents happening and reduces the risk of companies paying judgments after traffic accidents.

If you have been in an accident caused by a distracted driver, call our firm today. Our law firm has collected over $400 million in compensation for our clients. Our attorneys at Arash Law led by famous attorney Arash Khorsandi have decades of experience pursuing justice for our clients who have been hurt in traffic accidents. Call our office or visit us online to schedule a free consultation.
How Can an Accident Attorney Help Me?

Accident lawyers help project injury victims' rights after an accident. Accident victims who go against big insurance companies alone risk being railroaded by insurance adjusters bent on protecting the insurance company's bottom line. Accident attorneys help accident victims obtain the compensation that they need so that they can recover in peace.
In addition to protecting an accident victim's rights, injury lawyers ensure that the technical aspects of the settlement negotiations or lawsuit are properly followed. Accident attorneys have the knowledge and training to ensure that the insurance companies are not taking advantage of you as an accident victim. Accident attorneys help ensure that the investigation that litigation and insurance claims require is conducted thoroughly and with professionalism. Most accident victims have never been a part of a lawsuit before their accident. Attorneys use their professional judgment to help you navigate the legal process
If you have been involved in an accident with a driver who was working for a company when they hit you, it adds another level of stress to an already confusing situation.
Hiring an accident attorney with experience suing companies with negligent employees can help you get better overall results. Our California injury lawyers have the experience that your case requires. Call us or visit us online to schedule a free consultation if you have been hurt in an accident.
Call Arash Law Today
To get the best representation available, call Arash Law headed by Arash Khorsandi, Esq. today. We have talented accident attorneys in our firm who have decades of experience helping our clients get the compensation they need to get their lives back on track after an accident. Our reliable California injury law firm understand that getting the payment you need to cover medical bills, property damage, and lost income from an at-fault driver. It is even more challenging to get the money you need to recover when the defendant is working for a company. Call us to get the benefits of an experienced accident lawyer who can work with you to get the compensation you need.