A 66-year-old woman identified as Rosa Olivera was injured after a two-vehicle collision in Merced County on Thursday morning.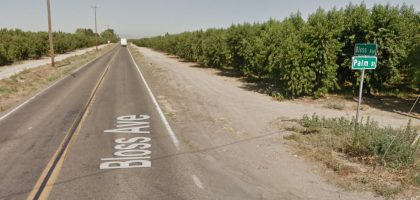 The collision happened at the intersection of Bloss venue and Palm street at around 8:40 a.m.
A 2016 Nissan Sentra was traveling southbound on Palm Street when the driver failed to stop at the stop sign at the intersection. The Nissan was then struck by a 2015 Chevrolet Sonic driven by Olivera on the right passenger side.
Emergency personnel arrived at the scene and extricated a woman who was trapped in the Nissan. The female Nissan passenger was transported to Emanuel Medical Center in Turlock, where she was later pronounced dead.
Meanwhile, Olivera sustained major injuries from the impact. She was airlifted to Memorial Medical Center in Modesto for treatment. The driver of the Nissan fled the scene. Local authorities are currently in pursuit of the driver.
Fatal Two-Vehicle Accident Investigation is Underway
Local authorities are currently trying to determine the cause of the incident through an official investigation. The suspect may also face hit-and-run charges once local authorities apprehend him.
Motor vehicle accidents are one of the leading factors in unintentional injury deaths in California. According to the National Highway Traffic Safety Administration, there were 3,304 fatal car accidents in California in 2017. In 2018, 48 over 100,000 people die from their injuries on average in California. These accidents are caused by various reasons, such as distracted driving, drunk driving, and driver over-fatigue.
When facing cases like this, it's essential to have an experienced Merced County personal injury attorney to conduct a private investigation to prove the guilty party's negligence. Aside from the criminal charges, the victims can also seek compensation through a civil lawsuit filed against the guilty party. With the help of a professional California, personal injury attorney, the legal process would be easier for the victim. Personal injury attorneys can re-interview important witnesses, analyze relevant surveillance videos from the crash scene, and gather phone and texting records of the liable party.
Merced County Wrongful Death Attorney for Victims of Fatal Two-Vehicle Collisions
While waiting for the official investigation results, the victim is encouraged to pursue a personal injury claim with his attorney's help. The victims are entitled to seek financial compensation for the medical expenses, lost earnings, emotional trauma, and pain and suffering that the car accident has caused them through the personal injury claim.
Attorneys can serve as a compassionate, helpful legal guide during this difficult time for the grieving family. They will vigorously fight for their client's rights and best interests while ensuring that the liable party will be held accountable for their negligence. Attorneys can also negotiate with insurance companies on behalf of their clients to ensure that they are compensated fairly.

If you have a nagging suspicion that someone is to blame for the death or injury of your spouse or family member, contact Arash Law. We have the resources you need to pursue justice for wrongful death and the experience to ensure that you get fair compensation. We're conveniently located throughout California, with offices in Los Angeles, Sacramento, San Francisco, Riverside, Orange County, and San Diego, and are happy to visit you at your home or office. Call (888) 488-1391 for a FREE Consultation with a personal injury attorney in California.