California

Dangerous Road Conditions Attorneys
PAY NOTHING UPFRONT

OVER $

400

MILLION RECOVERED

ZERO-FEES UNTIL WE WIN
You May Be Entitled To Compensation

California Dangerous Road Conditions Attorneys You Can Depend On
While car accidents can stem from driver negligence, there are cases where the roads are actually to blame. In many cases, these accidents result from poorly maintained or designed roads. People involved in such crashes are often completely confused about what options they have for obtaining compensation as it relates to damage to their motor vehicles and injuries they suffered. If you suffer injuries or dramatic damage to your car because of an unsafe road, you will want to speak to a California dangerous road conditions attorney.
The United States Department of Transportation (DOT) found that 6,953 of the 24,955 bridges (27.9 percent) in California were structurally deficient or functionally obsolete, and 68 percent of the roads were in poor or mediocre conditions. The American Society of Civil Engineers (ASCE) Report Card for America's Infrastructure said that 43 percent of American roads were in poor or mediocre condition, with only 15.4 percent being fair and 41.9 percent being good. A defective roadway claim can be much more complex than the traditional personal injury claim stemming from a car accident.
Since most roadways are overseen by certain city, state, or federal government entities, legal action can involve different procedures, and there is also the possibility that liability may be complicated by multiple parties being at fault. Certain types of dangerous road conditions, such as potholes, not only cause damage to your motor vehicle but can also cause accidents that result in physical injury to both you and your passengers. When you think that a defective roadway was to blame for your automobile accident in California, you will want to make sure you are working with an experienced personal injury lawyer who will know what the proper steps are to take for you to recover appropriate damages.
A governmental entity may be responsible for maintaining the safety of local roads and highways. If such an entity allows road conditions to become unsafe to the point that they cause accidents and injuries, then the governmental entity can be liable for multiple kinds of damages, such as a person's medical bills, lost wages, and pain and suffering.
A claim against a government entity is not the same as suing the average person, and you might have a much stricter statute of limitations (time limit) for providing notice of a claim against such an entity. People who have defective roadway claims need to understand that the typical statute of limitations for personal injuries in California of two years from the date of an accident may only be a matter of months, so it becomes important to retain legal counsel as soon as possible.
The Most Dangerous Road in California
Whereas research and analysis website ValuePenguin reported that the most dangerous road in America was Interstate 5 (I-5), with 584 people killed in 544 fatal crashes from 2015 to 2019. The Scripps Howard News Service's "Killer Roads" national reporting project stated that Interstate 15 (I-15) between Las Vegas and Los Angeles was the most deadly stretch of road in the United States, with 1,069 people killed in 834 accidents.
An article entitled "10 of America's Most Dangerous Roads" in Popular Mechanics found that California State Route 138 (SR 138) was the most dangerous road in the state. The story noted that drivers in California had borrowed the phrase "highway of death" or "death road" from Bolivia's infamous North Yungas Road and applied it to SR 138, and ABC News reported that the highway had also earned the names of the "California Deathway" and "Blood Alley."
SR 138 runs from I-15 to Palmdale in Los Angeles County, with twisting lanes through the San Gabriel Mountains to major congestion closer to the city. The Los Angeles Times reported that a woman and her mother noticed wooden crosses, bouquets, and several other memorials to crash victims along the narrow highway after they moved to Palmdale, only to be involved in a crash themselves that claimed the life of the mother.
The Times noted that the governor proposed spending $10 million on widening the deadliest parts of SR 138 from one lane in each direction to two, and the Metropolitan Transportation Authority had also proposed spending an additional $4 million on top of the $57 million the agency had allocated toward improving the road. SR 138 was described as a thoroughfare for big-rig trucks and those traveling from California to Las Vegas, with 56 people killed and 875 injured on SR 138 during the five years prior to the report.
Our client was driving with his wife and son on a two-lane highway when a drunk driver crossed the double yellow lines, causing a head-on collision that claimed the life of a loving wife and mother.
– 
Arash Khorsandi
Responsibility for Road Safety
The California Department of Transportation (Caltrans) controls or owns 350,000 acres of Right of Way and also maintains 15,133 centerline miles of highway as well as 13,063 state highway bridges. It also inspects more than 12,200 local bridges. All freeways and state highways are maintained by Caltrans. Other private roads are maintained by property owners, while other public roads are not in the County Maintained System.
County highways and roads are roads that have been made a part of the County's Maintained Road System by formal action of the Board. A county has an obligation to maintain these roads and can be liable for any failure to do so. The county has no obligation to maintain other public roads, which may be maintained by the people who live on or own property adjacent to the road.
Such property owners can be liable for defective conditions. Private roads are used specifically by property owners, and the county has no authority to maintain these roads.
Other roads may be maintained by governmental agencies such as the United States Forest Service and the Bureau of Land Management, while many local and residential roads in the county are actually located within city limits, and the city is responsible for maintaining these roads.
How the Government Learns About Dangerous Road Conditions
California allows governmental entities a reasonable amount of time to learn about dangerous road conditions and a reasonable amount of time to repair the hazardous conditions. Determining what is reasonable can vary depending on the case.
Governmental entities often discover unsafe road conditions through surveys of roads that are performed on a regular basis, reports from people in the community who have witnessed dangerous conditions, or regular road maintenance they perform on roadways. The government can try to claim that it did not discover a dangerous road condition, but a court can still hold the government liable when it discerns that the problem should have been found within a reasonable time.
You can prove that a governmental entity had knowledge of dangerous conditions if there are documented reports of dangerous conditions to the government. In other cases, inspections performed on the roadways should have resulted in the dangerous condition being identified.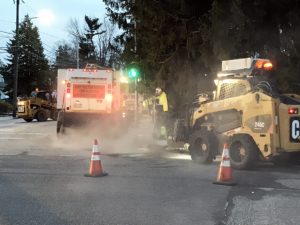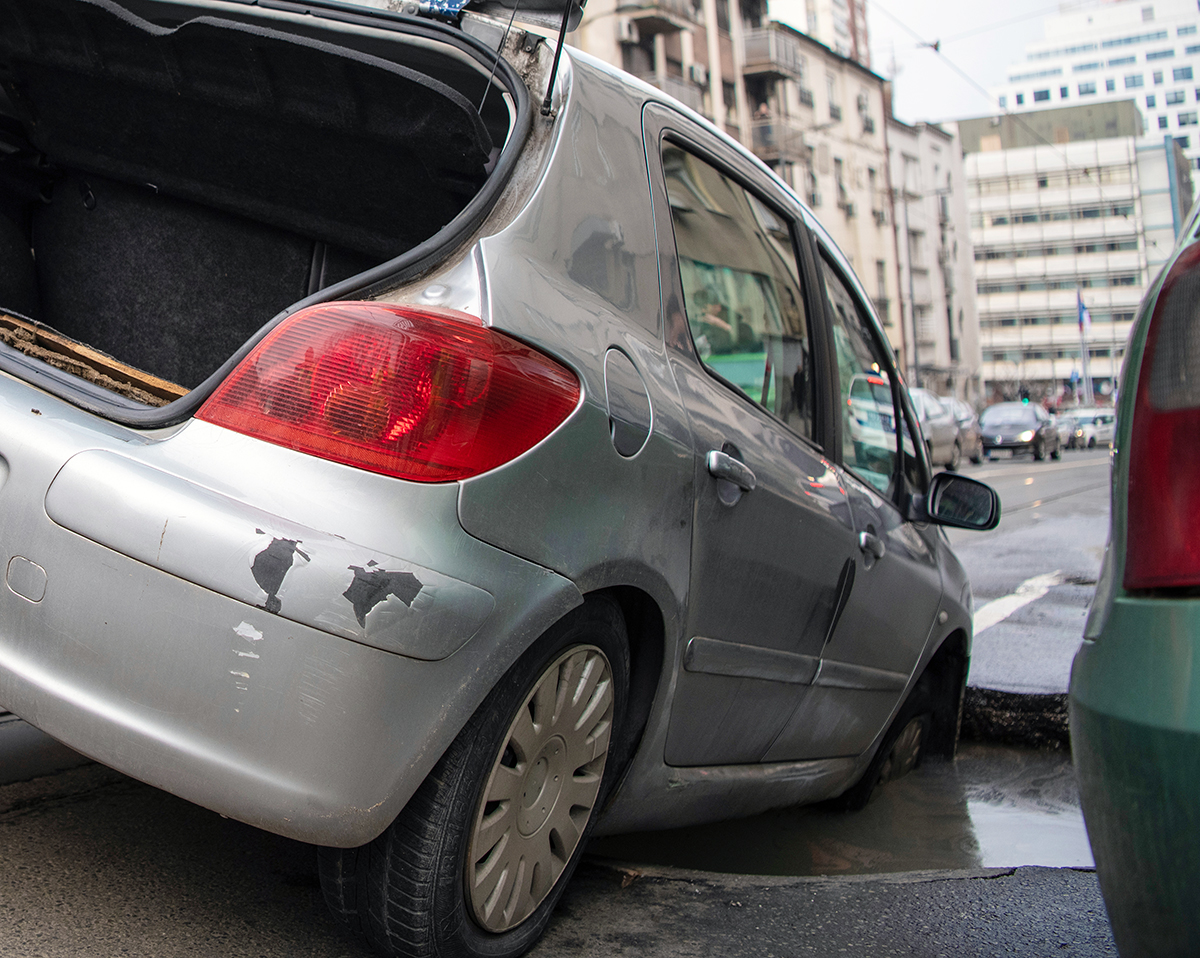 Issues with a Government Not Discovering Unsafe Conditions
Governments will often claim that they had no idea about defective road conditions in an effort to get legal actions against them thrown out. The issue will always be whether the government had a reasonable amount of time to discover a defective road condition.
A defect that was caused by some kind of event the same day as an accident will probably mean that the government is not liable. When an accident is the result of a defective condition that arose several months in advance of an accident, however, then a person can hold the government liable.
A court will usually conclude that a government is only liable when it had sufficient time to correct a hazardous condition. If it cannot be proven that a dangerous condition had existed for some time, it will be harder to hold the government liable.
Types of Government Liability for Dangerous Road Conditions
In most cases, a city, state, or federal governmental agency will be responsible for maintaining roads and performing corrective measures when a road is not suitable for driving on. There are many different kinds of hazardous conditions that can cause dangers for people driving on dangerous roads.
Some of the most frequent kinds of road dangers include, but are not limited to:
Poor roadway design
Potholes, cracks in the road, or broken pavement
Shoulder drop-offs
Uneven surfaces
Debris that was not removed in a timely manner
Road signs covered by foliage or signs that have fallen
Insufficient or inadequate notification of changes on shoulders
Excessive gravel or oil
Failure to post warning signals or signs
Humps in the roadway
Poorly established construction zones
Lack of or insufficient guardrails or median rails
Hazardous weather conditions
Hazardous curves in the road design
Lack of rumble strips
Loose gravel
Inadequate highway division, edge lines, or line striping
Lack of a shoulder‑recovery area
Damage to bridges or overpasses
Lack of proper warning signs
Dangerous curves
Improper speed markings
Inadequate control of traffic in construction zones
Faded lane markings
Poor lighting
Steep inclines or declines
Clogged drainage that causes road flooding
Blind turns
Malfunctioning stop lights
All of the hazards listed above can be possible causes for dangerous roadway claims. It is important to hire a California dangerous road conditions lawyer as soon as possible to immediately commence an investigation into the hazard so you can know how long the danger existed and whether a governmental agency can be liable.
Causes of Dangerous Road Conditions
The government will often claim that dangerous road conditions were the result of causes beyond their control, normal wear and tear associated with high traffic, and acts of nature. Such explanations often ignore other contributing causes, however. In some cases, poor road design or planning of roads can also play an important role in defects. Poor road construction, such as companies using cheaper materials for building roads or bridges or a failure to maintain and repair the roadways adequately, can also be contributing factors.
Barriers and guardrails may suddenly become missing following other traffic accidents, and governments must act quickly to replace these items. When there are concerns about how visible road lines and markers are, then the government should be aware that such lines can fade over time and make an effort to reapply fresh paint.
Making a Claim for Injuries After a Dangerous Road Condition Accident
You will want to be sure you are working with a California dangerous road conditions attorney when you need to file a claim for a dangerous road condition because filing any action against a governmental entity can be confusing. You can best prepare by making sure you know the name of the road where your accident occurred, where exactly the dangerous condition is located on that road, and which direction you were traveling when your accident occurred.
Certain forms of evidence you can capture at the scene of your accident can also be helpful, including any photographs you have of the hazard as well as the names and phone numbers of any witnesses. If you contacted the police and a police report was filed, it can be helpful to supply that to your lawyer as well. Always take pictures of your injuries while they are at their worst before they have time to heal.
Knowing Who to Sue for Injuries
In most cases, a defective roadway claim is going to be filed against a governmental entity responsible for maintaining the road. Every case is different, though, so there can be situations in which other third parties also bear liability. The government may not be liable in all cases, such as a dangerous road condition being the result of a trucking company spilling excess gravel on the road. Other kinds of third-party causes can include manufacturers of defective stoplights.
Lawsuits are not always necessary when your attorney begins engaging in settlement negotiations with an insurance company for the liable party. Most insurers will want to achieve settlements specifically to avoid trials, but cases may have to go to trial when an insurance company refuses to provide a suitable settlement offer.
Suing Subcontractors Working for the Government
It is far from uncommon for a government to hire a contractor or subcontractor to perform certain roadway maintenance work. When that contractor or subcontractor then engages in faulty work that creates a hazardous road condition, they can become the party liable for the resulting injuries. This situation represents another reason it is so important for people to seek the help of a skilled personal injury lawyer because they will know how to subpoena the government's records and determine not only who the contractors or subcontractors were but also what responsibility they can have for your injuries. When you retain legal counsel after a dangerous road conditions accident, you will have the best chance of moving forward with a legal action that identifies every single possible liable party.
Proving How Dangerous Road Conditions Caused Your Injuries
In a personal injury case in California, a person will need to prove the three basic elements of negligence. Those elements are that a liable party owed the victim a duty of care, the liable party breached that duty of care through some form of negligence, and the liable party's negligence caused harm to the victim. All accident victims must seek immediate medical attention following a crash because they not only need to get a doctor to diagnose their condition properly, but they also want to have a medical record connecting their injuries to their accident. 
After you prove your injuries were connected to your accident, you can then prove the resulting damages for which you are seeking recovery. The government or an insurance company may try to argue that your injuries were pre-existing conditions or that you were actually the party at fault for causing the injuries. You will again want to be sure that you have an experienced attorney on your side to counter these arguments.
Information Presented in Court
When a defective roadways case makes it to court, there will be several forms of evidence that are likely to be presented. You will certainly want to introduce any statements of witnesses to your accident because they will be independent opinions that can be beneficial in most cases since they are not coming from either the plaintiff or defendant in a legal action.
The police report will be another important type of evidence because, like witness statements, these reports are independent of victims' or liable parties' perspectives. A victim's own testimony can also be entered into evidence in court. You may want to submit photographs of your accident scene. A lawyer will know how to submit other forms of evidence, such as governmental survey records, your medical records, and costs of vehicle repairs.
Finally, you are going to need to submit some kind of evidence demonstrating that a government had knowledge of the road defect. Proof of this knowledge can include anything that shows the government knew about a dangerous road condition but did not do anything to correct it.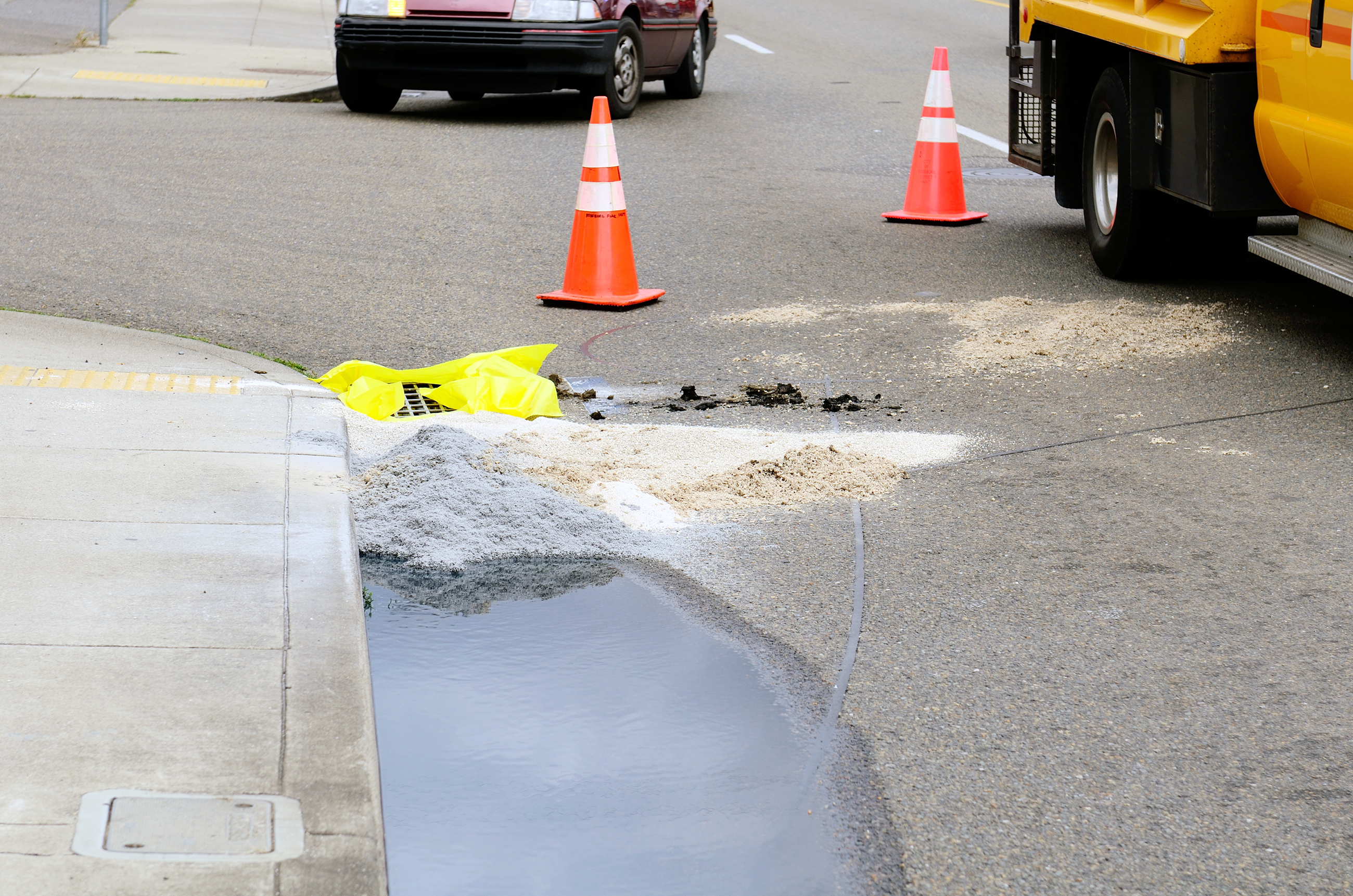 Government Arguments Against Damages in Your Case
The government is not likely to admit it was at fault. In most cases, they will try to transfer the blame back to you. The government may attempt to do so by arguing that you were driving in an unsafe manner or you were doing something while driving (such as being distracted) that caused your accident.
In other cases, the government can try to argue that there was another cause beyond its control that caused your accident, such as the actions of another negligent driver. The government is also very likely to argue that it had no knowledge of a dangerous road condition and it did not have a reasonable amount of time to institute a repair.
Sovereign Immunity Concerns
While California Government Code § 815 provides that a public entity cannot be liable for an injury, whether an injury arises out of an act or omission of the public entity or a public employee, or any other person, the California Tort Claims Act allows for the government to be liable in cases of injuries involving dangerous conditions on public property.
A governmental agency may be liable when an injury occurs on property that is owned or controlled by a public entity, there was some kind of dangerous condition on the property owned or controlled by a public entity, the dangerous condition created a reasonably foreseeable risk of injury, the dangerous condition was either the result of the negligent or wrongful act or omission of a public employee who was acting within the scope of their employment, or a public entity had actual or constructive notice of the dangerous condition enough time before an injury to take reasonable measures to protect against such an injury, and the dangerous condition was the proximate cause of a person's injury.
California Government Code § 830.6 provided design immunity for public entities, but California Government Code § 835 establishes that a public entity will be liable for an injury caused by a dangerous condition of its property if a person establishes that the property was in a dangerous condition at the time of their injury, the injury was proximately caused by a dangerous condition, the dangerous condition was created a reasonably foreseeable risk of the kind of injury that was involved, and either a negligent or wrongful act or omission of an employee of the public entity within the scope of their employment created the dangerous condition, or the public entity had actual or constructive notice of the dangerous condition enough time prior to the injury to have taken measures to protect against the dangerous condition.
In Cordova v. City of Los Angeles, (2015) 61 Cal.4th 1099, 1105, the Supreme Court of California wrote that public property is in a dangerous condition within the meaning of California Government Code § 835 when it is physically damaged, deteriorated, or defective in such a way as to foreseeably endanger people using the property itself. Identifying a dangerous condition should include hiring an expert who understands potential dangerous conditions because injuries occurring because of defects on roadways may require experts in traffic safety who can identify defects.
The Federal Tort Claims Act (FTCA) is a piece of federal legislation providing a legal means for compensating people who suffer injuries, death, or property loss or damage because of a negligent or wrongful act or omission of a federal government employee. The FTCA typically allows people to recover monetary damages from the United States under circumstances where the United States will be liable in accordance with the law of the place where the negligent or wrongful act or omission occurred.
The provisions of the FTCA are found in Title 28 U.S Code §1346(b), §1402(b), §2401(b), and §§2671-2680. People who suffer injuries or whose property is damaged by a wrongful or negligent act of a federal employee who is acting in the scope of their official duties can file a claim with the government for reimbursement for their injury or damage, provided they can demonstrate that they suffered injuries or their property was damaged because of a federal government employee, the employee was acting within the scope of their official duties, the employee acted negligently or wrongfully, and the negligent or wrongful act was the proximate cause of the injury or damage.
Statute of Limitations for Dangerous Road Condition Cases
Whereas most injury claims in California involve people having multiple years to file claims, the time limit will be much shorter in a dangerous road case. In most cases, people first need to file a notice of claims against government entities within six months when their case involves a claim for personal injury, wrongful death, or damage to personal property.
After you file a claim, a governmental agency will usually have 45 days to respond. The agency may reject the claim or fail to respond, which is the same as a rejection, or they may approve the claim and move to settle the case. When a claim is rejected, then a person will have six months to file a petition with the Superior Court.
The time limit will be two years if the agency fails to respond to the original claim. When a court grants permission to proceed without a claim requirement, then a person has 30 days to file a lawsuit. A denial of a petition can be appealed.
Damages in Dangerous Roadway Cases
A victim can recover many different kinds of damages in their dangerous roadway case. Many cases will be resolved through settlements, but you will want to have a personal injury lawyer negotiating any possible settlement offer for you because they will know exactly what your case is worth and be capable of working to recover the best possible settlement offer.
Should your case actually go all the way to trial, then you can receive an award for compensatory damages. The phrase compensatory damages usually includes both economic damages and non-economic damages. Economic damages refer to your actual losses that can be proven. Non-economic damages are much more subjective losses without economic values.
Economic damages often include:
Medical bills
Lost wages
Property damage
Rehabilitation expenses
Physical therapy costs
Non-economic damages might include:
Pain and suffering
Mental anguish
Emotional distress
Physical limitations
Disfigurement
Loss of enjoyment of life
Punitive damages are a much less common form of damages in personal injury cases, and such damages are specifically prohibited in claims against government agencies. You cannot recover a punitive damage award in any case against a governmental entity. After you file a claim, a governmental agency will usually have 45 days to respond.
The agency may reject the claim or fail to respond, which is the same as a rejection, or they may approve the claim and move to settle the case. When a claim is rejected, then a person will have six months to file a petition with the Superior Court.
Call Us Today to Speak with a California Dangerous Road Conditions Attorney
Do you think that a dangerous road condition caused your most recent automobile accident in California? The team at Arash Law led by Arash Khorsandi, Esq. can be your voice both inside and outside of the courtroom, and will always be working to ensure that you can recover maximum financial compensation for all of your losses.
Our firm has recovered over $400 million in settlements and verdicts for our clients. Call (888) 488-1391 or contact us online to schedule a free consultation with our California dangerous road conditions attorney.