One person was seriously hurt after a major multi-vehicle collision at Hesperia Park on Thursday morning, May 6.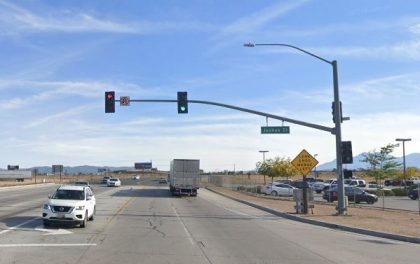 The accident happened at around 9:00 a.m. at the intersection of US Highway 395 and Joshua Street in Hesperia.
Nine vehicles were reportedly involved in the collision. A white 2021 Freightliner was heading southbound on US Highway 395 when it failed to stop for a red traffic signal.
The Freightliner then collided with a westbound red 2002 Pontiac. Due to the severity of the impact, the vehicles started to drift off in a southwest direction towards the park and the southwest corner of the intersection.
Several unoccupied vehicles sustained minor to major damage as a result of the crash. The Pontiac driver was extricated from the wreckage by emergency personnel. The Pontiac driver was seriously injured and was airlifted to a nearby trauma center.
Local authorities are further investigating the accident. Witnesses that can provide additional information about the mishap are urged to contact Deputy D. C. or Sheriff Service Specialist J. Chambers from the Hesperia Police Station at 760-947-1500

Multi-Vehicle Collision Statistics
In the United States, motor vehicle accidents are the most frequent cause of personal injuries. Nearly 2 million people are injured in motor vehicle crashes annually.
Every year, approximately 200,000 people are injured on California roadways due to motor vehicle accidents. According to the United States Department of Transportation's Fatality Analysis Reporting System (FARS), there were 33,654 fatal vehicle crashes in 2018, which caused 36,560 deaths.
In this case, a multi-vehicle collision occurred. When three or more vehicles are involved in a collision, the accident is considered a "multi-vehicle" collision. A "chain reaction commonly causes this type of accident," wherein one car will bump into another, which will cause the other vehicle to crash into another one potentially. These accidents commonly occur due to reckless drivers, speeding, drunk drivers, and distracted drivers.
Personal Injury Attorney for Victims of Multi-Vehicle Collisions in San Bernardino County
Sustaining accidents from a multi-vehicle collision may leave the victims with stress and high medical bills. It can be quite overwhelming to recover from your injuries while trying to file a personal injury claim on your own.
As the bills stack up, you might wonder when you'll receive payment for your damages. Speaking with an attorney is often the first step in getting your medical bills paid. Your accident may have left you with high hospital costs, ambulance fees, surgeries, medical equipment, disability, rehabilitation, or live-in care.
Insurance adjusters may also try to talk you into settling for a lower amount of compensation. An experienced California attorney can help move your case along with insurance companies or the judicial system, resulting in quicker payment for your bills.
We understand the common causes, defendants, and how to fight for compensation for collision-related injuries. Our attorneys from Arash Law will vigorously fight for their client's rights and best interests while ensuring that the liable party will be held accountable for their negligence. Whether you suffered burns, broken bones, brain injury, a spinal cord injury, or other damages, talk to our attorneys from Arash Law. The road to recovery starts just a phone call away. Call (888) 488-1391 right away.