A San Diego Police officer was hospitalized after a two-vehicle collision involving a hit-and-run driver in Grant Hill on Monday night, August 23.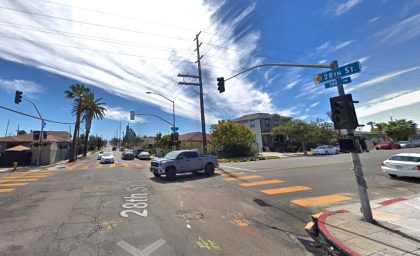 The major collision transpired at approximately 11:30 p.m. in the area of Grant Hill 28th and K Streets.
A silver sedan reportedly ran a red light at the intersection and T-boned a patrol vehicle for unclear reasons. The sedan driver then exited his vehicle and escaped the scene on foot.
An officer inside the patrol vehicle sustained minor injuries in the mishap. He was taken to an area hospital for treatment.
The sedan driver was later apprehended by authorities and was taken into custody. His identity has not been disclosed. Local authorities are further investigating the case.

Hit-and-Run Accident Statistics
Whenever a driver hits another driver, pedestrian, motorcyclist, or bicyclist and leaves the scene of the accident without stopping, a hit and run accident has happened. Drivers are legally required to stop at the scene of an accident and provide contact information. If they don't, it is a crime within itself.
Unfortunately, hit-and-run accidents are rampant across the country. According to the AAA Foundation for Traffic Safety, more than 680,000 hit-and-run accidents occur each year. In 2016, there were 2,049 fatalities in the United States as a result of hit-and-run accidents.
In 2016, California had the highest number of hit-and-run fatalities of any state, with 337. Since 2009, there has been a 60 percent increase in such fatalities. California was the only state with more than 300 hit-and-run fatalities and one of only three states to have more than 100. There are several reasons why hit-and-run drivers flee the scene. They might be intoxicated or impaired by drugs, face legal difficulties, uninsured, or illegal aliens.
Personal Injury Attorney for Victims of Hit-and-Run Accidents in San Diego County
If a hit-and-run driver has injured you or a loved one, you have the right to file a personal injury claim with the help of an experienced hit-and-run accident lawyer. Through a personal injury claim, the victims will be able to seek financial compensation for their medical expenses, lost wages, emotional trauma, and pain and suffering resulting from the accident.
For victims of these accidents, legal representation from a skilled California motor vehicle accident lawyer is essential. Otherwise, they may not receive the compensation available to them. Our attorneys from Arash Law have the skills, vigor, and compassion to help our clients receive the compensation they deserve. Call (888) 488-1391 to schedule your free consultation. Trust our experienced legal team to protect your legal rights so you can focus on recovery from your injuries.