San Diego

Hit-and-Run Motorcycle Accident Lawyers
with over $500 Million Recovered in Compensation for Injury Clients.
You May Be Entitled to Compensation

hit-and-run motorcycle accident lawyers in San Diego turning
Turning Injuries Into Victories
San Diego is a vibrant American city. Per the 2020 United States Census, the population of San Diego reached 1,386,932, making it the eighth-largest city in the country and the second-largest in the state.
The city is also the county seat of San Diego County, making it the fifth most populated county in the United States, with an estimated population of 3,338,330 people as of 2019. With so many people and a wealth of diversity, this city is affluent with several attractions.
Perhaps the most noted attraction of this city is the weather. The climate is warm year-round in all of California, particularly San Diego. Good weather allows for a more enjoyable experience when touring the city, visiting scenic views, or just driving around. 
The city draws thousands of people each year, and many of them make San Diego their home. Although the city has many attractions, the number of people sharing the road makes accidents more likely.
Since the population is so large, thousands of drivers occupy the road daily. Of the registered vehicles, over 800,000 are motorcycles. Motorcyclists must take additional precautions when driving. Most motorcyclists expose their entire bodies to their surroundings. 
The number of motorcyclists and their exposure to other vehicles can lead to severe damage, injuries, and even death. In such an event, knowing what steps to take, including reaching out to San Diego hit-and-run motorcycle accident lawyers, to receive maximum compensation to recover in all facets of life is crucial.
For decades, the attorneys at Arash Law, founded by famous attorney Arash Khorsandi, Esq., have helped accident victims get the compensation they deserve after getting hurt in an accident. The effects of suffering a hit-and-run motorcycle accident can be daunting and extensive, and Arash Law understands this reality.
The motorcycle hit-and-run accident attorneys at Arash Law, under the guidance of Arash Khorsandi, Esq., dedicate their practice to helping victims navigate the legal process and look forward to helping clients get their lives back. No matter the case's complexity, here at Arash Law in San Diego, we work hard to help individuals get the compensation they deserve.
You may be entitled to financial compensation for property damage, medical bills, lost income, or future losses related to the accident. If you suffered an injury in a motorcycle accident, contact our San Diego office at (888) 488-1391 or via our online chat to schedule a free, no-obligation case evaluation today.
Settlement on the first day of trial against governmental entity for dangerous construction conditions on a local street that caused a motorcycle accident – largest motorcycle settlement in Los Angeles for 2019 – client suffered shoulder injuries
– 
JUDD ROSS ALLEN
The term "hit-and-run" is defined as the driver of a vehicle leaving the scene of an accident without offering assistance, leaving any personal contact information, or contacting the police. Hit-and-run is a chargeable offense. As such, the legal requirement for anyone involved in a car accident is to remain at the scene until things are safe for everyone involved.
California charges hit-and-run offenses under California Vehicle Code sections
20001
and
20002
. These sections apply to both misdemeanor and felony hit-and-run accidents. These laws follow the accident's liable party and consider the severity of sustained injuries and property damage. Additionally, the laws provide severe penalties for these considerations, ensuring people remain at the scene before law enforcement arrives.
Drivers' Legal Responsibilities
Vehicle Code Sections 20001 and 20002 clearly define requirements for any driver involved in an accident on public roads. California requires a driver involved in an accident to do the following three things if the accident results in severe injuries, property damage, or fatalities:
The driver should stop their vehicle immediately. 
The driver should then provide their contact information to the other driver, including their name, address, and telephone number.
The driver should also provide the other parties involved with their vehicle information, including the registration number and driver's license details.
Each of these steps is necessary to ensure proper communication between both parties, and if not adhered to, it can result in hit-and-run charges. Failing to stop at the scene of an accident may increase the odds of a hit-and-run conviction. There are also public policy implications behind requiring a driver to stop at the scene of an accident. Courts may interpret not stopping at the scene of an accident as a disregard for the safety of others. Courts might impose harsher penalties if a driver flees the accident scene.
Not providing identifying information after an accident consistently leads to hit-and-run charges. It is important to remember that you can face criminal liability whether you hit a car while it is in motion, a parked car, or a person. Each of these actions can lead to felony hit-and-run charges.
In California, the type of damaged property does not matter. Any damaged property is legitimate and can carry criminal liability for a hit-and-run accident. For example, a driver has criminal exposure for causing a hit-and-run accident if they hit another person's car, someone else's fence, mailbox, or even another person's dog. For example, if you hit someone's dog with your car and do not immediately stop your vehicle, you can face misdemeanor hit-and-run charges for causing an accident. You can face misdemeanor charges even if you provide your contact information after a pet owner stops you.
You may face charges even if the property owner is absent when the accident happens. When that happens, the liable driver should leave all contact and identification details on the owner's property, then contact law enforcement.
Remember, the scene of an accident can be anywhere. Liability is not limited to either public or private property. Even if an accident happens in a private parking lot, the duties of a driver remain the same. They must stop, exchange pertinent information, and contact the police. If you hit a parked car in a private lot, you must leave a note with the applicable information in a conspicuous place.
Regarding the third duty of a driver at the scene of an accident, the driver must provide their driver's license and vehicle registration details upon request. However, California law does not require an exchange of insurance information under the hit-and-run statutes, but it can be a practical step if necessary. The requirement to provide insurance information is part of another statute under section 16025 of the California Vehicle Code. Under this statute, the liable driver in a car accident is penalized with a maximum fine of $250 if they do not provide their insurance information.

Emperatriz Ayala
My husband had an accident 2 years ago, a 85 years old man hit him, the Arash law group works very well on my husband case that took 9 month and he won the case and my husband was happy with the results. A year later I got into an accident as well and I'm still waiting in my case is almost resolving and it's 9 months already. This people knows the law and they do their job right to help you out in getting the most for you to fight on your behalf. I strongly recommend the Arash Law firm they do things right in a efficient and professional manner.

Chris Zavala
Had a great experience with all the people at Arash law. Long story short was in a bad car accident. It was overwhelming and the whole process was a lot, but they kept me in the loop. They answered all my questions and gave me great advice. Couldn't be any happier. Would definitely recommend anyone looking for a personal injury lawyer. They'll guide you through the whole process!

Jill Smith
Having Arash Law handle my auto accident was the best decision I could have made. Everyone I interacted with was kind, professional and detail oriented. I am extremely happy with the outcome and would recommend them highly.

Joseph R. Porter
From start to finish, Arash Law firm is there every step of the way with close, constant, personal contact and attention. I never knew a Law firm could actually care so much for me as a person and what I was personally going through as well as the settlement I was going to recieve once my case was finally completed. Thank you to everyone at Arash Law for your ongoing support and communication. You are the ONLY firm I will ever recommend to someone who is need of a great attorny.

Monica Parra
I had an excellent experience with Arash Law. I will definitely recommend to my family and friends. I interviewed a few firms before deciding to work with Arash Law. What made my experience excellent was (i.e. head attorney being accessible to talk to and he answered all my questions and concerns, sensitive and thorough personel who completed in home intake & follow up process, being connected immediately to quality Physicians who addressed my injuries and recovery process, clear contract-read throughly to ensure its something you can commit to). Being in a car accident is a traumatic experience and I had a sense of peace knowing Arash Firm was walking with me throughout the whole process. Thank you Arash Firm for all your hard work and help. I am so grateful and appreciative for you all! 🙏 With Gratitude, Monica Parra
According to Section 20002 of the California Vehicle Code, there are specific elements a prosecutor must show to convict a driver of a misdemeanor hit-and-run offense. The elements of California misdemeanor hit-and-run are:
The driver was involved in a road accident while operating a vehicle. 

The crash caused damage to another person or business's property (no matter the type of property). 

The driver knew that the crash caused property damage, bodily injury, or death, or the nature of the collision might have caused substantial damage to someone's property or that another person suffered an injury or was killed. 

The driver intentionally failed to stop their vehicle immediately and offer aid and exchange information required by law to the other parties involved in the accident.
A driver intentionally leaves the scene of an accident when they drive away without trying to render aid or give their information. The driver does not need to intend to violate the law or act for selfish gains. The sole act of leaving the scene puts the driver in violation of section 20002 of the California Vehicle Code, therefore resulting in a misdemeanor hit-and-run charge.
Additionally, a hit-and-run offender can still face charges even if they partially fulfill their legal duties. For example, if the driver immediately stopped their vehicle but did not provide their identification details, they can still be charged with a hit-and-run offense. On the other hand, when determining if hit-and-run charges should be applied, the prosecutor will take into consideration if the driver fled the accident but returned to provide their identification details to the parties involved.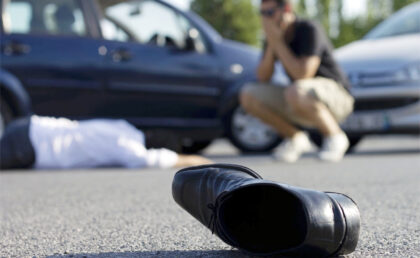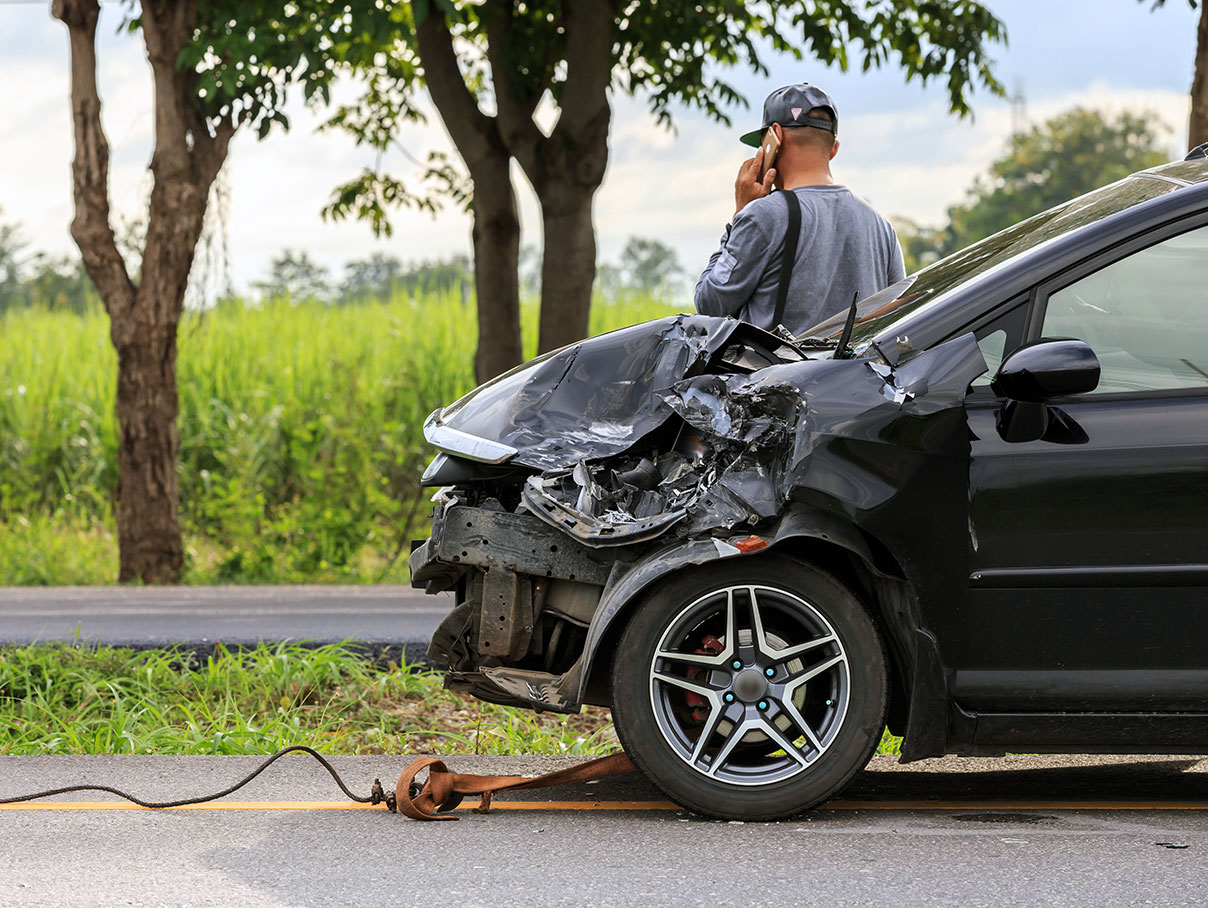 California Hit-and-Run Penalties
Under California law, the offender's criminal history often determines the offender's applied penalties. Criminal history plays a factor in deciding if the offender receives a felony or a misdemeanor conviction. California Vehicle Code section 20002 describes the misdemeanor charge and the potential punishments for misdemeanor hit-and-run convictions. If found guilty, the possible penalties for a misdemeanor hit-and-run charge include the following:
Informal probation for a maximum period of three years

Confinement in county jail for a period not exceeding six months 

Payment of restitution to the property owner for the value of the property damage caused by the crash 

A fine of up to $1,000

A mandatory of two points added to your license via the California Department of Motor Vehicles
Under California law, a sentence to informal probation is available for hit-and-run offenders with no prior convictions for violent or drug-related crimes. This probationary period can last up to three years. Informal probation may be a good option for offenders facing a sentence of up to five years. While completing their sentence, a probationer must follow these rules:
An offender must obey all local, state, and federal laws during probation. 

If required, a probationer must complete all court-mandated conditions, including community service. 

A probationer must pay court costs and fines. 

A probationer must regularly report to the judge presiding over the program during their probation period to track their progress.
Maximizing Compensation Despite Civil Compromises
In California, a first-time hit-and-run offender whose case includes no aggravating factors (for example, drunk driving) may participate in a civil compromise. Under California Penal Code section 1377, a civil compromise is an option for an injured person in an accident caused by another person. The driver will likely be charged with a misdemeanor offense since no aggravating factors exist. In a civil compromise, the misdemeanor charge gets resolved with a civil settlement. The offender's misdemeanor hit-and-run charges get dismissed after they pay restitution.
However, our hit-and-run motorcycle accident lawyers in San Diego will employ an assertive strategy to acquire the necessary evidence to establish the defendant's negligence. Our team of proficient attorneys possesses the expertise and resources required to construct a compelling case to secure the rightful compensation you deserve. You can trust us to protect your rights and seek justice on your behalf.
Personal Injury Settlement
Our client was the victim of a rear-end accident who was left injured and severely in pain. Arash Law was able to outshine other injury law firms when he searched online, and thankfully we were able to handle everything for our client from A to Z — All that he had to do was ask and focus on his recovery. Our client's life has changed forever, and the compensation received for the pain and suffering has opened paths for new lifelong opportunities.
Personal Injury Settlement
Our client was the victim of a rear-end accident who was left injured and severely in pain. Arash Law was able to outshine other injury law firms when he searched online, and thankfully we were able to handle everything for our client from A to Z — All that he had to do was ask and focus on his recovery. Our client's life has changed forever, and the compensation received for the pain and suffering has opened paths for new lifelong opportunities.
Felony Hit-and-Run Penalties
Under California Vehicle Code section 20001, a driver is guilty of felony hit-and-run if they leave the scene of an accident without attempting to render aid, provide personal information, or call 911. The state charges a hit-and-run as a felony if the driver causes a crash that results in the serious bodily injury or death of another.
Hit-and-run felonies share the same elements as hit-and-run misdemeanors. The driver must remain at the accident scene until all parties are safe and they have provided their identification details to the other parties involved. Also, the driver must provide any assistance they can perform, including first-aid or contacting their local first responders.
Penalties for felony hit-and-run vary significantly based on the surrounding factors. If a hit-and-run ended in another person's bodily injury or death, the driver could face up to 36 months in prison. If there are aggravating factors, the driver may face an additional five years of confinement.
Additional punishments from a felony hit-and-run accident can include:
Loss of driving privileges

Expensive fines and restitution

A prison sentence of up to 36 months

If the offender was under the influence of drugs or alcohol, a five-year prison sentence could be attached.
Settlement in a motor vehicle accident; client suffered internal injuries.
– 
JUDD ROSS ALLEN
Motorcycle Accidents in San Diego
San Diego County has approximately 2,923,189 registered trucks, cars, tractors, and trailers. Per the California Department of Motor Vehicles, only 85,488 registered vehicles are motorcycles. The number of registered motorcycles pales compared to the other registered vehicles. Additionally, motorcyclists suffer from more disadvantages on the road. These combined factors can lead to various types of damage and injuries.
Total motorcycle accidents in San Diego County

– 1, 109

Pain complaints

– 305

Total injuries

– 1, 199
Visible injuries

– 539

Severe injuries

– 222

Fatalities

– 43
Throughout San Diego are numerous roads that can be dangerous for motorcyclists. There are several times when dangerous roads may increase traffic, heightening the possibility of an accident. Additionally, some roads can be dangerous due to their lack of visibility, which can be problematic for motorcyclists, as their vehicles are smaller in stature. The small stature makes them more challenging to see by other drivers. This fact, combined with a dangerous road, can seriously threaten many people.
Common Causes of Hit-and-Run Motorcycle Accidents
San Diego drivers tend to disregard motorcyclists, but everyone must remember we share the road. Drivers must adequately check their blind spots before changing lanes or entering an intersection. When a driver fails to exercise reasonable care, a motorcyclist can bear the brunt of those actions. Motorcyclists are not protected against crashes by a seatbelt or airbags, so if they get into an accident, the exposure can cause debilitating injuries.
Common causes of hit-and-run motorcycle accidents in San Diego include the following:
Speeding

–

Speeding is one of the most common causes of motorcycle accidents. Driving too fast, especially in poor weather conditions, can cause one to lose control of the vehicle, hurting themselves or others and causing significant property damage. 

Distractions

–

Distractions come in various forms. Whether the distraction is texting while driving, navigating the GPS, or just gazing at the scenery, taking your eyes off the road for even a second can end in disaster. Focusing on anything but the road and surrounding traffic leaves room for an accident. 

Tailgating

–

Tailgating is when one driver follows another driver too closely. Tailgating means that if the front driver must stop suddenly, there is no room for the driver behind them to avoid crashing into them. 

Ignoring traffic

–

Motorcycle accidents often occur when a driver is not paying attention to traffic signs and signals. For example, failure to yield before turning can lead to a dangerous collision, where both drivers involved can sustain severe damages and injuries. 

Driving under the influence

–

A lamentable cause of motorcycle accidents is when someone is driving under the influence of drugs or alcohol. These substances can impair a person's mental clarity, meaning they are in no position to be driving on the road. Poor decisions can lead to the potential injury or death of someone involved in a DUI accident. 

Road rage

–

Some accidents can be caused by a driver becoming too angry while driving. Yelling, cursing, or making gestures are distractions that can cause the driver to ignore traffic and remove their hands from the steering wheel. Aggressive driving can lead to serious traffic accidents. 

Recall

–

Recalls occur because of a defective part of a vehicle. Every manufacturer who constructs motorcycle parts must meet industry standards to ensure the driver is not at risk of harm. A defective part can cause the motorcyclist to lose control of the vehicle and sustain serious injuries.  
These are just a few causes that can lead to motorcycle accidents. It is essential to be aware of these things, as the victim can hold the liable party fully responsible for any losses that result from the accident. You may have sustained a life-altering injury in a hit-and-run motorcycle accident and deserve compensation for your losses. Experienced San Diego hit-and-run motorcycle accident lawyers can help you recover the money you deserve after a crash.
Commonly Sustained Injuries
The above causes of motorcycle accidents can cause severe injuries. Even when motorcyclists wear protective gear such as helmets, arm and knee pads, gloves, etc., the accident can be so catastrophic that protective gear is rendered useless, and motorcyclists suffer serious injuries. Below are some of the common injuries that motorcyclists suffer in hit-and-run accidents.
Broken bones

–

Broken bones or fractures often occur when a motorcyclist collides with another vehicle and gets ejected from the motorcycle. The force of the impact can cause the motorcyclist to crash onto the road, into oncoming traffic, or the brush surrounding the road. 

Road rash

–

Road rash happens when a motorcyclist slides across the road. A motorcyclist typically presents on the hands, arms, knees, or legs and can lead to infection if not treated correctly. 

Spinal cord injuries

–

Motorcycle drivers do not have much protection on their backs. Due to this, spinal cord injuries can occur, leading to more extensive injuries such as paralysis. 

Internal organ injuries and internal bleeding

–

Internal bleeding and organ damage can sometimes result from an accident. It is critical to seek medical treatment immediately after an accident to determine whether you have internal bleeding or organ damage. 

Brain injuries

–

All motorcycle drivers are required to wear a helmet. Helmets offer some protection against skull fractures, concussions, and other forms of head and brain injury. Despite their benefits, a helmet cannot be enough protection for someone in severe accidents. These accidents can lead to various brain-related injuries, such as swelling or concussions. 
Every motorcycle accident has unique circumstances; the recoverable damages depend upon these circumstances. Generally, the amount of damages a passenger can recover depends upon the extent of the damages sustained from the accident. Specifically, as an injured motorcyclist, here are a few of the contributing factors that will determine a settlement amount:
Economic damages are typically easy to identify and account for. An accident victim may recover these damages if another motorist causes an accident. Although economic damages are easy to spot, collecting these damages can be difficult in a hit-and-run accident. Consult the most experienced hit-and-run motorcycle accident attorneys in San Diego to discuss your options. 
Examples of economic damages include the following:
Lost income

–

Lost income refers to the amount of money lost from being unable to work due to injuries sustained after an accident. An injured person may be entitled to current and future lost income and lost earning capacity. Lost earning capacity is an employee's inability to return to the same industry or work at the same rate as before the accident. 

Medical fees

–

The combined cost of both present and future medical treatment needed for physical recovery can be recovered after a motorcycle accident. It is essential to consult with a notable San Diego hit-and-run motorcyle accident lawyer before accepting a settlement offer. Many insurance companies try to settle claims for the least amount of money, so they may try to settle your case before you complete your medical treatment. It is unwise to settle before you know the extent of your injuries. 
These damages are usually more abstract and more difficult to account for, so having an attorney help you identify and calculate them is essential. They refer to abstract losses, including pain and suffering and loss of consortium, for example.
Punitive damages do not repay the victim. Courts award punitive damages to plaintiffs to deter the defendant from acting similarly. Your hit-and-run motorcycle accident lawyer can help you determine whether your case qualifies for punitive damages.
Take These Steps Following a Hit-and-Run Motorcycle Accident
A motorcycle accident can be very tragic, scary, and life-altering. Knowing the subsequent steps to take can be challenging. That is why having an experienced motorcycle hit-and-run attorney is beneficial to make the legal process more accessible. However, immediately following an accident, there are general actions one must take:
Get out of harm's way

:

The most important thing following a hit-and-run motorcycle accident is to get out of the way of any danger. It will help if you move away from traffic to avoid more damage being caused to other drivers and yourself. 

Move the motorcycle

–

The driver should move their vehicle if they can. 

Contact law enforcement

–

Contacting the authorities is essential, as they will arrive to gather witness statements and write a police report. 

Take pictures

–

Take pictures of the accident scene and any damage to the motorcycle. 

Obtain a copy of the police report

–

Getting a copy of the official police is critical for the legal process when determining liability. 
Perhaps the most tragic part of any hit-and-run motorcycle accident is when it results in the death of an involved party. If such a tragedy occurs, the loved ones of the deceased victim can seek compensation from the liable party's insurance company. While a judgment or settlement can never replace losing a dear loved one, financial recovery can help the deceased's surviving family members.
Wrongful death cases can be particularly complex and nuanced, so the victim's family should hire the best San Diego motorcycle hit-and-run accident lawyers to guide them through the legal process. The attorney can help the family receive the compensation they need to relieve any financial burdens that may surface from the accident. 
The benefit of hiring an aggressive hit-and-run motorcycle accident attorney is that they can assist you in recovering any evidence that is necessary for the case. Many attorneys will even conduct an independent investigation, gathering eyewitness statements and requesting they testify at the potential court trial.
Benefits of Hiring a Motorcycle Hit-and-Run Accident Attorney
A motorcycle hit-and-run accident attorney has experience handling the various facets of a hit-and-run accident case. Their experience handling the legal, insurance, and healthcare systems can help victims receive the compensation they are entitled to. Their experience ensures that the case is not just a closed one but a successful one.
They Can Manage Some of the Stress
The main concern of any hit-and-run motorcycle accident victim is to make a full and healthy recovery while recovering any compensation owed to them. The physical recovery can be stressful enough, so a lawyer can use their experience to handle the stress of navigating the systems.
They Can Maximize the Claim Payout
Any victim of a motorcycle accident is entitled to total compensation. A hit-and-run motorcycle accident lawyer will value the case, ensure the victim receives all money owed to them, and ensure they do not miss any coverages where extra money can be left out. In many cases, San Diego hit-and-run motorcycle accident lawyers will strive to go the extra mile so the victim can receive an even higher settlement than they initially sought.
They Can Help in Receiving Medical Treatment
Motorcycle hit-and-run attorneys typically have a network of medical field contacts. Attorneys will not offer medical advice or medicine recommendations. Still, their contacts do understand the mental, physical, and emotional effects that a victim bears, so they can recommend physicians and therapists to aid the victim in recovering.
When someone is involved in a hit-and-run motorcycle accident, whether or not they suffered an injury, they can seek a free accident case consultation. This consultation will typically consist of reviewing the relevant documents, pictures, and statements to help start the individual in the right direction. Additionally, the consultee will have the opportunity to ask the attorney any questions about the case. The consultation will be the lawyer giving the consultee personalized legal advice tailored to the case details.
Consider the following actions in preparation for the session:
Save the relevant correspondence

– Suppose a claim adjuster reaches out to the accident victim via letter, email, or phone. In that case, it is vital that the victim saves the correspondence and avoid responding until they consult with the attorney. Communicating with the opposing party before speaking to the lawyer can result in accepting undeserved blame in a prerecorded statement. If a recorded statement has already happened, the victim should bring that to the consultation. 

Compile all the evidence

– Before the consultation, the victim should gather all evidence from the accident. This evidence should consist of liability and damages against all responsible parties. This evidence may include the following:

Photographs of the scene of the accident

The official police report

Statements from any witnesses

Medical records

Invoices from injury-related expenses

Write a personal injury journal

– It is beneficial for the victim to keep a personal journal of their injuries to keep track of the events that happen following the car accident. Not only should you record your injuries, but you should also record the difficulties resulting from them. Tasks that become difficult after a motorcycle accident include being unable to perform household chores, participate in hobbies, or endure pain. Bringing this journal to the consultation can assist the lawyer in discussing the victim's damages. 
Contact Arash Law, Under the Direction of Arash Khorsandi, Esq., Today!
Motorcycle accidents can occur for various reasons. At Arash Law, managed by Arash Khorsandi, Esq., our hit-and-run motorcycle accident lawyers have accumulated over $500 million in personal injury compensation for residents across California. In addition to San Diego, we serve the areas surrounding San Diego: Rancho San Diego, Lakeside, La Presa, Chula Vista, Coronado, National City, Bostonia, El Cajon, Lemon Grove, Bonita, Santee, and Spring Valley.
A motorcycle accident can be unexpected, tragic, and life-altering. These accidents can lead to property damages, injuries, disabilities, and even fatalities. If you suffered injuries in a hit-and-run motorcycle accident, reach out to us. Our San Diego hit-and-run motorcycle accident attorneys have decades of experience handling injury cases, and we want to help you. Let us take care of the insurance company negotiations and guide you successfully through the legal process. At Arash Law, led by Arash Khorsandi, Esq., you only need to focus on your recovery to return to a fulfilled life. Call us at (888) 488-1391, or chat with us to schedule a free, no-obligation case evaluation.