One person was hurt after a two-vehicle crash involving two trucks in Los Alamos on early Saturday morning, September 4.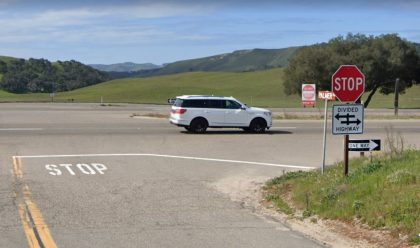 The accident took place on Highway 101, one mile north of Palmer Road in Los Alamos, at around 6:20 a.m.
A utility truck and a box truck were involved in the collision. The utility truck reportedly rear-ended the box truck for unclear reasons.
The circumstances leading up to the accident have not been established. One person was trapped in the wreckage and had to be extricated by emergency personnel.
The trapped party was immediately transported to Marian Regional Medical in an unknown condition. No other injuries were reported.
Information about the crash is limited at the moment. The identities of the involved parties have not been disclosed. The accident is currently under further investigation.

Two-Vehicle Crash Statistics
Hundreds of pedestrians and bikes are required to get through downtown California. At all times, drivers must maintain a high level of concentration. In the blink of an eye, a vehicle accident can happen.
In California, car accidents are one of the major causes of injury deaths. California had approximately 3,304 fatal car accidents in 2017, according to the National Highway Traffic Safety Administration (NHTSA).
A rear-end collision occurred in this case. Rear-end collisions are among the most common forms of car collisions in California. In 2011, the California Highway Patrol (CHP) reported 118,029 drivers involved in rear-end incidents with injuries and 405 drivers involved in rear-end collisions that resulted in fatalities.
In the vast majority of cases, the person driving the rear position car will be found liable for a rear-end accident, as rear-end collisions are often caused by following too closely, driving too fast, having worn-out brakes or tires, or simply not paying attention. These are factors that are in the rear driver's control – not the front driver's.
Personal Injury Attorney for Victims of Two-Vehicle Collisions in Santa Barbara County
For those involved in a catastrophic vehicle accident, physical agony and post-traumatic stress can persist for a long time. Impending payments and other financial responsibilities can also generate a lot of anxiety and stress for the sufferers.
While waiting for the official investigation results, accident victims are encouraged to seek a personal injury claim with the help of an experienced attorney. It's best to seek legal guidance from a competent attorney following an accident, regardless of the severity of your damages or injuries. During this trying time, our attorneys at Arash Law can be a valuable legal resource.
We can help you get the compensation you deserve, whether you need a truck accident lawyer, a car accident lawyer, or a motorcycle accident lawyer. To get a free consultation with an experienced California truck accident lawyer, call Arash Law at (888) 488-1391.