An unidentified motorcyclist was killed after getting struck by a drunk driver in San Jose on Tuesday night, May 11.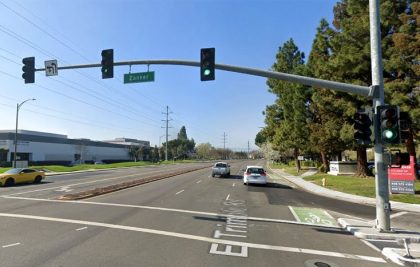 The accident took place at the intersection of Trimble Road and Zanker Road in San Jose at approximately 8:00 p.m.
The motorcyclist was heading eastbound through the intersection of Trimble Road when he was suddenly struck by a southbound 2016 Toyota Corolla from Zanker Road.
The unidentified motorcyclist sustained fatal injuries from the collision. He was pronounced dead at the scene.
The 2016 Toyota reportedly ran a red light before hitting the motorcyclist. The driver of the Toyota was later identified as 21-year-old Luis Anthony G. He was arrested for felony driving under the influence of alcohol and vehicular manslaughter.
Local authorities are further investigating the accident. Witnesses that can give more information about the accident are urged to contact Detective Bowen #4461 of the San Jose Police Department's Traffic Investigations Unit at 408-277-4654.

Fatal DUI Accident Statistics
Driving while under the influence is one of the most reckless and dangerous things a driver can do. It won't only endanger their own lives, but it can potentially put other drivers on the roadway at risk as well.
Unfortunately, DUI accidents in the U.S. have been on the rise over recent years. According to the National Highway Traffic Safety Administration (NHTSA), approximately 30 people in the U.S. die every day due to drunk driving accidents.
Drunk driving accounts for about 29 percent of all motor vehicle accident fatalities in the U.S. Around sixty-one percent of these drivers have a Blood Alcohol Content of .08 percent or higher.
One of the most disturbing things about DUI wrecks is that they are disproportionately likely to result in fatalities or severe injuries — including in traumatic brain injuries (TBIs), broken bones, internal organ injuries, spinal cord damage, and partial or total paralysis.
Santa Clara County Wrongful Death Attorney for Victims of Fatal DUI Accidents
The sudden loss of their loved one may leave a lasting negative impact on the victim's family. Although they cannot bring their loved ones back to life, they can still give their loved ones justice and receive the compensation they rightfully deserve through the wrongful death claim.
At Arash Law, we are proud to be aggressive advocates for the victim's family. Our law firm does not represent defendants, nor does it serve insurance companies. We use our skills, knowledge, and legal experience to fight for the interests of injured victims. Following an accident, you and your family need the very best California DUI victim lawyer on your side.
Our California DUI accident lawyers can help you put together a strong, effective legal claim. Relevant evidence in drunk driving accident cases can come in many different forms. Visit our offices in Los Angeles, Sacramento, San Francisco, Riverside, Orange County, and San Diego for any inquiries and concerns. You may also contact us through our hotline (888) 488-1391 for a free consultation with one of our attorneys.