Our Yolo County Injury Law Firm

Doesn't Just Win,


We Win Big!
You May Be Entitled to Compensation

Accidents can happen when we least expect them, and the consequences can be devastating. Whether you've been involved in a car accident on the bustling highways of Yolo County, suffered a slip-and-fall incident at a local establishment, or experienced any other type of injury due to someone's negligence, the best injury law firm in Yolo County is here to help you recover and get the compensation you deserve. 
With our in-depth knowledge of Yolo County's legal landscape and our commitment to seeking justice for our clients, we have successfully recovered $500 million for car, truck, motorcycle, Uber, Lyft, bicycle, pedestrian, and other accident victims. Arash Law, under the direction of Arash Khorsandi, Esq.,  proudly stands for people in the most challenging moments of their lives. Our staff works hard to ensure the insurance companies and defense attorneys hear their side of the story. 
Don't face the aftermath of an accident alone. Contact our Yolo County injury law firm today to schedule a free consultation and take the first step toward obtaining the compensation you deserve. Let us be your trusted legal partner, fighting relentlessly for your rights while you concentrate on your recovery. 
client suffered lower leg injuries
– 
JUDD ROSS ALLEN
IF YES, You may be able to recover financial compensation. TELL US MORE: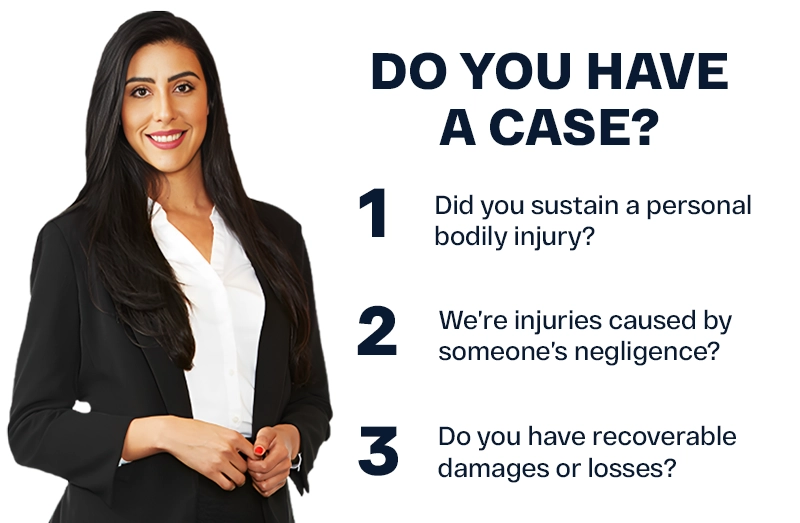 IF YES

, You may be able to recover financial compensation.

TELL US MORE:
What Constitutes a Personal Injury In Yolo County, CA?
As a personal injury law firm, we are well-versed in the legal jargon the United States District Court uses when dealing with individual claims. However, we understand that these terms may be confusing for you. Allow us to provide a clearer explanation: In Yolo County, personal injury refers to physical harm inflicted on a person's body due to someone else's actions or negligence.
While the severity of the injury does not necessarily have to be significant, it must be a personal injury that can be clearly demonstrated in a United States District Court. To establish the claim's validity, a reputable personal injury law firm will always recommend that clients undergo a medical examination to obtain a comprehensive medical report. This examination is typically conducted during the free consultation.
If it can be demonstrated that a personal injury has occurred, the Yolo County district court has the authority to award damages to the victim. These damages can encompass economic compensation for medical expenses and lost wages, as well as non-economic compensation to address the pain and suffering endured by the plaintiff.
Your personal injury law firm is crucial in calculating the potential damages you may expect in your personal injury claim. They will strive to ensure that you receive fair and just compensation for your situation. Rest assured that our team will be dedicated to this task and will work diligently on your behalf.
Typical Personal Injury Cases in Yolo County
Handling a personal injury case alone can be challenging, given the complexity of personal injury law. Many victims of catastrophic injuries are uncertain about categorizing their injuries and which legal strategy to pursue for their claim. However, partnering with an experienced accident injury law firm in Yolo County can alleviate this confusion.
Lawyers at our firm will leverage their years of expertise to determine the type of case you have, allowing them to develop the most effective strategy and gather essential evidence to establish the value of your claim.
Here are some types of personal injury cases in Yolo County that may be relevant to your accident:
Auto Accidents: Vehicle accidents can result from various factors, including driver error (such as drunk driving or speeding), hazardous road conditions, or vehicle malfunctions. Auto accident cases encompass incidents involving cars, trucks, and motorcycles.
Product Malfunctions: Unfortunately, consumer goods and products are sometimes released without sufficient safety measures, posing risks to consumers. In such circumstances, the manufacturer may be liable for injuries brought on by the defective product.
Premises Liability: Property owners are legally obligated to maintain safe conditions on their premises. If you sustain a serious injury due to unsafe elements like faulty stairs or hazardous sidewalks, you may have grounds to file a claim against the property owner for premises liability.
Workers' Compensation: Most employers must carry workers' compensation insurance to cover on-the-job accidents. However, if you suffer a catastrophic injury while performing your work duties, you may be eligible to pursue personal injury damages under specific circumstances.
By partnering with a skilled accident injury lawyer, you can confidently navigate the complexities of your case, ensuring that your rights are protected and that you receive the compensation you deserve.
What are the Damages I Can Recover from My Personal Injury Case?
Under California personal injury laws, our dedicated team can advocate on your behalf to help you recover compensation for various types of damages resulting from your injury.
Economic damages encompass financial losses directly related to the incident or injury, including:
Medical expenses, such as treatment bills, physical therapy, or rehabilitation costs.
Loss of employment or property use.
Compensation for lost wages and diminished earning capacity.
Property repair and replacement expenses.
Non-economic damages address the impact of injuries that don't have a specific monetary value, such as:
Pain and suffering experienced as a result of the incident.
Mental and emotional distress, including anxiety and post-traumatic stress disorder (PTSD).
Loss of companionship or partnership.
Negative consequences for your overall quality of life.
In some instances where intentional oppression, malice, or misrepresentation have occurred, punitive damages may also be awarded. Unlike compensatory damages, punitive damages are designed to punish the defendant and deter similar behavior in the future.
The likelihood of receiving damages is influenced by several factors, including the skillful presentation of your claim by your lawyer, the defendant's behavior, and the effective presentation of the details surrounding your case. We encourage you to contact our top-rated injury law firm in Yolo County if you want to understand your rights and explore your options.
We are here to provide expert guidance and support throughout the process, ensuring you receive the compensation you deserve.
How Can Our Injury Law Firm Help You?
After experiencing an accident, many individuals contemplate whether to handle their personal injury lawsuit independently or seek the services of a reputable Yolo County personal injury law firm. However, based on our extensive experience assisting injured clients in personal injury cases throughout Yolo County, CA, we strongly recommend approaching a trusted law firm. By doing so, you can benefit from the following comprehensive legal services:
Free Consultation: We understand the apprehension of investing in a potentially futile cause. Hence, we offer an initial free consultation, ensuring you need not worry about expenses until you are confident about your chances of receiving damages in a Yolo County, CA court.
Dedicated Personal Injury Counsel: As your injury claim progresses, you will require sound legal advice to navigate various legal requirements. Our lawyers possess an intricate knowledge of the Yolo County legal system and can provide guidance to help victims comprehend and succeed in their cases.
Legal Representation in Yolo County, CA Court: Insurance companies often employ strategies to evade compensating victims, turning the personal injury lawsuit into a battle. In such circumstances, you will appreciate having a renowned personal injury law firm fighting on your behalf.
Maximizing Damages for Personal Injury Victims: Although the final amount of damages awarded by the Yolo County court in California may differ from the estimates provided during the free consultation, the attorneys at our injury law firm will tirelessly strive to ensure you receive the maximum compensation possible.
What Sets Our Injury Law Firm Apart
Obtaining Maximum Compensation: We are dedicated to securing the highest possible compensation for our clients, advocating for their rights, and ensuring they receive what they deserve.
Assisting with Medical Bill Coverage: We ensure that your medical bills are paid, alleviating the financial burden associated with your injuries.
Recovering Lost Wages: Our team will help you recover lost wages resulting from your accident, supporting you during your recovery period.
Assisting with Vehicle Repair or Replacement: If your vehicle was damaged in the accident, we will assist you in repairing or replacing it.
Convenient Location Services: We understand the importance of accessibility, so we offer our services at your location anytime, anywhere.
Access to Top Medical Specialists: We can provide you with access to leading medical specialists who can offer the best care for your specific injuries.
Complimentary Transportation: We strive to simplify the process by providing complimentary transportation when needed.
Furthermore, we are not bound by pressure from insurance companies to settle cases quickly. We only settle when our clients receive the compensation they truly deserve. Feel free to contact our legal team anytime, as we can assist you seven days a week.
We can assist you with your case wherever you are in Yolo County. We serve clients in the following zip codes: 95616, 95691, 95695, 95776, 95618, 95620, 95605, 95694, 95627, 94243, 95423, and more. 
Injured in Yolo County? Contact the Leading Injury Law Firm Today!
You don't have to bear the overwhelming burden of hospital visits, medical bills, lost wages, and the pain caused by someone else's actions without receiving proper compensation. At Arash Law, led by Arash Khorsandi, Esq., we refuse to let you suffer in silence when our team of personal injury lawyers is ready to assist you.
Allow us to fight for your rights and the rights of your family, just as we have successfully done for countless grateful clients in Yolo County, CA. Our team of super lawyers is experienced in handling cases of all sizes, and no matter the complexity, we are dedicated to providing the best legal representation for you.
Our injury law firm takes pride in serving clients in Yolo County and its nearby cities, including Sacramento, Stockton, Oakland, San Francisco, Fremont, Modesto, San Jose, Fresno, and Bakersfield.
Contact us today at (888) 488-1391 to schedule a free consultation. Take the first step towards obtaining the justice and compensation you deserve.
Record-Breaking Verdicts in the Following Areas of Practice
Get The Latest News from

The Best California Accident Law Firm Today