Our Agoura Hills Injury Law Firm

Doesn't Just Win,


We Win Big!
You May Be Entitled to Compensation

Trusted Personal Injury Law Firm in

Agoura Hills for Exceptional Legal Representation
Agoura Hills is famous for its picturesque landscapes and outdoor activities. The prominent attractions in this area are its equestrian ranches, which offer horse trails, and its top-rated hiking trails for enthusiasts and visitors to explore. While Agoura Hills offers many outdoor activities, being aware of potential risks and accidents is essential. Accidents related to horseback riding or hiking can happen, leading to injuries that may require legal assistance.
Our leading personal injury law firm in Agoura Hills can provide guidance and support in such cases.
Arash Law
, under the direction of
Arash Khorsandi, Esq.
, can help individuals who have been involved in accidents seek compensation for their injuries. We have the expertise to handle personal injury cases, ensuring that the rights of the injured party are protected. Our record of success in helping accident victims is unparalleled.
Contact us today if you have been injured in Agoura Hills. We are available 24/7 to assist you. For a free initial consultation, please call us at (888) 488-1391.
April 2019: $14M settlement in a traumatic brain injury case involving a defective piece of equipment at a factory.
– 
BRIAN BEECHER
IF YES, You may be able to recover financial compensation. TELL US MORE: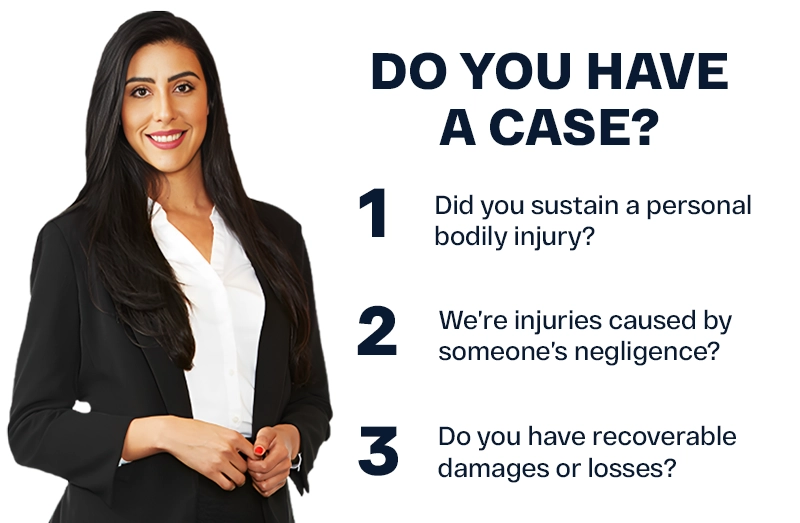 IF YES

, You may be able to recover financial compensation.

TELL US MORE:
Personal Injury Accidents in Agoura Hills
Personal injury accidents encompass a wide range of incidents involving cars, motorcycles, trucks, and various modes of transportation, including popular rideshare services like Uber and Lyft. Additionally, personal injury accidents may involve bicycle or pedestrian accidents and slip-and-fall incidents that occur in or around someone's home or place of business. Negligent behavior by others can also lead to injuries such as dog bites, wrongful death, traumatic brain injuries, and workplace accidents.
While it is not legally required to have legal representation to initiate a personal injury claim or negotiate a settlement, seeking the assistance of an experienced law firm specializing in personal injury can greatly benefit individuals involved in such cases. These professionals possess the knowledge and expertise to navigate the complicated
legal process
and guide clients throughout their journey.
One of the primary goals of pursuing a personal injury claim is to obtain monetary compensation. This compensation plays a crucial role in helping injured individuals recover and restore their physical and emotional well-being and quality of life to their state before the accident.
By seeking the support of a reputable injury law firm in Agoura Hills with expertise in personal injury cases, individuals can enhance their chances of receiving fair compensation and ensure that their rights and interests are protected throughout the legal proceedings.
What Types of Cases Do Our Agoura Hills Injury Law Firm Handle?
In every personal injury case, it is crucial to seek assistance from an experienced professional who has a proven
track record
in handling cases similar to yours. At our reputable injury law firm, we have a strong history of securing substantial settlements and verdicts in a wide range of personal injury and wrongful death cases.
Our expertise extends to various types of incidents, including:
Rideshare Accidents
Dog Bites
Remember, every personal injury case is unique, and by enlisting the help of our expert team, you can trust that we will work tirelessly to achieve the best possible outcome for your specific situation.
What Steps Can I Take to Strengthen My Personal Injury Claim in Agoura Hills?
If you have been injured and want to strengthen your personal injury claim in Agoura Hills, it is crucial to take certain steps to ensure that the responsible parties are held accountable. Here are some key actions you can take to bolster your claim:
Document the Sequence of Events: Take the time to write down, as accurately as possible, the sequence of events leading up to your accident. Include specific details about the location, such as whether the ground was wet or the lighting conditions, as these factors may be relevant to your claim.
Preserve Evidence: Capture the accident scene through time-stamped photographs before any changes or repairs are made. This will provide visual evidence of the hazardous condition that caused your accident, supporting your case.
Obtain Incident Reports: If there is an incident report filed, request a copy of it. This document can provide valuable information and an official record of the incident, which can strengthen your claim.
Gather Witness Information: Record the contact information of any witnesses who saw the accident or have knowledge of the circumstances surrounding it. Their testimonies can serve as crucial evidence in supporting your version of events.
Seek Immediate Medical Attention: It is essential to seek medical attention promptly, even if you believe your injuries are minor. Timely medical treatment ensures your well-being and creates a documented record of your injuries, which can be instrumental in establishing the link between the accident and your damages.
Consult with a Reputable Personal Injury Law Firm: Contact a trusted Agoura Hills personal injury law firm to discuss your case. Experienced attorneys specializing in personal injury law can provide valuable guidance, evaluate the strength of your claim, and advise you on the best course of action to pursue fair compensation.
By taking these proactive measures, you are actively contributing to the strength of your personal injury claim. It is crucial to consult with legal professionals who can provide tailored advice based on your specific circumstances.
Four Facts to Establish a Personal Injury Claim
Personal injuries encompass a wide range of incidents in California, all stemming from negligence or intentional misconduct. To succeed in a personal injury claim, you must establish four key facts:
Duty of Care: Identify the defendant and demonstrate their responsibility to exercise reasonable care in the situation that caused your injury. For example, drivers have a duty to refrain from driving under the influence.
Breach of Duty: Show how the defendant violated their duty of care through actions or inactions. For instance, using a cell phone while driving breaches the duty of attentive vehicle operation.
Direct Damages: Prove that the defendant's actions directly resulted in measurable losses, which form the basis of your claim. Your attorney can help calculate these damages.
Causation: Establish a clear link between the defendant's breach of duty and your damages, ruling out other potential causes.
Meeting these requirements greatly increases your chances of success. An experienced Agoura Hills personal injury law firm can assist you in collecting physical evidence, obtaining witness statements, and consulting with expert witnesses, such as accident reconstruction experts for car accident cases. Their expertise strengthens your case and supports your claim.
Recoverable Damages for Your Personal Injury Claim in Agoura Hills
In civil actions for personal injuries, the damages awarded vary from case to case. Damages can include compensatory and punitive damages.
Compensatory Damages: Compensatory damages aim to restore the victim financially, physically, and emotionally. They can cover monetary losses like medical expenses, costs of living with a disability, lost wages, property repair or replacement, and funeral expenses. They also include non-monetary losses such as pain and suffering, and loss of consortium (for spouses).
Punitive Damages: Punitive damages punish the defendant for particularly egregious behavior and serve as a deterrent. They are not awarded in every case and are usually limited to a fraction of the compensatory damages.
Structured Settlements: Recipients of large damage awards may choose structured settlements, which provide periodic payments over time. Structured settlements offer benefits such as reduced taxes and improved financial recovery, and consultation with an attorney and financial planner is recommended.
Please note that damages' specific details and availability may vary based on jurisdiction and case circumstances. Consulting with legal professionals is essential to understanding the options available in your specific situation.
Statute of Limitation for Filing a Personal Injury Lawsuit in Agoura Hills
In California, including Agoura Hills, personal injury cases generally have a statute of limitations of two years from the date of the accident or injury. If this two-year period elapses, the court typically dismisses the case. However, there are important exceptions to be aware of.
For minors, the statute of limitations can be extended until they reach the age of eighteen. If the injured person is mentally impaired, the statute of limitations may be extended until they are no longer considered impaired. Additionally, if the injury or its cause was initially unknown, the statute of limitations may be prolonged until the discovery of the injury.
To ensure you understand the specific statute of limitations and any applicable deadlines for filing a lawsuit in your case, it is crucial to consult with an experienced personal injury law firm. Our expertise will guide you through the legal process and help you navigate the timeline for taking legal action.
How Can a Leading Agoura Hills Personal Injury Law Firm Help Me?
Free and Confidential Consultations We offer free and confidential consultations. We understand that meeting in person may not always be possible, so we can review your case over the phone or via teleconference. Our priority is to make the process as convenient as possible for you, ensuring that time is not wasted. It is crucial to act promptly in California, as there is a limited time to pursue legal action. Once we validate your claim, our attorneys will immediately begin investigating and gathering evidence.
Electronic Signatures We utilize E-Sign technology, allowing you to electronically sign retainer agreements, settlement agreements, and other legal documents. You can conveniently sign these documents on your smartphone or computer. This ensures efficiency and adheres to social distancing guidelines, prioritizing your safety.
Timely Updates We are committed to keeping you informed throughout the legal process. You will receive regular text and email updates, and you can always contact us for additional information. Our goal is to provide transparency and answer any questions you may have about the progress of your case.
Skillful Negotiation Our attorneys are skilled negotiators and litigators who will aggressively advocate for your interests. Whether in our office, via laptops, or over the phone, we will tirelessly pursue maximum compensation on your behalf. In today's uncertain times, obtaining fair compensation is even more crucial. If you receive a compensation award, we can facilitate a direct transfer to your bank account, offering a faster and more convenient method of concluding your case.
When you choose our leading personal injury law firm, you can trust that we will work diligently to protect your rights and help you move forward after an accident.
At our law firm, we understand the financial concerns of our clients. That's why we operate on a contingent fee basis. With a contingent fee structure, you won't have to pay any legal fees unless we win your case.
Our fees are calculated as a percentage of the amount we recover for you. This approach allows injured individuals to seek fair compensation without the burden of upfront attorney fees.
The fee is typically around 33 percent of the net settlement in most personal injury cases. However, there are instances where a different fee arrangement, such as a sliding contingency fee, may be required by law. Rest assured, our fee arrangements will be fully discussed and clearly outlined in our agreement at the beginning of your case.
We believe in providing accessible legal representation to all, ensuring you can pursue your claim without worrying about the financial implications. By working on a contingent fee basis, we align our interests with yours, as our payment is contingent on the successful outcome of your case.
Are You Looking For "The Best Agoura Hills Personal Injury Law Firm Near Me?"—Your Search Ends Here!
We at Arash Law, under the direction of Arash Khorsandi, Esq., know that accidents and injuries can significantly impact your life. We recognize the importance of receiving top-quality medical attention and care during these challenging times. We aim to ensure you have access to the necessary medical treatment, helping you regain your health and well-being.
Your case holds great significance to us. We are dedicated to obtaining compensation for individuals who have been injured due to the
negligence
of others. While we cannot reverse an injury or bring back a loved one, we are here to support you in seeking the compensation you deserve. We understand the importance of your case and are committed to fighting for your rights.
With our reputable standing in the legal field of accidents and injuries, we have access to a network of top doctors and medical teams across California. Regardless of whether you reside in Westlake Village, Malibu, Thousand Oaks, Calabasas, Simi Valley, Moorpark, or Camarillo, we can help you connect with specialists without the burden of upfront bills and fees. Your health is our utmost priority.
Trust us to advocate for your well-being and work tirelessly to secure the compensation you need to move forward.
Get the Best Legal Representation from Our Injury Law Firm in Agoura Hills. Contact Us Today!
At Arash Law, we pride ourselves on offering world-class personal injury representation to individuals in Agoura Hills. We understand our clients' difficulties and approach each case with compassion, empathy, and determination to go above and beyond for their success.
When you choose our firm, you will receive exceptional legal support throughout the entire process. We are committed to fighting for justice and seeking fair compensation for the losses and damages you have endured. Our dedicated team is well-equipped to handle complex and challenging cases, utilizing our extensive knowledge, experience, and resources to build a strong legal strategy tailored to your specific situation.
Contact us at (888) 488-1391 today for a consultation, and let us provide you with compassionate, top-quality legal representation in Agoura Hills. We are ready to guide you through this challenging time with care, expertise, and unwavering dedication.
Record-Breaking Verdicts in the Following Areas of Practice
Get The Latest News from

The Best California Accident Law Firm Today