At least one person was hurt after a big rig traffic collision in Pleasanton on Monday morning, July 5.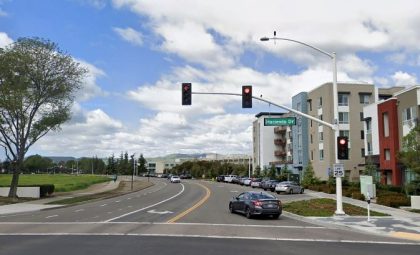 The major collision transpired at approximately 6:35 a.m. on Interstate Highway 580 near the Hacienda Drive exit. A tractor-trailer and an unspecified vehicle collided on the westbound lanes under unclear circumstances.
The big rig struck a fence along the center divider after the collision. One person was hurt as a result of the mishap. The identity of the injured party and their condition have not been disclosed.
Additional information about the accident is unavailable at the moment. The California Highway Patrol is further investigating the case. They will attempt to determine the factors that may have affected the collision and the liability.

Big Rig Collision Statistics
A big rig is any of the massive trucks that drive on our roads that go by various names, including 18-wheelers, tractor-trailers, semi-trucks, and dump trucks. Big rigs are involved in some of the most deadly accidents that occur on our roads and highways. Due to the immense size difference between big rigs and other vehicles on the roadway, accidents involving big rigs tend to be more dangerous and deadlier than other types of traffic collisions.
While the average car weighs about 4,000 pounds, a big rig can weigh up to 80,000 pounds at its maximum capacity. This enormous size disparity has the potential to cause serious and sometimes fatal accidents. According to the U.S. Department of Transportation data, almost 4,000 people were killed in tractor-trailer accidents in the U.S. back in 2015. The number of semi-truck accident fatalities from 2009-2015 rose to a whopping 22 percent. Eleven percent of all traffic fatalities also involved a tractor-trailer back in 2015.
Alameda County Personal Injury Attorney for Victims of Big Rig Collisions
Big rig collisions usually result in serious injury. It can be quite challenging to face cases like this alone, so it is essential to hire an experienced Alameda County personal injury attorney specializing in big rig accidents to help you with your claim.
The fact is that truckers are professional drivers who are held to strict regulations and guidelines. Big rig drivers are often found to be at fault when they are involved in accidents. In such instances, you – the injured party – can seek damages against the at-fault trucker.
The dedicated legal team at Arash Law in California has the experience, knowledge, and commitment to guide your claim toward its most beneficial outcome skillfully. Our team of expert lawyers from Arash Law is here to assist you 24/7. You don't have to worry about lawyer fees until we win your claim. Do you have a case you want to discuss? Give us a call at (888) 488-1391 today.