Our Chula Vista Injury Law Firm

Doesn't Just Win,


We Win Big!
You May Be Entitled to Compensation

If you or someone close to you has sustained an injury due to the other party's negligence, we encourage you to contact our Chula Vista personal injury law firm without delay. Our legal team is available anytime and anywhere in California. Take the first step towards seeking justice by dialing (888) 488-1391. We are fully committed to assisting you and advocating for your rights throughout the entire process.
With its expansive coastal landscape, canyons, rolling hills, and mountains, Chula Vista offers residents and visitors a diverse and breathtaking environment. The city takes pride in its commitment to conservation and renewable energy, setting an example for sustainable living. Along with its natural beauty, Chula Vista is known for its exceptional public schools, providing quality education opportunities for its residents. What's more, Chula Vista has been recognized as one of the top safest cities in the nation, ensuring a secure and peaceful living environment.
Despite the city's efforts to prioritize safety, unfortunate incidents can happen, leading to injuries and damages. In such situations, individuals may require legal assistance to seek compensation for their losses. At Arash Law, led by Arash Khorsandi, Esq., we provide guidance and support to those who have suffered injuries due to accidents, ensuring their rights are protected and they receive the compensation they deserve.
Settlement in a motor vehicle versus pedestrian accident; client, suffered facial and spinal injuries
– 
JUDD ROSS ALLEN
IF YES, You may be able to recover financial compensation. TELL US MORE: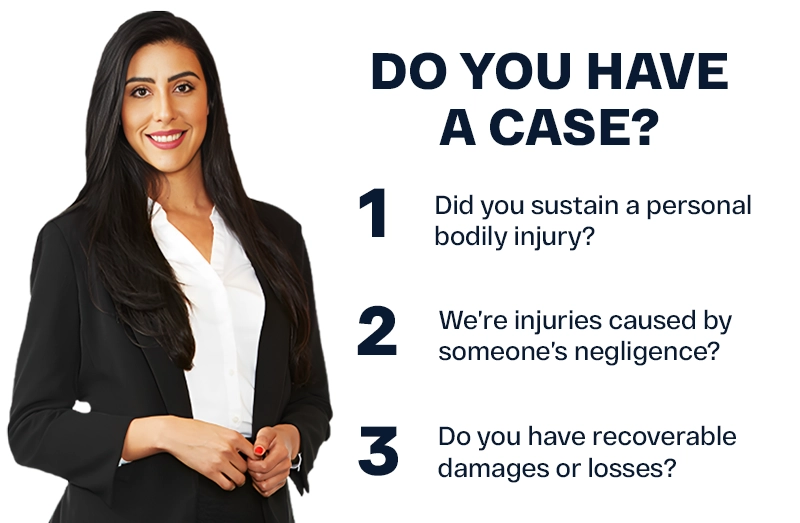 IF YES

, You may be able to recover financial compensation.

TELL US MORE:
Types of Cases We Handle in Our Chula Vista Personal Injury Law Firm
Our personal injury law firm in Chula Vista handles a wide range of cases involving personal injuries. Our proven record is a testament to our success, as we have obtained significant compensations and court decisions in a wide range of cases involving personal injuries and fatalities. These cases encompass a variety of circumstances, such as:
Types of Damages Available to Accident Victims in Chula Vista, CA
Accidents can devastate victims, resulting in physical, emotional, and financial hardships. In Chula Vista, accident victims may be entitled to different damages to help them recover and compensate for their losses.
These damages can be broadly categorized into three main types:
Economic Damages
Economic damages aim to compensate accident victims for their financial losses directly caused by the accident. These damages are quantifiable and typically include the following:

Medical Expenses
Accident victims may be entitled to compensation for medical bills, hospitalization, surgery, medication, rehabilitation, and any other necessary medical treatments resulting from the accident.
Lost Wages
If the accident causes the victim to miss work, they may be eligible to receive compensation for the income lost during their recovery period. This includes both current and future lost wages.
Property Damage
In the case of vehicle accidents, victims can seek compensation for repairing or replacing their damaged property, such as their car or personal belongings.
Other Financial Losses
Accident victims may also be compensated for other financial losses, such as transportation expenses to medical appointments, home modifications, or the cost of hiring help for daily activities if they become temporarily or permanently disabled.

Non-Economic Damages
Non-economic damages are designed to compensate accident victims for the intangible losses they experience, which are not easily quantifiable. These damages may include:

Pain and Suffering
Compensation for physical pain, emotional distress, and mental anguish resulting from the accident.
Loss of Enjoyment of Life
If the accident causes a permanent disability or significantly impacts the victim's ability to engage in activities they once enjoyed, they may be entitled to compensation for the loss of enjoyment of life.
Loss of Consortium
In cases where the accident results in the loss of companionship, support, or intimacy with a spouse or partner, the affected individual may seek damages for loss of consortium.

Punitive Damages
Unlike economic and non-economic damages, punitive damages serve a different purpose. They are intended to punish the at-fault party for their egregious conduct and deter others from engaging in similar behavior. Punitive damages are not awarded in all cases and are typically only granted when the defendant's actions were intentional, wanton, or grossly negligent.
Guide to Establishing Negligence in a Personal Injury Lawsuit
Proving negligence in a personal injury case is essential to pursue a claim for compensation successfully. Negligence occurs when someone fails to exercise reasonable care, resulting in harm or injury to another person. To establish negligence in a personal injury case, the following steps must be taken:
Duty of Care
Duty of care refers to the legal obligation to act to avoid causing harm to others. This duty can vary depending on the circumstances, such as the relationship between the parties or the nature of the defendant's actions.
Breach of Duty
This involves showing that the defendant failed to act as a reasonably prudent person would have in similar circumstances. It may require presenting evidence of the defendant's actions or inactions that directly contributed to the injuries suffered by the plaintiff.
Causation
Causation is a crucial element in proving negligence. It directly links the defendant's breach of duty and the plaintiff's injuries. This requires demonstrating that the defendant's actions or omissions were the actual cause of the harm suffered by the plaintiff. It may involve presenting medical records, expert testimony, or other evidence to establish a causal connection.
Damages
To successfully prove negligence in a personal injury case, it is crucial to demonstrate that the plaintiff suffered actual damages. Damages can include physical injuries, emotional distress, medical expenses, loss of income, and other economic or non-economic losses. Providing evidence of the extent and nature of the damages is essential to establish a valid claim for compensation.
What Is the Statute of Limitations for Chula Vista Personal Injury Case?
The statute of limitations for a Chula Vista personal injury case refers to the time limit within which a person must file a lawsuit after sustaining an injury due to someone else's negligence or intentional act. This time limit is crucial as it balances the interests of the injured party and the potential defendant. It allows the injured party a reasonable amount of time to discover their injury, gather evidence, and pursue legal action while ensuring that defendants are not indefinitely exposed to potential claims.
In Chula Vista, California, the statute of limitations for personal injury cases is generally set at two years from the date of the injury or accident. This means that if you have been injured due to someone else's actions, you have two years from the date of the incident to file a lawsuit to seek compensation for your damages.
It is crucial to consult with an experienced personal injury attorney in Chula Vista to understand your case's specific details and nuances. They can guide you through the legal process, protect your rights, and help you meet the necessary deadlines to pursue your claim.
Discover Unmatched Legal Advocacy in Chula Vista—Reach Out to Us Now for Excellent Representation!
If you or someone close to you has experienced significant harm in an incident, our personal injury law firm in Chula Vista can help you obtain the rightful financial compensation you deserve. Our firm possesses outstanding knowledge and extensive experience in this field, enabling us to provide prompt and professional assistance to protect your legal rights.
We at Arash Law, led by Arash Khorsandi, Esq., extend our services to the neighboring cities of Chula Vista, such as National City, Bonita, Imperial Beach, Coronado, San Diego, La Presa, Lemon Grove, Spring Valley, La Mesa, Rancho San Diego, El Cajon, Bostonia, Santee, and Lakeside. With a strong dedication to providing legal assistance to individuals who have suffered from personal injuries, we are proud to serve the diverse communities in these areas.
Discover the first step toward justice! Take advantage of our exclusive offer and have a complimentary consultation with us today. Contact our dedicated team at (888) 488-1391, and let us guide you through your personal injury case. We understand that accidents can happen anytime, so our team is available 24/7 to address your concerns and support you. 
Record-Breaking Verdicts in the Following Areas of Practice
Get The Latest News from

The Best California Accident Law Firm Today