Our Colusa County Injury Law Firm

Doesn't Just Win,


We Win Big!
You May Be Entitled to Compensation

Colusa County, nestled in the heart of California, is a picturesque region known for its scenic landscapes, vibrant communities, and rich agricultural heritage. Amidst the tranquility and beauty, accidents and personal injuries can still occur, leaving individuals and families distressed. In such challenging times, having a reliable and compassionate injury law firm in Colusa County can make all the difference.
Arash Law's injury law firm in Colusa County, headed by Arash Khorsandi, Esq., is committed to serving the local community by providing dedicated legal representation to those who have suffered injuries due to negligence or wrongdoing. With an unwavering focus on securing justice and fair compensation, we strive to alleviate the burdens faced by accident victims and their loved ones.
Our attorneys are well-versed in the laws governing personal injury, and we have a wealth of experience handling a variety of cases. We are committed to providing our clients with the highest caliber of legal representation, and we work to ensure that every case is handled promptly and efficiently. Our injury law firm is proud to be a part of the Colusa County legal community and strives to be at the forefront of legal innovation.
If you have been involved in a personal injury in Colusa County, reach us at (888) 488-1391 or click the "Do I Have A Case?" form on our website to schedule a free consultation with our award-winning lawyers today. We look forward to helping you.
Paz v. Airfax Logistics (settled on 5/26/2020) – settlement in a case involving a client who was involved in a trucking accident and sustained a traumatic brain injury and other trauma.
– 
TINA ESHGHIEH
IF YES, You may be able to recover financial compensation. TELL US MORE: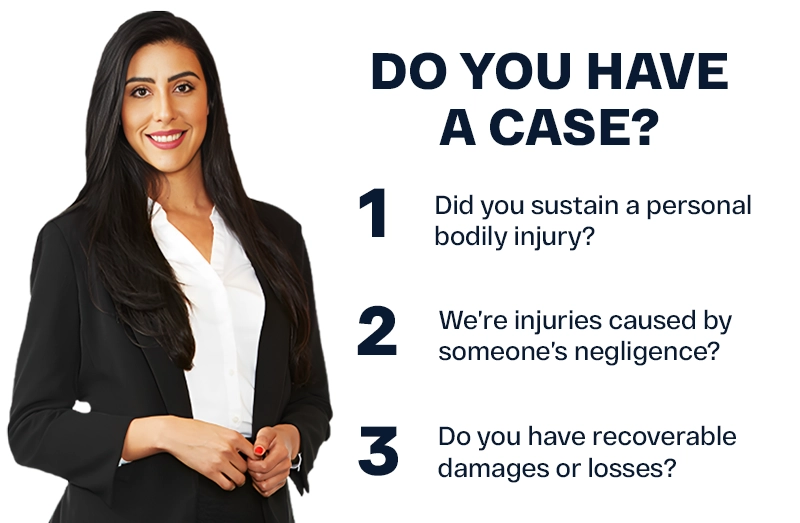 IF YES

, You may be able to recover financial compensation.

TELL US MORE:
A Closer Look at Colusa County's Accident Trends
Alcohol-involved crashes account for 20 incidents, with four involving drivers under 21 and six involving drivers aged 21-34.
Motorcycle accidents have affected 12 victims.
Pedestrians account for five injuries or deaths, with no incidents involving pedestrians under 15 but two involving those aged 65 or older.
Bicyclists account for four victims, with one under 15 years old.
If you have been injured due to another's negligence, our team is here to help. The lawyers at our firm are highly experienced and have the expertise to help you. Additionally, we have a network of experts that can provide invaluable assistance with your case. These experts include accident reconstruction specialists, forensic evidence experts, and property damage assessment professionals. Whatever your situation, our team is ready to provide the support and guidance you need.
Types of Injury Cases Our Law Firm Handles at Colusa County
Our injury law firm in Colusa County represents people who have suffered injuries in different cases. This includes:
Car accidents
Trucking accidents
Pedestrian collisions
Motorcycle accidents
Traumatic brain injuries
Plane accidents
Slip and fall
Boating accidents
Fallen tree accidents
Bicycle accidents
Dog bites
Medical malpractice
Defective or dangerous products
No matter your situation, our team is here to help. Our Colusa County injury law firm has the expertise to provide you with the most effective legal representation. But we don't just stop there. We also have a network of professionals that can support your case, including those experienced in accident reconstruction, forensic evidence, and property damage assessment. Our team is committed to ensuring you get the best outcome in your case.
Damages You Can Claim in a Personal Injury Case
Accidents can significantly impact an individual's life, leading to various forms of compensation to help ease the burden. These wide-ranging losses can be grouped into two distinct categories: economic and non-economic damages.
Economic damages refer to tangible losses, such as medical bills, lost wages, and property damage. Non-economic damages include pain and suffering, loss of companionship, and emotional distress. Both of these categories are essential to consider when evaluating the full scope of an accident injury.
The damages caused by economic factors include:
Vehicle damage
Medical expenses
Therapy
Lost income
In-home care
Home modifications
Non-economic damages can be challenging to assess as they lack a clear monetary value. They can include losses such as decreased quality of life or emotional distress. Insurance companies may offer a settlement that reflects only some of the full extent of the damages.
In these cases, it is important to have a Colusa County injury attorney who can fight to ensure you receive the compensation you deserve. An experienced lawyer can negotiate the maximum payment for your injuries.
What is the Time Limit to File Personal Injury Claims in California?
The statute of limitations for personal injury cases in California is two years. This means that any claim for personal injury must be brought within two years of the date of the injury. The statute of limitations applies to all claims for personal injury, regardless of whether the injury is physical, emotional, or psychological.
The two-year period begins from the date of the injury, not the date the injury was discovered. This means that even if an injury is not discovered until years after it occurs, the two-year period still begins from the date of the injury.
The statute of limitations can be tolled or paused in certain circumstances. These include a plaintiff's minority, mental incapacity, or physical incapacity. In addition, the statute of limitations may be tolled if the defendant has fraudulently concealed the injury or its cause.
It is important to note that California's personal injury statute of limitations is strictly enforced. The plaintiff will be barred from recovering damages if a claim is not brought within two years.
Therefore, it is essential to consult with an experienced personal injury lawyer as soon as possible to ensure that the statute of limitations does not expire before a claim can be brought. An attorney can help determine whether tolling applies and provide guidance on the proper procedures for bringing a claim.
Get the Justice You Deserve: Pick the Right Colusa County Injury Law Firm for Your Case
Statewide
The firm has received numerous awards and accolades from highly regarded organizations within the legal industry. With a presence across the entire state, we are committed to providing legal representation in personal injury cases throughout the region. Their reputation and recognition within the industry showcase their expertise and dedication to serving their clients.
Reliability
Our injury law firm in Colusa County boasts a powerhouse team of more than 50 legal professionals readily available to assist clients. The team is accessible via phone anytime, day or night, 365 days a year. This round-the-clock availability demonstrates our commitment to being there for clients. With a large staff of legal professionals, our firm has the resources and workforce to handle a wide range of personal injury cases efficiently and effectively.
Stability
We take pride in our long-standing presence and stability in personal injury law. With over three decades of experience, we have established ourselves as a reputable and reliable firm. While competitors may enter and exit the industry, our injury law firm in Colusa County assures clients that we are here to stay. This longevity speaks to our expertise, track record, and dedication to serving their clients' needs over the long term. Clients can trust that our experience and stability provide a solid foundation for their legal representation.
Integrity
Our injury law firm in Colusa County has built a solid client base by prioritizing compassionate service and maintaining a reputation for integrity. We operate on a "no win, no fee" basis, which means our lawyers do not charge any fees unless we successfully win the case and secure compensation for our clients. In other words, you only pay if you are compensated for your losses. This approach demonstrates our commitment to advocating for our clients' best interests. It ensures you are not burdened with legal fees if the case is unsuccessful.
Flexibility
We understand the importance of flexibility when meeting our clients' needs. We prioritize convenience and offer various consultation options. Our firm is prepared to come to you, whether it's for a free in-person consultation at your home, office, or bedside.
Additionally, we have several office locations across California, ensuring accessibility for our clients. We are committed to working around your schedule and making the legal process as convenient as possible for you.
With our esteemed reputation for accidents and injuries, our law firm has privileged access to California's top doctors and medical teams. Whether you reside in Los Angeles, Riverside, San Diego, or Orange County, we can connect you with specialized medical professionals without upfront bills or fees. Your health is our utmost priority, and we are committed to ensuring you receive the necessary health care without financial obstacles.
No Win, No Fee Guarantee. Contact Our Top-rated Colusa County Law Firm Today!
At our injury law firm in Colusa County, we pride ourselves on treating our clients as individuals, not just numbers. We value open communication and prompt responses. Our attorneys will promptly return your calls and emails when you contact us with inquiries, providing the necessary answers. We will keep you updated on your case's progress throughout the process.
Our dedicated attorneys will thoroughly investigate your accident, ensuring we build a strong case before entering into settlement negotiations. To get started, reach us online or call (888) 488-1391 for a complimentary case evaluation.
Record-Breaking Verdicts in the Following Areas of Practice
Get The Latest News from

The Best California Accident Law Firm Today