Our East Palo Alto Injury Law Firm

Doesn't Just Win,


We Win Big!
You May Be Entitled to Compensation

Get the Best Legal Representation with our

Personal Injury Law Firm in East Palo Alto
Arash Law, under the direction of Arash Khorsandi, Esq., stands out as one of the top East Palo Alto personal injury law firms specializing in various personal injuries. Our exceptional track record in assisting victims of accident-related injuries is unparalleled. Feel free to contact us at (888) 488-1391 for a free initial consultation. You won't owe us anything if we don't win any money for you!
We are proud to represent individuals who have been injured and families who have lost a loved one due to the other party's negligence in East Palo Alto. If you were hurt or lost a relative in an accident, we recommend giving us a call. We can come to you wherever you are in the city, 24 hours a day, seven days a week.
East Palo Alto boasts the Four Seasons Silicon Valley and offers many appealing features. These include a picturesque rural ambiance, a convenient central location, close proximity to transportation and the San Francisco Bay, and some of the most desirable weather in the country. Despite being a vibrant city, accidents can still occur. According to the California Office of Traffic Safety, East Palo Alto witnessed a total of 121 fatal injuries resulting from accidents in 2020.
Does v. California Farm (confidential) –settlement for a group of farmworkers who were killed when the car they were transported in to work flipped over in Merced County.
– 
BENNY KHORSANDI
IF YES, You may be able to recover financial compensation. TELL US MORE: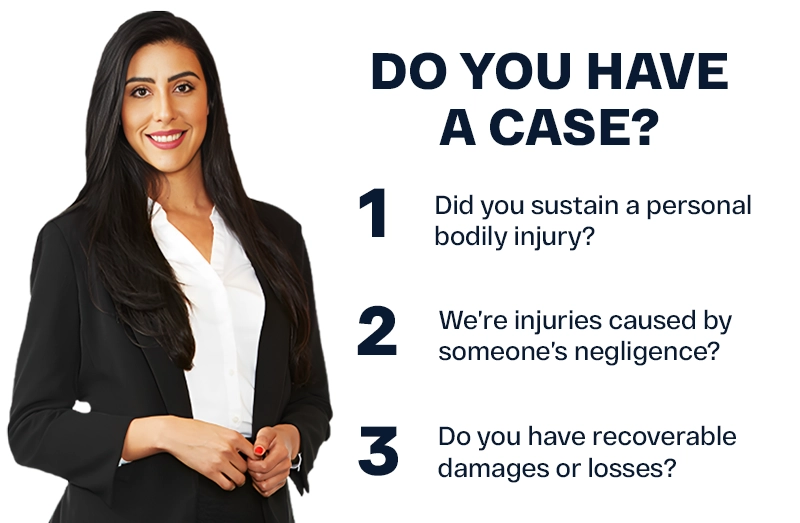 IF YES

, You may be able to recover financial compensation.

TELL US MORE:
Diverse Personal Injury Cases Covered By Our East Palo Alto Injury Law Firm
At our East Palo Alto injury law firm, we possess the expertise to handle various personal injury cases. No matter the circumstances of your injury, we're here to provide assistance. We can guarantee you top-notch legal representation because of our years of experience in personal injury law.
Some of the common cases we handle include:
Motorcycle Accidents
Bus Accidents
Train Wrecks
Rideshare Accidents
Plane Accidents
Traumatic Brain Injuries
Spinal Injuries
Premises Liability
Slip-and-Fall Accidents
With a comprehensive range of cases under our belt, you can trust our team to provide you with the finest legal support tailored to your specific situation.
What Damages Can I Recover from a Personal Injury Claim in East Palo Alto?
Compensatory damages encompass the monetary restitution you can receive for the financial losses you incurred due to your injury. These damages cover both economic and non-economic aspects of your suffering.
Medical Treatment: Typically, a personal injury award factors in medical care expenses—both what you've already spent and the anticipated future costs. Collaboration with experts, including doctors, accountants, and actuaries, assists in gauging your future medical requirements and projected expenses.
Income: Compensation also extends to lost wages and salary due to the accident. This covers time off work during recovery, potential wage reduction if you had to switch jobs post-injury, and the loss of earning capacity. The latter is the contrast between your potential lifetime earnings and what you'll realistically earn due to the incident.
Property Loss: In cases involving accidents like car collisions, property loss includes the cost of fixing or replacing damaged property. This includes your vehicle and other belongings that might have been affected.
Emotional Distress: These damages address the non-physical aftermath of an injury, such as anxiety, fear, sleep disturbances, and psychological conditions stemming from the trauma.
Loss of Enjoyment: Beyond necessities, this accounts for the loss of enjoyment in activities you once cherished. This could apply to athletes, artists, or anyone whose capacity to engage in activities they love has diminished due to injury.
Loss of Consortium: This claim isn't solely about intimacy. It pertains to the loss of affection, companionship, support, and participation in household responsibilities and child-rearing due to a loved one's accident-related impairment.
Punitive Damages: Reserved for instances of willful misconduct or reckless behavior, punitive damages aim to penalize and deter such actions.
When accidents damage personal property, like vehicles, you may also seek compensation for repair costs. If your situation aligns with these scenarios, contact our injury law firm in East Palo Alto for a meticulous case evaluation. We'll strive to maximize your chances of securing comprehensive compensation for your losses.
What Steps Can I Take to Strengthen My East Palo Alto Personal Injury Claim?
In the aftermath of an injury, it's crucial to take proactive measures to hold responsible parties accountable. Often, these parties may attempt to challenge their liability in the incident. Strengthening your claim involves the following key actions:
Document the Sequence: Recall and jot down the sequence of events that led to the accident, capturing crucial details like location, ground conditions, lighting, and more.
Photo Evidence: Capture the accident scene through time-stamped photographs before any alterations are made to the site, preserving evidence of the hazard that caused your injury.
Incident Report: If available, request a copy of the incident report, which can provide valuable insights into the accident's details.
Witness Details: Record the contact information of any witnesses present, as their testimonies can play a pivotal role in validating your claim.
Seek Medical Care: Prioritize seeking medical attention for your injuries. Not only is your well-being paramount, but medical documentation also strengthens the credibility of your claim.
Connect with Legal Professionals: Contact a reputable East Palo Alto personal injury law firm. Consulting legal experts helps chart a clear path forward for your claim.
By taking these strategic steps, you empower yourself to navigate the aftermath of an injury, ensuring that your rights are safeguarded, and justice is pursued.
Proving Liability in a Personal Injury Case
To demonstrate the defendant's liability in a negligence case, you need to establish four critical elements that collectively illustrate the defendant's negligence:
Duty: The defendant had a legal obligation to uphold a duty of care towards the plaintiff, given the circumstances of the situation.
Breach: The defendant breached their legal duty by either engaging in specific actions or failing to take necessary actions that would have fulfilled their duty of care.
Causation: The plaintiff's injury directly resulted from the defendant's actions or lack thereof, establishing a causal link between the negligence and the harm suffered.
Damages: The plaintiff incurred tangible harm or injury due to the defendant's negligence, providing a basis for seeking compensation.
Meeting these elements significantly enhances your chances of success in a personal injury claim. A proficient East Palo Alto personal injury law firm can be invaluable in this process. They can aid you in collecting physical evidence from the accident site and securing statements from witnesses who observed the incident. They may also collaborate with expert witnesses, such as accident reconstruction specialists, to meticulously reconstruct the events leading to your injury. These combined efforts serve to bolster your case, ensuring that justice is pursued and your rights are protected.
Comparative Fault in East Palo Alto Personal Injury Claims
Personal injury laws vary from state to state, and California, including East Palo Alto, stands out as one of the few states following a pure comparative negligence approach. This unique statute allows plaintiffs to seek compensation from defendants even if the plaintiffs share some responsibility for their claimed damages. However, the compensation they receive is adjusted to account for their level of comparative fault.
In personal injury cases, defendants often assert comparative fault to lessen their liability for the damages suffered by plaintiffs. If you're concerned that you might bear partial responsibility for the personal injury you recently endured, seeking guidance from an experienced East Palo Alto personal injury law firm is crucial. Swift action can help address your worries effectively.
The impact of even a minor degree of comparative fault can be significant, especially considering the potential value of your claim. For instance, being assigned a mere 10% of the fault in a $500,000 personal injury case translates to a reduction of $50,000 from your case award. Consulting with legal experts early on is essential to safeguard your rights and maximize your compensation. At our East Palo Alto personal injury law firm, we're here to assist you in navigating these intricate matters and ensure you receive the compensation you deserve.
What is the Statute of Limitations for Filing a Claim?
When you've sustained injuries due to someone else's negligence, California law grants you the right to seek compensation for the harm you've endured. Typically, the statute of limitations allows a two-year window from the date of the incident to file your claim. However, complex factors that may lengthen or shorten this period can affect the deadline for filing a claim. 
It's crucial to understand the specifics of your situation. Consult with legal experts who can guide you through the intricacies of the legal process. Our East Palo Alto personal injury law firm is here to help you navigate these complexities and ensure your rights are effectively protected.
Are You Injured in an Accident? Look for "The Best Personal Injury Law Firm Near Me" to Find Us
Our injury law firm in East Palo Alto stands beside individuals during their most challenging moments. Our dedicated team of lawyers tirelessly ensures that insurance companies and defense attorneys hear your narrative, and our track record speaks volumes.
We proudly represent clients across various injury cases, from trucking accidents and animal attacks to car and motorcycle collisions, medical malpractice, workers' compensation, and childcare injuries. Don't let concerns about high attorney fees deter you from pursuing justice when negligence has caused you harm. By hiring our injury law firm, there's no legal fee unless we secure your victory.
With a robust legal team of over 100 professionals, we are one of California's most reputable and thriving injury law firms. Our collective commitment results in unparalleled customer service and exceptional outcomes. Our achievements encompass over $500 million successfully recovered for car, truck, motorcycle, Uber, Lyft, bicycle, pedestrian, and various other accident victims. For decades, our dedicated attorneys have passionately defended the rights of East Palo Alto residents and their families.
Our comprehensive services extend to East Palo Alto and neighboring cities, including Palo Alto, Stanford, Redwood, Los Altos, San Carlos, Newark, Belmont, Foster City, Fremont, Union City, San Jose, Oakland, San Francisco, Stockton, and Modesto. In your journey toward justice, we're here as your unwavering allies.
No Win, No Fee Guarantee—Contact Our East Palo Alto Injury Law Firm Today
Our East Palo Alto personal injury law firm prioritizes your peace of mind. Our fee structure revolves around your success—contingent fees mean you only pay when we win your case. This approach liberates injured individuals in East Palo Alto from the burden of attorney fees while seeking rightful compensation.
In most personal injury instances, the fee amounts to approximately 33 percent, roughly one-third of the final settlement. There may be exceptions required by law, such as a sliding contingency fee. These details will be meticulously outlined and clarified during our consultations.
We don't just see clients as cases; we value your well-being and concerns. Feel free to reach out with any queries; prompt responses are our commitment. Your calls and emails will be answered promptly, ensuring you're informed every step of the way. 
Our attorneys delve deeply into your accident scenario, constructing a robust case before negotiations commence. You can contact us online or call (888) 488-1391 for a free case evaluation. Your journey to rightful compensation begins here.
Record-Breaking Verdicts in the Following Areas of Practice
Get The Latest News from

The Best California Accident Law Firm Today