Our Humboldt County Injury Law Firm

Doesn't Just Win,


We Win Big!
You May Be Entitled to Compensation

Humboldt County's

Premier Personal Injury Law Firm with Decades of Experience
Among California's most dangerous counties, Humboldt County has the highest accident rate, with injuries and motor vehicle fatalities exceeding the state average. According to 2016 statistics, Humboldt County had almost three times the national death rate. Accidents involving cars are common in the county, resulting in personal injuries. Humboldt County's premier personal injury law firm, with decades of experience, can assist you if such an incident occurs.
Arash Law, an award-winning injury law firm in Humboldt headed by Arash Khorsandi, Esq., is one of California's most widely known and thriving law firms, with a team of over 100 experienced lawyers providing unparalleled customer service and results collectively. Our firm has won multimillion-dollar cases and settlements in catastrophic injury and wrongful death cases.
Our Humboldt injury law firm strives to provide the highest quality representation to our clients. Our team of experienced attorneys will aggressively fight to get you the compensation and justice you deserve. We specialize in various injury law services, including car accidents, medical malpractice, premises liability, wrongful death, and more. We will work closely with you to understand the details of your case and ensure that you are adequately represented.
Whether you have been injured or lost a loved one due to another's negligence, we are here to help you get the justice you deserve. Get the conversation started by calling (888) 488-1391 today!
Settlement on the first day of trial against governmental entity for dangerous construction conditions on a local street that caused a motorcycle accident – largest motorcycle settlement in Los Angeles for 2019 – client suffered shoulder injuries
– 
JUDD ROSS ALLEN
IF YES, You may be able to recover financial compensation. TELL US MORE: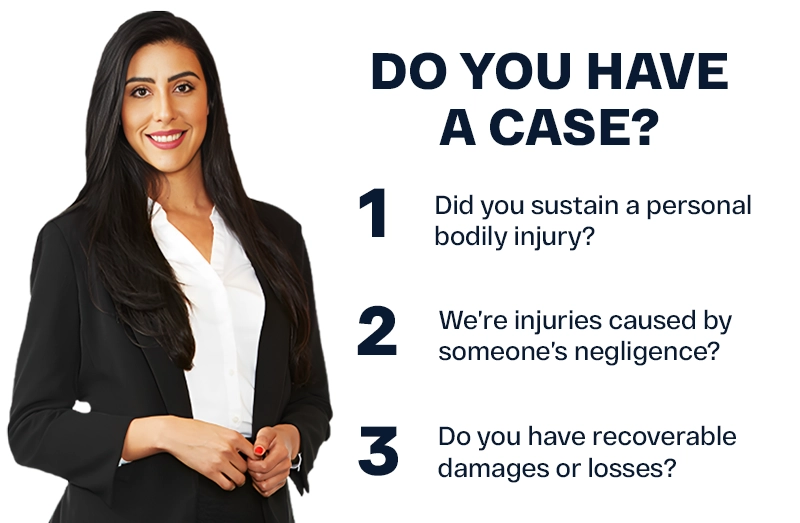 IF YES

, You may be able to recover financial compensation.

TELL US MORE:
Humboldt County Accident Statistics
Humboldt County in California is known for its natural beauty and remote location, but unfortunately, it also has one of the highest accident rates in the state. According to the Humboldt County Department of Health and Human Services:
An average of 90 unintentional injury deaths occur annually, with a rate per 100,000 of 64.2, approximately 113% higher than California and 57% higher than the US.
Injury mortality rates decreased by 33% in 2018 compared to 2017, reaching their lowest level since 2009. This represents a positive trend to monitor for 2019. Humboldt County recorded 1,254 deaths from 2005 to 2018, with over 50% of those deaths related to accidental poisoning (overdose), for a mortality rate per 100,000 of 28.8.
All major causes of accidents, except slip-and-fall, have higher mortality rates in Humboldt County than in California and the United States.
In Humboldt County, the average age of victims of accidental poisoning, motor vehicle crashes, injuries sustained by bicycles and pedestrians, drownings, and other injuries is 40 – 49.
Humboldt County American Indian/Alaska Natives have a 130% higher accident mortality rate than Whites, non-Hispanics, and 186% higher than other racial and ethnic groups.
Injured in Humboldt County? Get The Best Personal Injury Law Firm Near You!
Our injury law firm in Humboldt represents clients in various injury cases, including trucking accidents, animal attacks, car accidents, motorcycle accidents, medical malpractice, workers' compensation, and child victim cases. Do not let the fear of high attorney fees prevent you from seeking compensation if someone's carelessness has injured you. No legal fees are charged unless we win your case.
We take your case seriously. Our mission is to obtain compensation for victims injured due to the negligence of others. We cannot undo an injury or bring back a loved one, but we can assist you in seeking compensation for your loss. Our team understands how important your case is to you.
Humboldt Injury Law Firm: Successfully Representing Clients in Different Types of Cases
If you have been seriously injured in an accident in Humboldt County, you must make many decisions in areas you will likely not know. It can be a very confusing process, especially if you have already suffered a great deal.
An individual may be entitled to compensation for injuries sustained as a result of the negligence or recklessness of another. Although not every injury will lead to liability, there are a variety of different circumstances that can give rise to such a claim.
Our personal injury law firm in Humboldt County has a successful track record in these types of cases:
Car accidents are among the most common causes of personal injury in the United States. Consider the case in which another driver hits your vehicle and causes injuries and economic losses. If this occurs, California state law allows you to pursue a personal injury claim to recover all damages and injuries.
An experienced Humboldt personal injury attorney can assist you with filing an auto insurance claim following an accident. We can also help you explore further legal action against the at-fault driver to ensure your complete recovery.
Truck accidents often have the same causes as passenger vehicle accidents. However, there is a higher risk of severe injuries in truck accidents, and victims may find it challenging to prove who is at fault for their injuries. Experienced attorneys are able to help you navigate the complicated questions of vicarious liability for significant losses.
3
Product Liability Claims
When a product manufacturer releases a dangerous or faulty product, they are responsible for any damage their product causes to a customer. If you have experienced personal injury from a defective product, our team can guide you in understanding your legal rights and options for holding the manufacturer accountable. You don't have to suffer in silence; our team of professionals is here to help you seek justice and hold the manufacturer to account. We understand the considerable damage a defective product can cause, and we are committed to helping you get the compensation and justice you deserve.
4
Premises Liability Claims
Suppose you were injured on someone else's property due to their negligence in maintaining it. In that case, you may be able to file a personal injury claim against the property owner in California. Property owners must ensure their properties are free of safety risks that could injure authorized guests. Failing to do so can result in the property owner being held liable for any damages or injuries to their property. Therefore, property owners must take all necessary steps to prevent accidents or injuries on their property and keep it free from potential safety risks.
While dogs are common household pets in California, they can also cause injuries that can be excruciatingly painful and even fatal. California's strict liability law for dog bites makes dog owners liable for the harm their pets cause to others. In the event of a dog bite or any other injury caused by a dog in Humboldt County, our injury law firm may help you file a claim against the dog owner.
While some personal injuries can eventually heal, serious injuries can result in substantial pain and suffering, long-term medical consequences, and disability. An injury that permanently disfigures or disables the victim is called a "catastrophic injury." Your claim may be worth more than you think if you or a loved one suffered such an injury.
At our injury law firm, we understand the legal landscape of bicycle and pedestrian accidents in Humboldt County. We know these types of accidents are treated in the same way as motor vehicle accidents, and we are well-versed in the Vehicle Code that applies in these cases. Unfortunately, many insurance companies employ loopholes to deny claims related to bicycle accidents, leaving the injured person without adequate compensation for their injuries. We are here to help and ensure you get the compensation you deserve under the law. We provide the legal support and advice needed in these cases.
Humboldt Injury Law Firm: Your Ultimate Ally for Legal Success
A personal injury attorney will help you file your injury claim effectively and be by your side throughout the legal process. Having this support and guidance will ensure your success.
With our Humboldt County personal injury law firm, you will not only work with an attorney who has years of experience inside and outside the courtroom, but you will also collaborate with an individual who cares about justice. We will work tirelessly to ensure you receive the maximum compensation possible.
Why Choose Our Injury Law Firm in Humboldt
We'll Get You the Maximum Compensation
We'll Get Your Medical Bills Paid
We'll Recover Your Lost Lost Wages
We'll Get Your Vehicle Repaired or Replaced
We'll Come to Your Location—Anytime, Anywhere.
We'll Get You Access to the Top Medical Specialists
We'll Provide Complimentary Transportation
What to Expect From Our Humboldt Injury Law Firm
Our award-winning personal injury law firm in Humboldt County understands the distress and apprehension of personal injury victims when securing legal counsel for their civil claims. When you select our Humboldt injury law firm to be your legal representative in any personal injury claim, you can count on us to provide caring, customized legal counsel during the entire case. We will help you collect evidence and testimonies to prove who is responsible and help you get the full extent of your losses. Our experienced team will support you through the entire personal injury claim process.
How Much Do You Charge For Your Services In Humboldt County?
Our personal injury law firm is offering our clients contingency fee billing, a billing arrangement that requires no upfront legal fees from the client. The client only pays legal fees once we win their case, paying us a predetermined percentage of the case award.
You won't owe us anything if we can't win any money for you. It's as simple as that!
Your Humboldt Injury Case Deserves the Best Legal Guidance – Contact Us Today
Arash Law's legal team, led by Arash Khorsandi, Esq., has decades of experience handling personal injury cases, including those involving auto accidents. Our trial attorneys have extensive experience and will not rest until you receive fair compensation for your injuries. You will not have to worry about anything with us on your side. In addition, we guarantee to keep you apprised of developments and negotiate to achieve the best outcome. However, we are prepared to take your case to court if necessary.
Our Humboldt personal injury law firm is here to succeed with you. Contact us at (888) 488-1391 for a private legal consultation. Our attorneys are accessible every week, 24 hours a day, and consultations are free. Feel free to ask questions; the more knowledge you have going into the claim process, the better off you'll be. If you choose us, we'll also provide you with our "zero fee guarantee," which states that you will only be charged a fee if we win. The payment will be taken out of the settlement we secure for you.
Record-Breaking Verdicts in the Following Areas of Practice
Get The Latest News from

The Best California Accident Law Firm Today