Imperial Beach Injury Law Firm

Doesn't Just Win,


We Win Big!
You May Be Entitled to Compensation

Achieve Maximum Compensation with

Imperial Beach's Leading Personal Injury Law Firm
Were you injured by a crash or collision on your way to work or back home within Imperial Beach? Depending on the circumstances of your injuries and the accident, you may be eligible for compensation. Let our reputable personal injury lawyers assist you in determining the amount that you can receive for your claim. Arash Law's founder, Arash Khorsandi, Esq., has led us with the agenda of helping out victims of different types of accidents and obtaining maximum compensation for their injuries and other losses.
Located in the southernmost part of San Diego County, the city of Imperial Beach is a highly residential area home to 26,448 people who frequent the beach or outlet malls. In 2020, the city recorded a total of 40 people who were either injured or killed in a crash, based on the data provided by the
California Office of Traffic Safety
. About eight of these involved alcohol, two involved motorcycles, six were pedestrians, and two were bicyclists.
These accidents disturb the peace and quiet of Imperial Beach's residents. The aftermath of a catastrophic event can make you feel as though your entire world has been turned upside down. That is where our Imperial Beach personal injury law firm may be able to step in. With
more than $500 Million won
in verdicts and settlements, you can trust us to share your best interests and pursue the best possible course of action for your claim. Contact us at
(888) 488-1391
to start your free initial consultation with one of
our lawyers
.
April 2019: $5M settlement in a traumatic brain injury case involving a motor vehicle collision.
– 
BRIAN BEECHER
IF YES, You may be able to recover financial compensation. TELL US MORE: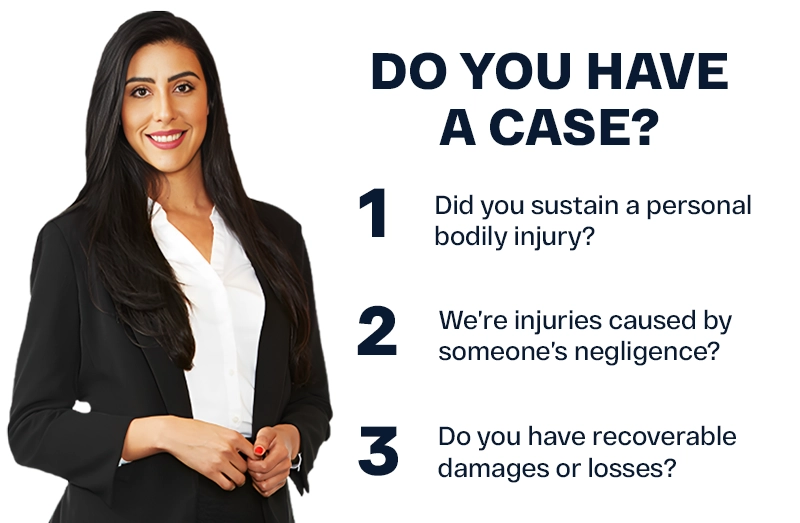 IF YES

, You may be able to recover financial compensation.

TELL US MORE:
Types of Serious Accident Cases We Handle in Imperial Beach Personal Injury Law Firm
Our personal injury law firm, Arash Law, under the direction of Arash Khorsandi, Esq., has handled many kinds of personal injuries.
Tina Eshghieh, Esq.
, one of our renowned attorneys, helped a client receive a $11,250,000 worker's compensation settlement.
Brian Beecher, Esq.
, headed the recent personal injury case involving Walmart, where we received a verdict of nearly $50 million. These two are just some of our seasoned lawyers that await your call and are ready to give you the best legal representation.
Here are the types of accidents that we are prepared to handle for you in Imperial Beach:
You don't have to familiarize yourself with the nature of your accident on your own. Our personal injury lawyers can guide you with their extensive knowledge, so you can avoid getting lost in all the jargon used in the legal field.
Common Injuries in Imperial Beach
You are entitled to financial support from the at-fault party for any injuries you sustained in an accident on Imperial Beach. With such a wide range of causes, the types of injuries a victim sustains can vary from minor to severe and life-threatening. These are some examples of personal injuries that are commonly observed in different accidents within the city:
Scrapes, cuts, and bruises
Crushing injuries
Organ damage or failure
Bone fractures
Sprains, strains, and torn muscles
Brain damage
Nerve damage
Spinal cord damage and paralysis
Concussion
Brain injuries
Coma or persistent vegetative state
Wrongful death
Here at Arash Law, we treat every personal injury case indifferently. What matters is that we get you the maximum compensation to help you recover from the injuries and losses that you sustained.
Steps to Take If You Were Hurt in an Accident
Unexpected accidents can completely change your life through your relationships, work, and overall health. Taking steps to protect your legal rights and financial future is important, even though it's challenging to stay positive after experiencing such trauma. The insurance company will try to find reasons to either reject your claim or pay you as little money as possible for their own good. Our Imperial Beach personal injury law firm can handle the complicated legal parts of your case, but here are some things you can do to improve your claim's chances of success:
1
Seek Medical Attention As Soon As Possible
Even if you don't think you're hurt or have only sustained minor injuries, you should still seek medical attention. This is because insurance companies may claim that your injuries weren't caused by the accident if no medical professional documented them right away.

It is important to remember that symptoms of some injuries don't always show up for weeks or even months after an accident, but doctors can often find injuries even if you don't feel sick. The faster you get proof of your injuries, the less likely it is that the insurance company will dismiss it as evidence for your claim.

Describe everything involved in the accident to your doctor in detail. You must also go to any follow-up visits or treatments. If you don't, the insurance company could say that your injuries aren't as bad as what your claim indicates. The bottom line: You should get evaluated right away to lower the chance of a dispute.
2
Record What You Remember
People's memories aren't always accurate, so you need to write down everything you can remember about your accident immediately. Your lawyer will need as much information as possible to figure out the best way to handle the investigation.
3
Store Evidence in a Safe Place
Solid evidence is the foundation of any successful claim. You should make time to preserve any evidence related to your accident and injury, such as photos and videos. Store the clothes and shoes you wore, and have a list of eyewitness contact details and relevant documents.
While your family and friends will want to know that you're safe and in good health, it would be better to contact them by calling or texting them. Updating them through social media can backfire because insurance adjusters may use your posts to dispute your claim.
5
Speak to a Lawyer Right Away
Do not postpone your appointment with a personal injury lawyer. Important evidence may not be available at all times, and you will only have a limited amount of time to take your case to court if a settlement cannot be reached. Depending on your case's facts, your lawyer may need a longer period to conduct an investigation, consult with expert witnesses, and negotiate with the opposing party.
6
Let Your Attorney Handle All Relevant Correspondence
Insurance adjusters are notoriously known to force statements from victims to impact their claims negatively. Make sure your case is protected by sending any correspondence from the insurance company to your lawyer.
Damage Recoveries for a Personal Injury Case in Imperial Beach
If you have been involved in a crash or collision in Imperial Beach, you can recover damages for your losses. There are three types of damages that you might be eligible for: Economic, non-economic, and punitive damages.
Economic damages – These are also known as special damages, which compensate an injured person for financial losses. These are damages that have a monetary value attached to them, including:
Lost wages
Loss of earning capacity
Loss of employment benefits
Medical expenses
Property damage
Non-economic damages – These are also known as general damages, which compensate an injured person for losses that are not easily quantified in monetary terms. These are damages that do not have a specific price attached to them, including:
Pain and suffering
Emotional distress
Loss of consortium
Loss of life enjoyment
Loss of reputation
Punitive damages are awarded in instances of gross negligence or intentional wrongdoing and are intended to punish the wrongdoer and act as a deterrent for similar misconduct in the future.
Seek legal advice from a credible Imperial Beach personal injury firm to determine the damages you may be entitled to receive. Arash Law will guide you through filing a claim and get you the maximum compensation possible.
Speak With Our Personal Injury Law Firm in Imperial Beach Today
Victims of collisions and crashes deserve as much compensation as they can get for the injuries and losses that they sustained. It is the responsibility of the at-fault party to reimburse the people to whom they caused damage. However, this is not always the case. This is where a personal injury lawyer comes in to ensure you obtain the maximum compensation for your claim.
Seek the advice of our esteemed personal injury lawyers at
Arash Law
, founded by the famous attorney
Arash Khorsandi, Esq.
Our law firm has recovered over $500 Million for clients and is widely acknowledged for its success and reputation as one of California's most renowned personal injury law firms. We are always available to answer your inquiries at (888) 488-1391 or fill out our "
Do I Have a Case?
" form to set up a free consultation with one of our lawyers.
Our Imperial Beach personal injury law firm proudly serves clients throughout the entire area and neighboring cities, including
Chula Vista
, Coronado, El Cajon, La Mesa, Lemon Grove, National City, and Santee, as well as major cities in California such as
Los Angeles
,
San Jose
,
San Francisco
,
Sacramento
,
San Diego
,
Bakersfield
, and
Fresno
.
Record-Breaking Verdicts in the Following Areas of Practice
Get The Latest News from

The Best California Accident Law Firm Today