Two people were hurt after a traffic collision involving two vehicles in Valencia on Wednesday evening, August 4.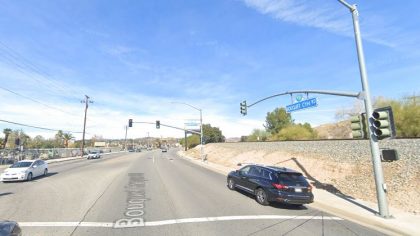 The accident transpired at approximately 6:55 p.m. near Bouquet Canyon Road and Cinema Drive in Valencia.
Two unspecified vehicles collided near the Santa Clarita intersection for unclear reasons. The circumstances leading up to the accident have not been established.
Due to the severity of the impact, one of the vehicles was reportedly overturned. Two unidentified parties were injured in the mishap. They were both taken to an area hospital for treatment.
Information about the accident is limited at the moment. The identities of the involved parties have not been disclosed. An investigation of the accident is currently underway.

Car accidents can happen to anyone. Every sixty seconds, at least one car accident occurs in the U.S. This is no surprise as there are millions of vehicles traveling every day on U.S. roadways. According to the United States Department of Transportation's Fatality Analysis Reporting System (FARS), there were 33,654 fatal vehicle crashes in 2018, which caused 36,560 deaths.
California is well-known for having some of the nation's busiest and most congested highways. According to the National Highway Traffic Safety Administration (NHTSA), over 3,304 recorded fatal car accidents in California in 2017.
Every day, hundreds of pedestrians and bicyclists pass through downtown California. A car accident happens in the blink of an eye. To avoid car accidents, drivers must maintain complete focus at all times.
Personal Injury Attorney for Victims of Two-Vehicle Collisions in Los Angeles County
Different types of car accidents present different legal issues. Injury victims need to work with a skilled car accident claim lawyer who has experience handling your specific type of accident case.
If you believe you have grounds to file a claim, retain a local car accident attorney in California near you who can help you navigate car accident laws. The victims are entitled to seek financial compensation for the medical expenses, lost earnings, emotional trauma, and pain and suffering caused by the accident through the personal injury claim.
The experienced car crash attorneys at Arash Law have helped many injury victims across California get the compensation they deserve for their injuries and losses. Let us take your paperwork and protect your legal rights so that you can focus on your recovery. Call (888) 488-1391 for a FREE Consultation with a personal injury attorney in California.