Our Red Bluff Injury Law Firm

Doesn't Just Win,


We Win Big!
You May Be Entitled to Compensation

Red Bluff, a charming city in Northern California, boasts the spectacular Mount Lassen Volcanic National Park, a celebrated gem among American national parks. This natural sanctuary entices visitors with its mesmerizing scenic routes, showcasing the splendid panorama of coastal mountains, majestic redwoods, and serene river valleys. Countless individuals are drawn to this enchanting park year after year, captivated by its unparalleled beauty. However, with the influx of people in the area, it is crucial to acknowledge the potential risks and remain vigilant to prevent accidents.
If you have been injured in a negligence accident in Red Bluff City, California, it is essential to seek the assistance of an experienced personal injury law firm. We at Arash Law, led by Arash Khorsandi Esq., are here to help you navigate the legal process and ensure that your rights are protected. When you reach out to us, you can schedule a free case evaluation with one of our skilled attorneys. During this evaluation, our law firm will review the details of your case and provide you with an honest assessment of your legal options.
We understand the physical, emotional, and financial toll that an injury can take, and we are committed to fighting for the compensation you deserve. Our injury law firm have a proven track record of success in handling negligence cases, and we will work tirelessly to achieve the best possible outcome for your situation. Don't hesitate to contact us today at (888) 488-1391 for the guidance and support you need.
SM v. Doe Defendant (settled on 10/14/2020) – settlement in a case involving a client who sustained a spinal cord injury and mild traumatic brain injury when he fell off a roof. The team at Arash Law secured an additional $610,000 as part of the third party settlement.
– 
TINA ESHGHIEH
IF YES, You may be able to recover financial compensation. TELL US MORE: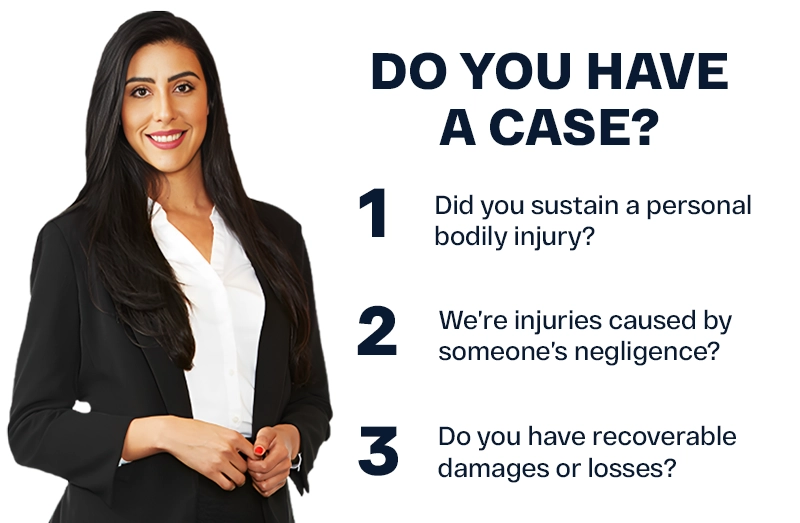 IF YES

, You may be able to recover financial compensation.

TELL US MORE:
Advocating for Justice and Recovery of Red Bluff and Tehama County's Injured Residents
Arash Law, a prominent injury law firm headed by Arash Khorsandi Esq., specializes in handling complex personal injury cases. Unlike many local firms who avoid such cases or only aim to reach a settlement with insurance companies, our renowned injury law firm in Red Bluff is dedicated to pursuing these cases to ensure the highest possible compensation for our clients. We are not hesitant to bring a lawsuit to court if necessary because our team possesses the necessary assets to proceed with litigation. We provide aid to individuals who have sustained severe injuries in automobile accidents, as well as various other forms of incidents, such as:
What Are the Most Dangerous Intersections in Red Bluff?
The intersections listed below pose the highest risk of accidents in Red Bluff.
Breckenridge Street & Monroe Street
Franklin Street & Douglas Street
Franzel Road & South Jackson
Main Street & Ash Street
Main Street & Willow Street
Oak Street & Monroe Street
Route 36 & Gilmore Road
Route 36 & Main Street
Route 36 & Mulberry Ave
Route 36 & Route 5
South Main Street & Diamond Avenue
Walnut Street & Franklin Street
Walbridge Street & Johnson Street
What Exactly Does Personal Injury Law Entail?
Personal injury law involves the legal principles and regulations that address civil lawsuits arising from accidents, injuries, or wrongful conduct that harm an individual's physical or emotional well-being. It encompasses a broad range of cases, including but not limited to car accidents, medical malpractice, slip and fall incidents, product liability, and workplace injuries.
The primary objective of personal injury law is to compensate individuals who have suffered harm due to another party's negligence or intentional actions. This compensation is intended to help victims recover from their injuries, both physically and financially, by covering medical expenses, lost wages, pain and suffering, and other related damages.
To establish a personal injury claim, certain elements must be proven. These elements generally include the following:
The defendant owed a duty of care to the plaintiff
The defendant breached that duty of care
The breach of duty caused the plaintiff's injuries
The plaintiff suffered damages due to the defendant's actions
Personal injury cases typically involve negotiations between the injured party and the at-fault party's insurance company. If a fair settlement cannot be reached, the case may proceed to trial, where a judge or jury will determine the outcome. In some instances, alternative dispute resolution methods like mediation or arbitration may be utilized to resolve the dispute outside of court.
It is important to note that personal injury law varies from one jurisdiction to another. Each may have its own specific statutes of limitations, rules of negligence, and standards of damages. Therefore, consulting with a trusted personal injury law firm is crucial to ensure that the legal rights and remedies available are properly understood and pursued.
Services Offered by Our Red Bluff Personal Injury Law Firm
Our Red Bluff personal injury law firm helps individuals who have suffered injuries due to another party's negligence or wrongdoing. With our expertise and experience, we provide various services to support and advocate for injured victims. Award-winning lawyers at our firm offer these services:
Legal Consultation

One of the critical services that our personal injury law firm provide is legal consultation. We offer initial consultations to assess the validity of a potential personal injury claim. During this consultation, your lawyer will review the case details, gather relevant information, and advise clients on their legal rights and options.

Case Evaluation

We also offer case evaluation services. Experienced attorneys at our firm will carefully analyze the circumstances surrounding the injury and evaluate the strength of the case. We will consider factors such as liability, causation, damages, and potential defenses. This evaluation helps clients understand the likelihood of a successful outcome and the potential compensation they may be entitled to.

Investigation and Evidence Gathering

To build a strong case, our injury law firm conducts thorough investigations and gather evidence to support their clients' claims. This may involve obtaining police reports, medical records, witness statements, surveillance footage, and other relevant documents. We work closely with our clients to collect and preserve all necessary evidence.

Negotiation with Insurance Companies

Many personal injury cases involve dealing with insurance companies. Our personal injury law firm in Red Bluff has extensive experience negotiating with insurance adjusters to secure fair settlements for our clients. We handle all communication with the insurance company, protecting the rights and interests of the injured party.

Legal Representation

When a resolution cannot be reached through negotiation, we provide legal representation in court. Our injury law firm guides clients through the legal process, file the necessary paperwork and argue their cases before a judge and jury. We present evidence, cross-examine witnesses and advocate for our client's rights to ensure a fair trial.

Alternative Dispute Resolution

Sometimes, we explore alternative dispute resolution methods, such as mediation or arbitration, to reach a settlement outside of court. These methods often provide a more efficient and cost-effective solution, allowing both parties to avoid lengthy litigation processes.

Post-Settlement Assistance

Even after a settlement or judgment has been reached, we continue to support our clients. Our firm assists with collecting compensation, negotiate any outstanding medical bills or liens, and ensure that they receive the total amount they are entitled to.

If you or a loved one have suffered a personal injury, seeking the assistance of a reputable personal injury law firm can make a significant difference in your ability to obtain fair compensation and move forward with your life.
The Significance of a Personal Injury Law Firm's Experience and Expertise
When it comes to legal matters, it is crucial to have a law firm with both experience and expertise by your side. The complexities of the legal system demand a high level of knowledge and skill. Whether you are facing a personal injury case or navigating through a complex business contract, the experience and expertise of a law firm can make all the difference in achieving a favorable outcome.
In-depth Knowledge of the Legal System

Injury law firms' experience and expertise bring valuable knowledge of personal injury cases, enabling them to navigate complexities, identify pitfalls, and protect clients' rights in seeking compensation for their injuries.

Tailored Legal Advice and Guidance

Experienced law firms offer tailored legal advice and guidance, taking the time to understand your unique situation. Their expertise allows for a comprehensive analysis of your case, identification of legal issues, and personalized solutions. From contracts to personal injury claims or criminal matters, a knowledgeable law firm ensures your rights are protected throughout the legal process.

Effective Negotiation and Advocacy

An experienced law firm has b negotiation and advocacy skills, effectively representing your interests during settlements or court proceedings. They craft persuasive arguments, present evidence, and fight for your rights to achieve the best outcome possible.

Access to Resources and Networks

Law firms with extensive experience and expertise often have access to a vast network of resources, including expert witnesses, investigators, and industry professionals. These connections can significantly benefit your case, providing valuable insights and support. A well-established law firm can leverage its network to gather evidence, conduct thorough research, and consult with experts in relevant fields, strengthening your case and increasing the chances of a favorable resolution.

Proven Track Record

Experience and expertise are often reflected in a law firm's track record of success. By choosing a law firm with a proven history of achieving positive outcomes for their clients, you can have confidence in their ability to handle your case effectively. A solid track record demonstrates the law firm's proficiency in navigating the complexities of the legal system and obtaining favorable results for their clients.
The importance of experience and expertise in a law firm cannot be overstated. From their in-depth knowledge of the legal system to their tailored advice and practical negotiation skills, an experienced and knowledgeable law firm can significantly impact the outcome of your case. When faced with legal challenges, it is crucial to choose a law firm that has the necessary experience and expertise to protect your rights and achieve the best possible outcome.
Setting the Standard for Legal Excellence in Red Bluff, California
We at Arash Law, led by Arash Khorsandi, Esq., have established ourselves as one of the leading law firms in California. With a proven record of success, dedication to client satisfaction, and a team of highly skilled attorneys, our firm has consistently delivered exceptional results. 
One of the critical factors that set our firm apart from other firms is the unparalleled expertise of its legal team. Led by Arash Khorsandi, a highly respected attorney with extensive experience in personal injury law, Arash Law has a deep understanding of the complexities involved in various legal matters. The attorneys possess a wealth of knowledge and are well-versed in the intricacies of California law, enabling them to represent their clients effectively.
Our firm has successfully represented numerous clients in personal injury claims, securing significant settlements and verdicts. Our experienced lawyers have effectively retrieved more than $500 million for individuals involved in various types of accidents, such as car, truck, motorcycle, uber, lyft, bicycle, and pedestrian incidents. Throughout the decades, our committed attorneys have advocated for the rights of Californians and their loved ones.
Our personal injury law firm is delighted to extend our assistance to residents in the surrounding areas of Red Bluff, including Chico, Redding, Oroville, Tehama, Cottonwood, Corning, and Anderson. With a deep commitment to serving our community, we strive to provide expert legal guidance and support to those who have suffered personal injuries. Whether you have been involved in a car accident, slip and fall incident, or any other personal injury, our team is here to help you navigate the legal process and seek the compensation you deserve. By choosing Arash Law, led by Arash Khorsandi, Esq., you can trust our experience, dedication, and unwavering advocacy for your rights.
Pursue Legal Action with Our Highly Regarded Personal Injury Law Firm in Red Bluff, CA—Reach Out to Us Now!
You can expect personalized attention and compassionate representation when you choose Arash Law, led by Arash Khorsandi, Esq. Our injury law firm understands the physical, emotional, and financial hardships often accompanying personal injury cases. That is why they are committed to providing comprehensive support to our clients throughout the legal process. Our dedication to excellence has earned numerous accolades and recognition within the legal community. 
If you or a loved one has been injured in an accident, please contact us at (888) 488-1391 today. Our team of legal professionals is available to discuss your case and provide you with the guidance and support you need. By choosing our firm, you can rest assured that your case will be handled with the utmost care and expertise as they strive to achieve the best possible outcome for every client.
Record-Breaking Verdicts in the Following Areas of Practice
Get The Latest News from

The Best California Accident Law Firm Today