One woman was killed while two kids were hurt after a head-on collision involving a street race in Chula Vista on Saturday evening, June 5th.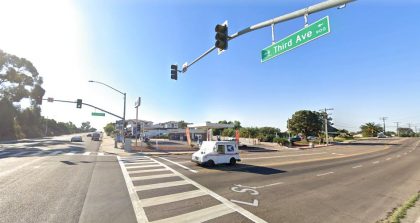 The accident transpired at approximately 6:00 p.m. on Third Avenue and L Street in Chula Vista. A Ford Mustang was allegedly racing with another vehicle when the Mustang ran a red light at the intersection.
The Mustang then collided head-on with a Nissan Altima. Authorities determined that the Mustang was driving eastbound on the westbound lanes when the accident happened.
Two other vehicles that were behind the Altima were also caught up in the collision. The female driver of the Nissan Altima was killed in the collision. Two of her passengers, who were juveniles, sustained serious injuries from the crash. They were taken to an area hospital for treatment.
The other motorist that was racing with the Mustang fled from the scene, but authorities suspect that the other vehicle maybe a 2014 or newer white Subaru WRX, a sports car.
An active investigation is currently ongoing. Witnesses that can give more information about the accident are urged to contact CVPD at 619-409-3817.

Fatal Speeding-Related Accident Statistics
Head-on collisions are probably one of the most fatal types of car accidents. During a head-on collision, the force of the collision is much stronger than other types of car accidents. Although head-on collisions only represent 2 percent of accidents, they account for 10 percent of fatalities on U.S. roadways. In this case, the head-on collision was triggered by street racing.
According to the National Highway Traffic Safety Administration, nearly ten thousand victims were killed across the United States in 2018 in auto accidents caused by speeding. In 2017, speeding was a factor in 26 percent of all traffic fatalities. This statistic means that more than one out of every four car accident victims was killed because of speeding. But why is speeding so deadly? The answer is simple physics.
High-speed racing on the road is probably one of the most dangerous and reckless things drivers can do, especially if they're not professional racecar drivers. They could potentially injure others, and it can also lead to fatal consequences.
Wrongful Death Attorney for Victims of Fatal Speeding-Related Accidents is Underway
Dealing with the sudden death of a loved one from a fatal car accident can be quite overwhelming and stressful. The extreme trauma of losing a loved one can last a lifetime.
But the victim's family can pursue justice for their loved ones with the help of an experienced wrongful death attorney. Attorneys will vigorously fight for their rights and handle all the paperwork and legal aspects for them as they recover from their grief.
Attorneys can also file a wrongful death claim on their behalf. In a wrongful death suit, the survivors sue the person responsible for an untimely death and the financial losses they caused. These losses can include funeral and burial expenses, as well as all the lost wages the victim would have earned between the time of the accident and his or her expected retirement.
A wrongful death attorney can serve as a helpful legal guide for the grieving family during this difficult time while ensuring that the guilty party will be held accountable for their alleged crime. Our attorneys from Arash Law are here to help you 24 hours a day and seven days a week – call (888) 488-1391 today.