Three people were hurt after a two-vehicle traffic collision at an intersection in Fresno on Sunday morning, May 30.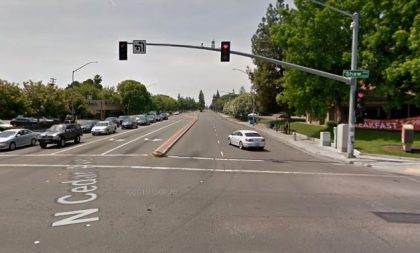 The accident occurred at the intersection of Shaw and Cedar avenues, near the Fresno State Campus, at around 1:30 a.m.
An unidentified woman was reportedly driving a white sedan when she could not stop for a posted sign and was struck by a passing blue truck. Due to the severity of the impact, the white sedan overturned.
After the collision, the sedan driver was in critical condition, and she was rushed to a local hospital for treatment.
Information about the accident is limited at the moment. The names of the involved parties have not been disclosed. Local authorities are further investigating the accident.

Two-Vehicle Collision Statistics
Nearly 2 million people are injured due to traffic accidents in the U.S. annually. Meanwhile, approximately 200,000 people are injured each year in California alone.
Car accidents are one of the leading factors of injury deaths in California. According to the National Highway Traffic Safety Administration (NHTSA), over 3,304 recorded fatal car accidents in California in 2017.
Attention to the road, competence behind the wheel, and proper vehicle maintenance can reduce the odds of getting into a collision. Negligence, recklessness, and breaking the law are at the heart of most "accidents."
There are several reasons why car accidents occur. The most common reasons are distracted driving, drunk driving, and driver over-fatigue.
Fresno County Personal Injury Attorney for Victims of Two-Vehicle Collisions
Determining who the at-fault party is in an auto collision is a complicated process. Although it is easy to determine who the responsible driver is during the crash, it can be quite challenging to prove the other driver's negligence.
Insurance companies also tend to pressure their victims to settle for a quick payout even though the case is worth more. They would attempt to limit the compensation and disregard the long-term consequences and suffering that a victim might experience.
If you are a victim of a major car accident, it's best to seek the assistance of an experienced attorney immediately. Personal injury attorneys can serve as a reliable guide for vulnerable victims, ensuring that their rights are protected and that the guilty party will be held accountable for their crimes.
Our attorneys from Arash Law understand the common causes, defendants, and how to fight for compensation for collision-related injuries. Whether you suffered burns, broken bones, brain injury, a spinal cord injury, or other damages, talk to our attorneys. The road to recovery starts just a phone call away. Call (888) 488-1391 right away.