Our Imperial County Injury Law Firm

Doesn't Just Win,


We Win Big!
You May Be Entitled to Compensation

Victims who are seriously injured in accidents that were clearly not their fault can hire an injury lawyer to represent them. You can trust the leading injury law firm in Imperial County, with award-winning results, to defend your rights and fight for just compensation. Located on California's southeast border, Imperial County is the third-largest county in the state. In 2020, the population was around 179,000.
Since it was formed out of portions of San Diego County in 1907, Imperial is the latest county to be established in California. Even though this region is a desert, agriculture plays a dominant role in the economy. A number of sites of interest can be found in this county, including the Algodones Sand Dunes, Anza-Borrego Desert State Park, and the Imperial National Wildlife Refuge.
As a result of the high volume of traffic due to the numerous tourist sites in Imperial County, motor vehicle injuries and other types of accidents are more likely to happen.
Arash Law, under the guidance of Arash Khorsandi, Esq., is well known as the leading injury law firm in Imperial County. Our legal team is prepared to help you fight for compensation after suffering injuries in various types of accidents. In these situations, our experienced, compassionate, and knowledgeable injury attorneys can be of great assistance. Our attorneys are available 24/7 to assist clients throughout California.
Do not hesitate to call us at (888) 488-1391. You can also contact us online for a free consultation via our "Do I Have a Case?" form.
Gatewood v. City of Los Angeles (arbitration award granted on 11/4/2020) – arbitration award involving an injured worker that sustained a traumatic brain injury when he fell off a truck. Eshghieh secured a 100% permanent total disability award yielding a present value sum of $1.195 million.
– 
TINA ESHGHIEH
IF YES, You may be able to recover financial compensation. TELL US MORE: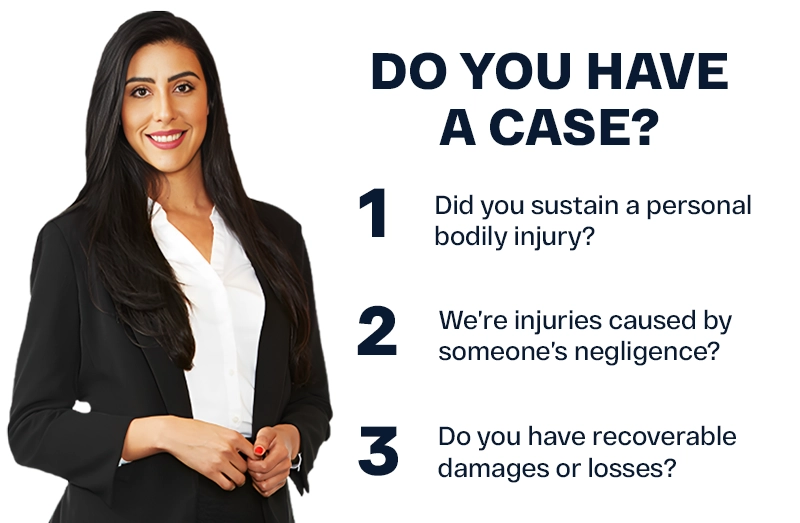 IF YES

, You may be able to recover financial compensation.

TELL US MORE:
Imperial County Accident Statistics
According to the statistics data from the California Office of Data Safety, in Imperial County, 636 victims were injured and killed in 2020, ranking it at #58 among other California counties. In addition, 70 of these accidents involved alcohol, 32 involved pedestrians, and 26 involved motorcycles. Speed-related incidents caused 108 fatal and injury crashes, while 25 were hit-and-run-related.
Do I Need a Personal Injury Lawyer in Imperial County?
The sad reality is that insurance companies aren't on your side. It is in their financial interests for you to receive less money so they can make more money. A claim adjuster cannot be reprimanded for intentionally misleading, shortchanging, or reducing your settlement.
With our injury law firm on your side, you can rest assured that you're in good hands. The attorneys at our firm have a wealth of experience defending clients who are injured without fault. Our legal team will review your injuries and discuss your legal options as soon as you contact us. As soon as you hire us, we will investigate the cause of the accident. Once we have analyzed your case, we will be able to determine the extent of your injuries. Our goal is to make sure that you receive the maximum amount of compensation for your injuries.
At Arash Law, under Arash Khorsandi, Esq., we handle personal injury claims on a contingent fee basis. Therefore, you will pay no fees upfront unless we win your case through settlement or trial. Contact us today at (888) 488-1391 to learn how we can assist you.
Types of Accidents in Imperial County, CA
With a population of around 180,000 people and a vast network of roads, Imperial County is prone to a wide range of accidents that cause injuries. These mishaps include, but are not limited to:
Car accidents
Pedestrian accidents
Truck accidents
Motorcycle accidents
Rideshare and taxi accidents
Bicycle accidents
Slip and fall injuries
Dog bite cases
Workplace accidents
Catastrophic injury cases
Premises liability
Wrongful death
Following an Accident, Compensation May Be Awarded
In the event that you or someone you know has suffered an injury, you may be able to seek compensation. In cases where another person, business, or organization was negligent, the victim may be entitled to compensation after filing a personal injury lawsuit in Imperial County, CA. There are, however, particular challenges associated with filing a personal injury claim.
Nonetheless, Imperial County can secure compensation if an experienced injury law firm is hired to help make your claim.
Types of Damages an Injury Victim in Imperial County Can Recover
In Imperial County and other parts of California, the actual harm you have suffered determines the damages you can recover, not speculation. Accident victims in Imperial County may be entitled to three types of damages:
Economic damages: These are damages that have been lost, paid, or will be paid in the near future. The majority of the time, they are calculated according to the bills you've incurred after the accident. Below are a few examples:
Hospital bills
Cost of ongoing treatment
Medication and medical equipment
Physical or occupational therapy
Loss or damage to property
Income loss or inability to generate income
Non-economic damages: Injury victims can recover these types of damages to compensate them for emotional suffering. The difference between these and economic damages is that they include less tangible losses, which makes them more difficult to calculate. Here are some examples:
Pain and suffering
Emotional stress
Anxiety
Post-traumatic stress disorder (PTSD)
Loss of company or partnership
Weakening or disfigurement
Consequences negatively affecting the quality of life
Punitive damages: If the responsible party acts recklessly or maliciously, the injured party may be entitled to punitive damages. The purpose of punitive damages is not to compensate victims for their injuries but rather to punish the defendant and deter them from engaging in similar behavior in the future.
California juries can award punitive damages for fraud, malice, or oppression. Whether you receive damages depends on the details of your claim, the defendant's behavior, and your attorney's presentation of the case. Consult with our seasoned personal injury lawyers at Arash Law, under the direction of Arash Khorsandi, Esq., to understand your legal options.
Frequently Asked Questions - Answered by an Imperial County Injury Law Firm
Should I Get an Imperial County Injury Law Firm for a Minor Accident?
It is common for Imperial County's personal injury victims to represent themselves in court without the assistance of an attorney. This is especially common in small claims involving small amounts of money and defendants with insurance. However, there's no way to know how severe the injuries are when you've just been involved in an accident. An injury that seems minor at first may be far more serious in the end.
A small wound can cause significant long-term and immediate costs if left untreated. Even if the damage seems small, speak with an accident attorney in Imperial County who focuses on injury cases. They will know all the factors that could have led to the accident and the impact the accident may have had on the victim.
What More Can an Accident Attorney Do to Strengthen My Injury Claim?
Filing a claim after an injury is never easy. Insurance companies will look for any reason to deny your claim or reduce your eventual settlement. Despite strong evidence supporting your claim, you may still make mistakes before and after filing. These mistakes will lower your chances of receiving full compensation. You can strengthen your injury claim by following these steps:
Collect Evidence. Establishing fault, causation, or financial loss with seemingly inconsequential evidence is possible. Hiring a dedicated Imperial County injury law firm is as important as meticulous documentation of the incident. In order to have the best chance of success, you should contact a lawyer right after the incident.
Seek Medical Treatment. Getting a checkup after an accident is crucial. Your healthcare provider's recommendations and your medical records will help you prove damages. Furthermore, visiting a doctor as soon as possible will reduce the likelihood of disagreement regarding the optimal timing of damage reduction efforts. The insurance company may claim you haven't done everything to limit losses if you wait too long to seek medical attention. They may argue that your injuries are mild or unrelated.
Listen to Your Doctor. Spending a long time out of work can be very stressful due to rising medical costs and other expenses. Even if it means taking time off work and exercising, you should follow your doctor's advice. There could be a disagreement over how to lessen the harm otherwise.
Avoid Using Social Media. The last thing you want to do is provide the insurance company with more information to use against your claim. That is exactly what you will do if you discuss your injuries, accident, or case online. You should avoid these websites while your case is pending. Some elements of your case may be contested based on your digital content. In addition, ask your friends and family not to post photos of you until later.
Contact an Injury Law Firm. For help navigating the complicated claims process, contact an injury law firm. It may also be beneficial to get advice on how to avoid errors that could result in disagreements, delays, or other problems.
How Much Is My Personal Injury Claim Worth?
No lawyer can promise a win in your case. Nevertheless, our Imperial County injury law firm can evaluate the situation and determine an appropriate settlement amount. When determining an appropriate settlement amount, your attorney may consider the following factors:
Lost Earnings. Were you unable to work due to your injuries? The settlement sum may reflect these lost profits. Arash Law, under the direction of Arash Khorsandi, Esq., frequently consults with financial and occupational experts to determine whether our clients are eligible for lost-wage benefits.
Treatment Expenses. Medical expenses will be your main concern after an accident. Costs associated with medical care, including treatment, pain relief, care, therapies, and everything else, can quickly become prohibitive. In determining the value of your claim, our injury lawyers may consider past and future surgeries, diagnostic tests, medications, physiotherapy, orthotics, prostheses, and pain medication.
Pain and Suffering. Experiencing prolonged pain and discomfort can have a negative impact on your health. There is no universally accepted formula for determining compensation for pain and suffering. However, our attorneys can utilize a variety of approaches to determine compensation.
Why You Need a Trusted Injury Law Firm in Imperial County, CA
Having a trusted injury law firm on your side ensures you'll receive the compensation you deserve. You can receive medical care without fear of incurring crippling medical debt. You can hire Imperial County's best injury legal firm to help you claim your rights and win your case.
Our legal team has extensive experience with injury claims and can effectively represent you in court. Our duty is more than just helping our clients receive their deserved compensation. Our compassionate advocacy addresses problems holistically and promotes healing.
If you or a loved one suffered losses in an accident resulting from someone else's negligence, you should file an injury claim to receive fair compensation. You can rely on our injury law firm's expert attorneys to fiercely pursue your case.
We operate on a contingency-fee basis. This means that until we win your case, you won't have to pay us anything. Please don't hesitate to contact us. We are available 24/7 to assist you and cater to your needs. Call us now at (888) 488-1391 for a free initial consultation!
Record-Breaking Verdicts in the Following Areas of Practice
Get The Latest News from

The Best California Accident Law Firm Today