Palmdale Injury Law Firm

Doesn't Just Win,


We Win Big!
You May Be Entitled to Compensation

Personalized Service From Our Trusted

Personal Injury Law Firm in Palmdale
Palmdale, situated within the expansive landscape of Los Angeles County, is a welcoming community home to approximately 167,987 residents. With its suburban charm, homeowner-friendly atmosphere, and abundance of parks, Palmdale provides an ideal setting for families. Despite these positive aspects, it's essential to acknowledge that accidents, often resulting from negligence, are still a concern in the area. If you or someone you care about has been seriously injured in a Palmdale accident, let our Palmdale personal injury law firm assist you. At Arash Law, Led by attorney Arash Khorsandi, Esq., our firm is well-equipped to handle your case. Contact us today at (888) 488-1391 to initiate a case evaluation.
When you are a victim of personal injury or an accident, navigating the legal system can be difficult. You need skilled legal representation that aggressively defends your rights while showing empathy for your pain and suffering. Our Palmdale personal injury law firm is an attentive, efficient, and communicative law firm that takes pride in providing exactly this level of dedicated legal representation. For a complimentary initial consultation, feel free to contact us and start the process of resolution.
Working with an experienced personal injury attorney can relieve some of the legal burdens of an accident, allowing you to focus on the rehabilitation of your body and mind. In addition, seeking legal representation may give you a better chance of obtaining fair compensation during difficult times.
April 2019: $14M settlement in a traumatic brain injury case involving a defective piece of equipment at a factory.
– 
BRIAN BEECHER
IF YES, You may be able to recover financial compensation. TELL US MORE: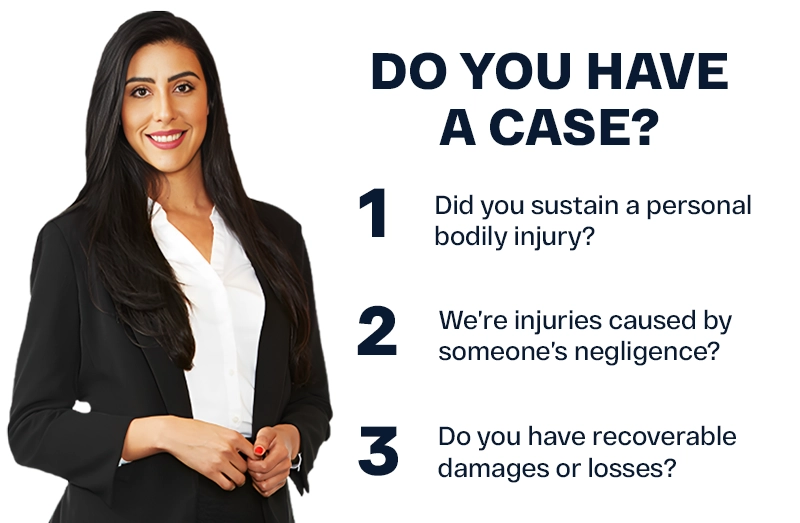 IF YES

, You may be able to recover financial compensation.

TELL US MORE:
Palmdale Accident Statistics
The city of Palmdale is located in the northern part of Los Angeles County in an area known as Antelope Valley. With a population of nearly 170,000, the city has a twin city agreement with Lancaster, its northern neighbor. Together, they are a large urban area with a population of over 350,000.
As with most high-population areas, Palmdale has plenty of accidents and injuries.
In Los Angeles County, there were nearly 110,000 traffic accidents in 2021, resulting in 841 fatalities and more than 58,000 injuries.
In Palmdale specifically, there were 29 fatal auto accidents. These crashes involved 51 vehicles and caused 33 deaths.
Moreover, there were 41 accidents involving pedestrians in Palmdale alone in 2022. Seven people died, and 35 were injured as a result of these accidents.
Speeding and improper turns are the most common causes of car, truck, and motorcycle crashes in Palmdale.
Palmdale's fatal accident figures consistently rank above the California average per population.
Palmdale's road fatality rate has more than doubled since 2000.
What are the Benefits of Choosing our Palmdale Personal Injury Law Firm?
Your life can be changed forever by unexpected accidents and injuries. In the aftermath of a traumatic event, you may find yourself overwhelmed by physical, emotional, and financial problems. Filing a personal injury lawsuit is a great way to recover the compensation you both need and deserve after an accident. However, personal injury claims can be extensive and should be handled by an experienced personal injury attorney.
When you choose our Palmdale personal injury law firm to handle your personal injury claim, you have the opportunity and time to focus on your own personal recovery. This can be crucial to your ultimate recovery and future. While you focus on yourself, your attorney will handle every aspect of your personal injury claim, from the initial investigation to the final negotiations. Insurance companies representing the at-fault party will do everything in their power to deny your claim or limit the compensation you receive. They have the experience and skills necessary to defeat these attempts.
What are Common Personal Injuries Handle by our Palmdale Personal Injury Law Firm
Our Palmdale personal injury law firm is dedicated to handling a wide range of personal injuries, ranging from minor to severe. Listed below are several types of injuries that may give rise to a valid legal claim:
Back injuries
Traumatic brain injuries
Burns
Amputations
Eye injuries
Broken bones
Chest injuries
Nerve damage
Concussion injuries
Crushing injuries
Herniated discs
Knee injuries
Soft tissue injuries
Spinal cord injuries
Types of Recoverable Damages in a Personal Injury Claim
The amount you are owed cannot be determined by a sneaky, manipulative insurance adjuster on the phone. The best Palmdale personal injury law firm can provide you and your family with real legal representation that will fight on your behalf against the insurance companies until you are dealt with fairly. There is no excuse for the injuries you sustained in the accident. There will be insurance companies who will attempt to lowball you with a fast, easy offer that will appear good at first glance – but you are entitled to more than just that.
The following are some costs involved in your recovery:
Medical bills
Mental health therapy
Potential PTSD
Rental and replacement vehicle
Emotional distress
Lost wages
New clothes
There is so much more
Despite the fact that accidents can occur, what matters is what is done afterward. Life tends to come at you quickly. It may even come at you faster than you ever imagined. The decisions you make shortly after an accident and months later will have an everlasting impact on your life.
It is necessary for you to:
File a proper police report

Seek proper medical treatment

Call Arash Law 
The best thing you can do if you have been injured in an accident is to take advantage of all legal remedies available to you. Trying to negotiate with insurance companies on your own is your worst option. It would be in your best interest to obtain a free, no-obligation case evaluation from our Palmdale personal injury law firm.
Our Palmdale Personal Injury Law Firm Providing Comprehensive Personal Injury Representation
Palmdale, Lancaster, and the surrounding area in North Los Angeles County are home to our personal law firm, which handles all types of catastrophic injury and accident claims. We help clients find the best path forward, no matter what type or severity of their injury is. Our cases include:
Car Accidents
Motorcycle Accidents
Truck Accidents
Pedestrian Accidents
Uber & Lyft Accidents
Bus Accidents
Slip and Fall Accidents
Dog Bite Injuries
Premises Liability Claims
Work Injuries
Product Liability Claims
Construction Site Accidents
Traumatic Brain Injuries (TBIs)
Burn Injuries
Wrongful Death Lawsuits
Important Steps to Take After an Accident to Strengthen Your Claim in Palmdale
There is no limit to the severity of injuries sustained as a result of accidents, which can cause severe physical pain, emotional distress, and financial losses. Regardless of whether you have been in an accident involving an automobile, a slip and fall incident, or any other type of accident in Palmdale, it is imperative that your rights and health are protected. In Southern California, the following steps are important after an accident:
1
Seek immediate emergency care for a serious injury
Whenever you are involved in an accident in Palmdale, it is imperative that you seek immediate emergency care. Your health and safety should always be of first concern. Even if the injury is not an emergency, a physician should still evaluate it. It is important to remember that, while your well-being is of utmost importance, medical records are required in order to bring a successful personal injury lawsuit in California.
2
Document the incident, secure evidence
In California, personal injury liability is generally determined by fault. How does this affect your case? In order to be able to recover financial compensation for your full damages, you will need to prove that the defendant is responsible for the accident. The more evidence you gather and document what occurred, the stronger your position will be in fighting for justice and obtaining the highest settlement or verdict possible.
3
Report the accident and notify parties
Injuries should be reported to the proper authorities following a motor vehicle crash. The Palmdale Sheriff's Department, the Los Angeles County Sheriff's Department, or any other state or local law enforcement agency may be contacted. There are other types of accidents that should be prepared for as well. For example, suppose you have been injured in a slip and fall at a store in Palmdale, California. You must notify the business as soon as possible that an accident has resulted in an injury.
4
Be ready to consult with a Palmdale personal injury law firm
We highly recommend speaking with our qualified Palmdale personal injury lawyers before providing any official statement to a defendant or their insurance company. Arash Law has the skills, knowledge, and expertise you can trust. Above all else, we will take action to protect your rights and help you maximize your financial recovery.
A Guide to California Personal Injury Liability and Personal Injury Claims in Palmdale
When you have been hurt in an accident in Palmdale or elsewhere in California, it is essential that you have a clear understanding of how liability works under California law. There is some variation in legal claims across jurisdictions. Personal injury cases are largely state-level legal claims. You can benefit from protecting your rights and interests by hiring our Palmdale personal injury law firm. The following information will help you understand how the personal injury process works in California:
1
Liability is based on fault
In California, personal injury liability is determined by fault. The party responsible for the injury must prove negligence in causing the injury by failing to act with reasonable care if you wish to recover damages. Personal injury attorneys in Palmdale/Lancaster should investigate all serious accidents thoroughly. The fault is determined case-by-case.
2
Comparative negligence could play a role
In California, the rule of comparative negligence governs the treatment of accidents. Partial fault does not prevent you from receiving compensation, but it may adversely affect your case. For instance, if you are determined to have contributed 30 percent to your own slip and fall accident in Palmdale, you will be liable for 30 percent of your own damages. That is, your compensation award will be reduced by one quarter.
3
Statute of limitations in Palmdale
The statute of limitations for personal injury claims is generally two years from the date of the accident itself. Do not delay taking legal action if you have suffered a personal injury and would like to seek compensation through the legal system. Cases involving personal injuries are always time-sensitive. Consult with an attorney immediately.
Absolutely No Fee Unless Our Palmdale Personal Injury Law Firm Win Your Case
Numerous individuals delve into the world of personal injury claims without legal support, often due to worries about the expenses associated with hiring an attorney. However, you'll find reassurance in the fact that these worries are unfounded when working with Arash Law, the renowned Palmdale personal injury law firm. Arash Law frequently employs an innovative contingent fee billing method, allowing you to access its legal expertise without any upfront costs. You'll only be required to make payments once your claim achieves a successful outcome. Let's take an exclusive look at how this system operates.
When you choose to engage an attorney's services, They propose a personalized contingent fee agreement. This document meticulously outlines the scope of services and designates a percentage of your eventual award, which will serve as their fee upon the successful resolution of your claim.
Since the attorney doesn't demand any upfront fees, they can immediately commence work on your case without the burden of payment concerns. Your case progresses seamlessly, allowing you to focus on its merits rather than managing ongoing legal expenses.
Your attorney places the funds from your settlement or court award directly into a secure trust account as soon as your claim concludes.
From this trust account, your attorney adeptly manages any outstanding medical liens on your award and withdraws the predetermined percentage for their services.
To wrap up your case, your attorney arranges a final meeting with you, facilitating the seamless transfer of the remaining compensation.
Reputable Palmdale personal injury law firm skillfully oversees this entire process, allowing you to concentrate on what truly matters during this challenging period.
Turning Injury Into Victory - Palmdale Personal Injury Law Firm, Your Legal Allies
You're never alone when facing the aftermath of a personal injury, accident, wrongful death, or employment dispute. At Arash Law, led by the dedicated Arash Khorsandi, Esq., we're here to lend a sympathetic ear, provide expert counsel, and passionately champion your cause.
Our personal injury attorneys have an impressive track record, securing over $500 Million in settlements for personal injury cases. Beyond Palmdale, we serve neighboring communities, including Lancaster, Desert View Highlands, Vincent, Quartz Hill, Littlerock, and Acton, as well as major cities throughout California, namely Los Angeles, Fresno, San Jose, Bakersfield, San Francisco, San Diego, and Sacramento.
Reach out today for a complimentary consultation with one of our seasoned and compassionate Palmdale personal injury lawyers. Kickstart your journey to justice by giving us a call at (888) 488-1391.
Record-Breaking Verdicts in the Following Areas of Practice
Get The Latest News from

The Best California Accident Law Firm Today