Our Redondo Beach Injury Law Firm

Doesn't Just Win,


We Win Big!
You May Be Entitled to Compensation

In the event that you have been injured in Redondo Beach, it can be helpful to work with a personal injury law firm to help you recover financially and get your everyday life back. Being harmed in an accident can lead to a personal injury lawsuit, and you may be compensated for the physical, emotional, and financial suffering these injuries may cause. When you have been injured at Redondo Beach due to someone's
negligence
, our personal injury law firm is here for you, and we will not settle for less than you deserve. Consult our personal injury law firm at (888) 488-1391 to arrange a free initial consultation, or use our online form.
Being Home to over 66,000 residents, according to the World Population Review, Redondo Beach is known for its beautiful coastal setting and excellent beach community. However, like all other cities with an active community and a large, lively populace, accidents caused by negligence in the city are inevitable.
With over a decade of successful trials and large settlements, we have
recovered over $500 Million
on behalf of our clients through our Redondo Beach personal injury law firm, with whom we have built enduring and lasting relationships with clients. The Redondo Beach personal injury law firm of Arash Law, founded by
Arash Khorsandi, Esq.
, has the investigative resources, trial experience, and drive to get our clients the highest possible monetary compensation.
We pride ourselves on providing our utmost integrity, professionalism, and client attention at
Arash Law
. As you face life's most challenging times, you can count on our Redondo Beach personal injury law firm to fight for you until we've given you the compensation you deserve.
Verdict on a premise liability case involving a defective gate
– 
JUDD ROSS ALLEN
IF YES, You may be able to recover financial compensation. TELL US MORE: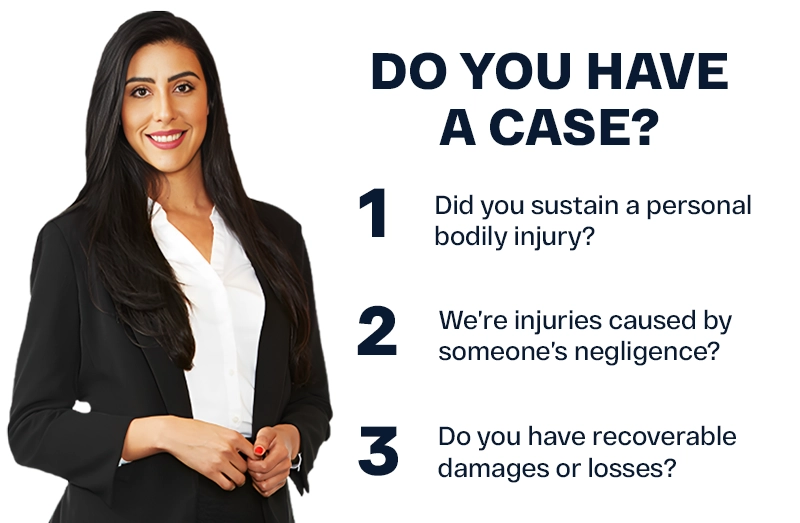 IF YES

, You may be able to recover financial compensation.

TELL US MORE:
What To Do After An Accident In Redondo Beach
After an accident, maintaining composure is essential. Taking deep breaths will help calm your mind, lessen the risk of your injuries worsening, and may even save your life.
Move away from the accident site if necessary to prevent further injury, but only if the situation calls for it.
Contact the police and emergency responders to inform them about the accident, especially if there are injuries.
Seek medical attention as soon as possible. Some injuries remain asymptomatic for a time, and it can be too late by the time you realize they exist. Prioritize getting yourself checked right after an accident. Medical tests can also serve as proof when you file a claim.
Document the accident and take photos of the scene. Depending on the case, this may include the vehicle's condition, road conditions, and so on.
Gather the necessary information and get names, phone numbers, addresses, and insurance details from eyewitnesses. Do the same for those involved in the accident as well.
Make sure you file an incident report. You might be required to report the accident to the police or other appropriate authorities, depending on where you are and how serious it is.
Inform your insurance company. Provide your insurance provider with exact information about the accident as soon as possible. The instructions they provide will tell you how to proceed.
Keep records. Keep track of all the paperwork associated with the accident, including any correspondence with insurance companies, police records, and medical reports.
Insurance Agents Cannot Push You Around When You Work With Our Personal Injury Law Firm
When you have been injured in an accident, it is crucial that you seek legal advice as soon as possible. Following an accident, insurance agents often approach victims, hoping to speak with them before they seek legal counsel. An insurance agent may try to get you to accept an offer of a poor settlement, minimize how serious your injuries are, and even make you admit fault for the accident.
To avoid any of these, it is ideal that you do not communicate with insurance companies alone. If they contact you, direct them to our personal injury law firm in Redondo Beach. Let us handle all communication to ensure you have the best chance of recovering full damages after an accident.
At the personal injury law firm of Arash Law, we represent people needing assistance in pursuing maximum compensation. Our job is to earn what our clients deserve while they focus on recovery. As a firm, we value everyone who walks through our door for help and treat them as individuals rather than numbers. We will aggressively pursue your legal rights while providing personal and attentive service.
The Personal Injury Law Firm That Helps: Cases We Handle in Redondo Beach
Through the years, Arash Law has helped accident victims and their families receive compensation for various types of personal injury cases. Our Redondo Beach personal injury law firm can help you in cases including, but not limited to:
Arash Law handles cases throughout Redondo Beach with a keen understanding of each client's medical and financial difficulties.
Our lawyers
are more than capable of taking on the most complex cases and defendants due to their extensive experience in insurance negotiations and civil litigation.
Whenever necessary, our personal injury law firm employs independent expert medical assessments and other professionals for testimonies and other sophisticated litigation strategies to gather evidence to support our client's claims. We also work directly with our clients on each case, and we remain highly accessible and informative every step of the way.
The Worth Of Financial Compensations In Redondo Beach
How much your claims are worth can be accurately valued by our personal injury law firm by working with notable specialists who can examine and offer further insights depending on the case. Each claim is unique, and no specific numbers can be estimated. The amount of money you recover through settlement negotiations or a jury verdict, on the other hand, will consider both the immediate and long-term consequences of your injuries.
Our Redondo Beach lawyers work with investigators, health care professionals, occupational and physical therapists, financial planners, and other professionals to strengthen your claim for damages.
Recoverable Damages In A Redondo Beach Personal Injury Lawsuit
Economic losses are financial losses sustained as a result of an accident. The cost of repairing or replacing property lost wages due to the inability to work, and medical expenses are just a few of the consequences of these events.
Personal injuries may entitle you to a large amount of compensation in Redondo Beach. Suppose a settlement cannot be agreed upon. In that case, compensation for medical expenses can be sought through the court system, including surgeries, emergency medical care, tests and examinations, therapy, medicine, and many more.
You may also be able to obtain financial compensation for your pain, suffering, and mental anguish.
Non-economic damages are compensation for non-quantifiable consequences. Misery and agony, psychological anguish, and decreased life satisfaction and quality of life are among them.
Punitive damages in Redondo Beach are available for personal injury cases but are not frequently passed. Victims are awarded these damages if the defendant is proven to have behaved recklessly during the incident.
Work With Our Personal Injury Law Firm In Redondo Beach Immediately
After an accident in Redondo Beach, you usually have two years to file a personal injury claim, with some exceptions that include government entities, which leave you with six months for filing, or if the defendant is abroad, in which your timeframe can be legally extended. In most cases, however, the
statute of limitations
expires in two years, preventing you from seeking compensation for your losses.
All this considered, it is crucial that you contact a personal injury law firm in Redondo Beach as soon as possible. You can also increase your chances of getting total compensation by speaking with a lawyer right away since your lawyer will be able to perform an investigation of the accident scene. Ensure that witnesses are spoken to before they forget the details of the incident. Ascertain that your medical treatment is properly documented. Go over official records of medical responders and police reports of the accident and your injury claim.
Our Redondo Beach Personal Injury Law Firm Will Get Things Done
The Redondo Beach personal injury lawyers at Arash Law understand the hardships your family is facing, and we are well-versed in the life-changing injuries sustained in various accidents. Contacting a personal injury law firm in Redondo Beach can increase your chances of receiving full compensation after an accident. Allow the professionals at Arash Law to begin building your case right away. To get started, call
(888) 488-1391
or fill out our online contact "
Do I Have a Case?
" form.
Our personal injury law firm also offers services in nearby cities, which include Alondra Park, Carson, El Segundo, Gardena, Hawthorne, Hermosa Beach, Lawndale, Lennox, Lomita, Manhattan Beach, Palos Verdes Estates, Rancho Palos Verdes, Torrance, West Athens, and West Carson.
Record-Breaking Verdicts in the Following Areas of Practice
Get The Latest News from

The Best California Accident Law Firm Today